Column by Mahfuz Anam: Govt needs to review its practice of appointing VCs
For academic excellence, we are on the wrong track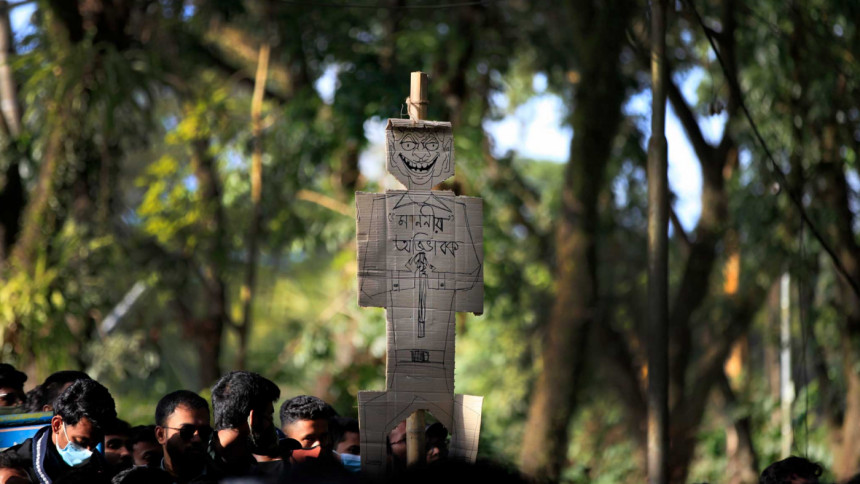 Of the 48 current vice-chancellors (VC) in the public universities across Bangladesh, 39 are former office-bearers of some pro-government teachers' bodies. Of the rest, five are known to be associated with the ruling party. A report by this daily has found that if one is a member of the Blue panel—a pro-Awami League group of teachers—at Dhaka University, his or her chances of being appointed VC at any public university increases exponentially. The message is very clear: if you are a part of the government party or belong to its various wings, or can outshine others as a "big drummer" in the government bandwagon, your future is made in the academic hierarchy of public universities.
So, have these VCs, appointed clearly on partisan lines, served the ruling party's interests? Have they, in any way, raised the intellectual profile of the Awami League? Have these VCs been able to prove that the Awami League is truly committed to improving the academic quality and atmosphere in public universities? Has any VC of a public university been able to improve relations with their students? If the answer is an emphatic no in each case, then shouldn't the ruling party review its policy of appointing such VCs?
A ruling party's proclivity to reward those who help them come to power is nothing new. Practically every government does it. So why should we take issue when our government does the same? Well, the answer is simple. In choosing our VC candidates, we usually lose sight of the academic qualifications necessary and the overall image and public stature of the individuals concerned. Over the years, political loyalty has overtaken academic status. What serves as the personal reputation of academics has practically nothing to do with their accomplishments as teachers, writers, authors, but more to do with how vociferously they have been able to uphold the party line, regardless of its impact on their respective institutions or the time-honoured profession of teaching.
Why can't the present government appoint VCs who are from the party and have, if not impeccable, then at least highly regarded academic credentials? Why do the choices veer to the bottom, particularly when we all know that there are plenty of highly qualified teachers within the ruling party?
Of course, the government has certain expectations from the people they appoint as VCs. But how unethically low they have stoop to preserve their chairs is the question. VCs appointed on partisan considerations are a part of a complex web of privileges and favouritism, which does not allow them much freedom to run their respective institutions on the basis of their better judgement. They are, in fact, prisoners of all sorts of forces within the campus that have nothing to do with the goals and purposes of a university.
First of all, a partisan VC will have to take care of all teachers who belong to the same party—starting from their appointments, promotions, placement in various positions of power and leverage, to granting study leaves, foreign scholarships, allocations of living quarters, etc. In time, factions develop within their supporters based on how much benefit each of them received. This necessitates more benefits to be dished out to keep the VC's support base intact. This pushes them further towards arbitrary actions, making them more controversial. And the cycle goes on.
Then comes the more difficult task of keeping the ruling party's student wing in line. From the admission of party honchos who will be later used to intimidate and force non-partisan students to fall in line, to distribution of hall seats, to allowing them to pass class tests and annual examinations, to protecting them from police when involved in criminal activities, to giving them various financial deals including construction contracts—the management of the student wing drags a VC more and more into the quagmire of malpractice and irregularities. Such a VC is unable to take any disciplinary action against any student who may have the ruling party tag. This drastically compromises the VC's moral standing among their students, assuming it was there in the first place.
The question we want to raise is: Do partisan appointments actually serve the interests of the ruling party? Take the case of the former VC of Rajshahi University, who made 138 appointments of teachers and staff on the very last day of his tenure and bent university rules to appoint his daughter and son-in-law as teachers. What sort of a person does such a thing? What level of common sense—or lack thereof—and what utter disregard for the law, regulations, system or practice could make a VC stoop to such malpractice? Another case is of Nazmul Ahsan Kalimullah, the former VC of Begum Rokeya University. Throughout his tenure of 1,447 days, he was absent from the campus for a total of 1,207 days—more than three years out of four. What weird mentality could have led him to such behaviour? If he was so loath to go to the campus, why did he take the job? Did the Awami League gain anything by such appointments?
In a recent comment to this daily, Professor Emeritus of Dhaka University Serajul Islam Chowdhury said, "Only those who have sound academic background and can play the role of a guardian should be appointed as VCs… The main job of a VC should be to create an enabling environment on the campus in which all bodies, including student unions, are functional, and cultural activities and critical thinking can flourish."
Time has come for the government to ask a fundamental question: Do we want our public universities to become centres of academic excellence? Do we want these institutions to produce scholars of global stature, who can make us active participants in the international intellectual scene? Do we want to keep pace with the knowledge revolution that marks the 21st century?
Or do we want our public universities to produce nothing more than slogan-chanting BA or MA degree holders, most of whom may be able to increase the muscle power that maintains the ruling party's physical control of the campuses, but can do very little to increase our brain power that will ultimately determine whether Bangladesh becomes a knowledge producer or remain its consumer only?
The answer to this simple but vital question will determine the future of our public universities. The global and regional rankings of Bangladesh's public universities speak volumes of what we have done to the once famous universities of ours.
Here, a mention needs to be made and tribute paid to the teachers and students who, in spite of all the shortcomings and partisanship, keep the flame of knowledge burning. It is because of their tireless efforts that we still have whatever little academic atmosphere that still remains in our public universities.
The way our public universities are currently run is not in tune with either the goals of Digital Bangladesh, nor the needs of the 4th Industrial Revolution, much less the technological transformations that most forward-looking countries are preparing for.
The most tragic reality is that our country's total intellectual environment is anti-creative, which is most likely strikingly exemplified by our lack of investment in research and support to our scholars. In fact, scholarship is trivialised and partisanship eulogised in considering most of the things academic. The fundamental freedoms—of thought and expression—that are keys to an academic environment remain elusive in ours. In fact, these freedoms marked the golden days of Dhaka and other public universities in the past.
This reality must change if we are to become a developing nation where a nation is judged not only by its physical infrastructure, but also by its intellectual infrastructure, of which public universities are a crucial element.
Mahfuz Anam is the editor and publisher of The Daily Star.