'We are doing well'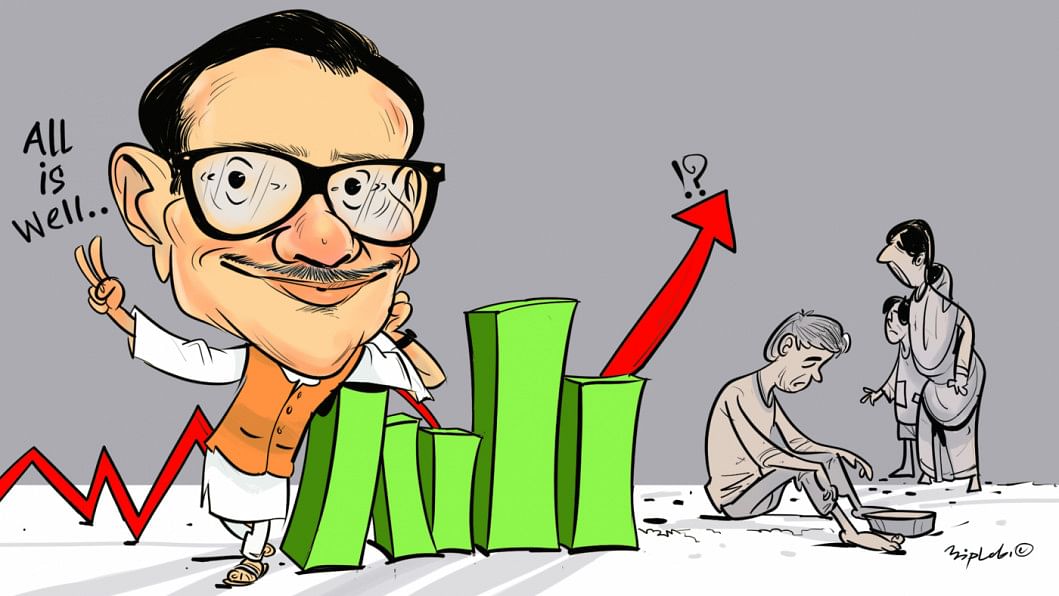 The epic line from Nachiketa Chakraborty's song "Ei Besh Bhalo Achhi (We are doing well)" instantly came to mind after hearing what Awami League General Secretary and the Road Transport and Bridges Minister Obaidul Quader recently said.
"Compared to the other South Asian nations, we are doing well. We are better than even many advanced nations," he said on January 28. How are we doing well? What does it mean to be well? This discussion aims at unearthing these answers.
If we look back at the past decades since our independence in 1971, it is clear that the living conditions of Bangladeshi people have improved without a doubt. We are ahead of other South Asian countries in some indicators. Bangladesh is ahead of India and Pakistan in terms of nutrition and child mortality rates. But we should also mention the huge contribution that private actors, especially Brac, have made to this achievement in these areas. In fact, in many sectors' development, private actors have played a more vital role than the government actors.
In South Asia, Bangladesh is in a good position in terms of per capita income. The Maldives holds the top position in this regard; in terms of economic prowess, the country is way ahead of Bangladesh. But Bangladesh is doing better than Sri Lanka, Nepal, and definitely Pakistan. If we consider per capita income, we are even ahead of India.
However, these are not the only indicators to measure a country's prosperity.
US science-based journal Nature released the report of a country-based research in 2022. According to the Nature Index, Bangladesh holds the 102nd position, falling behind India (10th), Pakistan (39th), Nepal (91st), and even Sri Lanka (86th).
Let alone the developed countries, Bangladesh has the lowest spending in the education sector in South Asia. If we look at the budgets of the last three or four years, Bangladesh's budgetary spend for education has been around two percent of GDP. It was 2.09 percent in FY21 budget, 2.08 percent in FY22, and 1.83 percent in FY23.
Meanwhile, India (3.08 percent), Pakistan (2.76 percent), Afghanistan (3.93 percent), Maldives (4.25 percent), Nepal (5.10 percent) and Sri Lanka (2.81 percent) have significantly higher spendings in education.
This trend has been persistent for the last 20 years. As per the Unesco directive, a country's education budget must be at least four to six percent of its GDP. Bangladesh agreed to this proposition, but in reality, no efforts have been made to increase our education budget beyond two percent of our GDP.
The situation is similar in our health sector; Bangladesh spends the least for the health sector in South Asia.
On the knowledge and talent-based indicator, Bangladesh ranked 123rd among 134 countries in 2021, again the last in South Asia. Other South Asian countries fared much better: India ranked 88th, Sri Lanka 93rd, Pakistan 107th, and Nepal 113th.
After "Digital Bangladesh," we are now talking about "Smart Bangladesh." It's great as a slogan. But the digital and/or smart Bangladesh, ranked 137th out of 140 countries in terms of internet speed in 2021. The Maldives ranked 40th, Nepal 114th, India 126th, and Pakistan 120th – all ahead of us. Because of slow internet connection, freelancers in Bangladesh face difficulties on a regular basis.
In which aspect is Bangladesh doing well, then?
We are doing well in food production – our farmers produce food for about 170 million people. However, our farmers' individual efforts shine much brighter than that of the government. The Awami League government's success in ensuring that our farmers get fertilisers, seeds and irrigation facilities is greater than any other government. And yet, a farmer is handcuffed for defaulting on the payment of a Tk 40,000 loan.
The International Rice Research Institute (IRRI) has played a vital role in the worldwide surge of paddy production – so has Bangladesh Rice Research Institute (BRRI). They invented more than 100 types of high-yield paddy over the last five decades. They got great results through continued research efforts, and our farmers implemented those results in the field.
Another major reason behind Bangladesh's progress is its 10 million-strong expatriate base. Most of them went abroad on their own accord. They are relentlessly working to earn money, which they are sending home, contributing to our remittance earnings.
Another big foreign exchange earner for us is the ready-made garment (RMG) sector. The owners of RMG factories here surely deserve praise. They are competing against many countries around the world. Even here, the biggest contribution comes from the relatively poorer members of society. Their cheap labour enables the RMG factory owners to get more orders and enhance their business.
There is a growing trend of building massive urban infrastructure, which the government wants to showcase as large-scale progress. There is no denying that infrastructure development does indicate progress. However, we should also consider that infrastructure itself is not progress; it is merely a progress-enabler, and a very small part of the population directly benefits from such progress. It seems these glittery, haphazardly planned progress is an attempt to hide the general public's sufferings. A report published by the World Bank in October 2022 tells us that as many as 50 million people in Bangladesh are suffering from a food crisis, and more than 20 million people go to sleep at night hungry.
Be it research, knowledge or science, we are falling behind the rest of the world consistently. We are not even in a comfortable state when it comes to having three proper meals per day.
"We are doing well" – this shouldn't have been a mere political statement; it should have been the reality. But the current government policies are not in line with that goal. Our poor citizens migrate to other countries to earn livelihoods and send dollars home, and the rich ones in the country launder that money away. People deposit their hard-earned money in the banks, and a few rich people take that money as loans but lack the decency to pay them off. These people are usually connected with those in power.
The person who should have been tagged as the country's top loan defaulter is now fixing policies to deal with the "real" loan defaulters. The person whose name comes up in the government investigation of the share market scandal has gotten the job of dealing with the country's finances.
Thus, the number of poor and hungry keeps growing. "We are doing well" – this statement can only be found in songs, speeches and slogans.
Golam Mortoza is the editor of The Daily Star Bangla.