SAUDI ARABIA'S GEOPOLITICAL SHIFT
US' myopic tactics vs China's long-term strategy
Before starting his trip to Saudi Arabia earlier this month, Chinese President Xi Jinping mentioned two poignant historical events in an article in the Saudi media, which his hosts almost certainly found rather close to their hearts.
First, he pointed to Prophet Muhammad's (pbuh) saying that one must seek knowledge even if that needs going to as far as China. Second, he mentioned the book by Wang Dayuan, a 14th-century Yuan Dynasty traveller, who described Mecca as a place with beautiful sceneries, mild weather, and a happy people. Xi also noted how Chinese porcelain and papermaking and printing techniques went to the West through the Arabs, while their astronomy, calendar, and medicine enriched the East.
Beijing, especially modern China, has always sought to befriend the Arabs through respectful gestures, and diplomatic and trade missions. Even when Saudi Arabia refused to accept China as a country in 1975, it continued friendly efforts and eventually succeeded in establishing diplomatic relations in the late 1990s, which grew stronger in the following decades. China's Arab Policy Paper – drafted in 2016 coinciding with Xi Jinping's first visit – starts by mentioning the two-millennia-old friendship between the two peoples when they were linked by land and maritime Silk Routes. Returning the gesture and further cementing the ties, King Salman and Crown Prince Mohammed bin Salman (MBS) visited Beijing in 2017 and 2019, respectively. Sending a particularly strong signal to improve ties, the Saudis introduced Mandarin language lessons in their schools in 2020.
The relationship between Beijing and Riyadh is a symbiotic one. China is Saudi Arabia's biggest trading partner, a source of growing investment, and the world's largest oil buyer. For China, Saudi Arabia is its largest trading partner in the Middle East and the de facto leader of OPEC+, a global group of the oil-producing countries, whose support Beijing needs to run its economy. It's only natural for them to have a strong, mutually beneficial business relationship.
The scenario in Washington is starkly different. In an attitude rooted in history, The US considers Saudi Arabia as a client state, which the Saudis despise. President Franklin Roosevelt and King Abdul Aziz Ibn Saud struck a deal aboard the USS Quincy in 1945. They agreed that the US would guarantee a security umbrella for the Saudi monarchy. In return, the monarchy would ensure uninterrupted oil supply to the US.
However, the current Saudi rulers are an altogether new generation, more confident and assertive, who refuse to see themselves as a "client state." They still need American security support, but this can no longer buy their unconditional loyalty.
Carnegie Endowment's senior fellow, Aaron Miller, correctly pointed out that Riyadh is no longer locked in a monogamous marriage to Washington.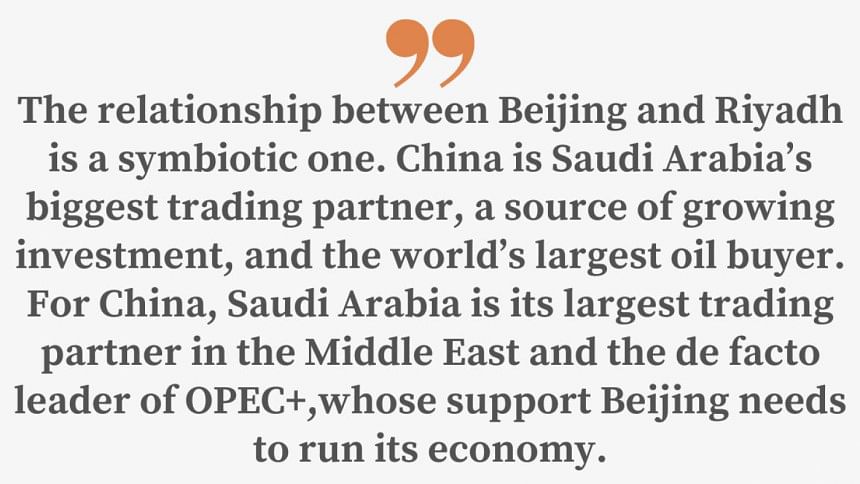 Such a realisation has taken years to come by for Riyadh. The aforementioned deal has since been subject to several tests, the first of which came in 1973 with the oil embargo following the Arab-Israel War. The deal almost collapsed, and the Saudis realised the extent of their hold on the global energy market and the US.
The next test followed 9/11, when several Saudi citizens took part in the terrorist attacks that shook the Americans to the core. Riyadh cautioned against invading Iraq, saying correctly, that it would unleash further chaos. They also proposed a peace plan for Israel and Palestine that was more viable than that of the Americans.
The oil-for-security deal somehow survived through these key disagreements but became significantly weakened. Both sides came to realise that times of unquestioned commitment to the deal was perhaps over.
The Saudis felt it even more when President Barack Obama announced a policy of "Pivoting to Asia" in 2015 at the cost of the Middle East. The Iran nuclear deal, named Joint Comprehensive Plan of Action (JCPOA), sent another message to Riyadh that the US might abandon them in case of a conflict with Iran. President Donald Trump did not retaliate against Iran's attack on Saudi oil facilities in September 2019.
Finally, Joe Biden came as the Saudi's ultimate disappointment as he publicly sought to ostracise MBS. Riyadh responded by not receiving President Joe Biden's phone call in March and reducing oil output at the OPEC+ meeting in July, despite Washington's pressure not to.
Meanwhile, China was steadily increasing its foothold in the kingdom and already became Saudi Arabia's largest trading partner, with bilateral trades totalling USD 63.3 billion in 2018. Prior to that, the two countries signed deals worth around USD 65 billion during King Salman's 2017 Beijing visit. They have since been increasing cooperation in energy, technology, and financial sectors, and the Belt and Road Initiative (BRI). Beijing is also providing the arms and technology that Riyadh failed to secure from Washington.
But China is not interested in becoming a regional hegemon. It has keenly observed and learned from Iraq's spiralling chaos and the nightmares of failed interventions elsewhere. Chinese wisdom says: "Seeking safety through development, cooperation and win-win growth is the right way towards world peace." Modern China also believes that development and growth can be more effective than traditional military power in building sustained geopolitical influence. Being an astute long game player, China is maintaining a military balance in the Western Pacific while increasing its global dominance through trade, commerce, and business deals, proving again to be a master of grand strategy.
Dr Sayeed Ahmed is a consulting engineer and the CEO of Bayside Analytix, a technology-focused strategy and management consulting organisation.