Fragile egos and fallen heroes
Coming to terms with the Shakib-Tamim saga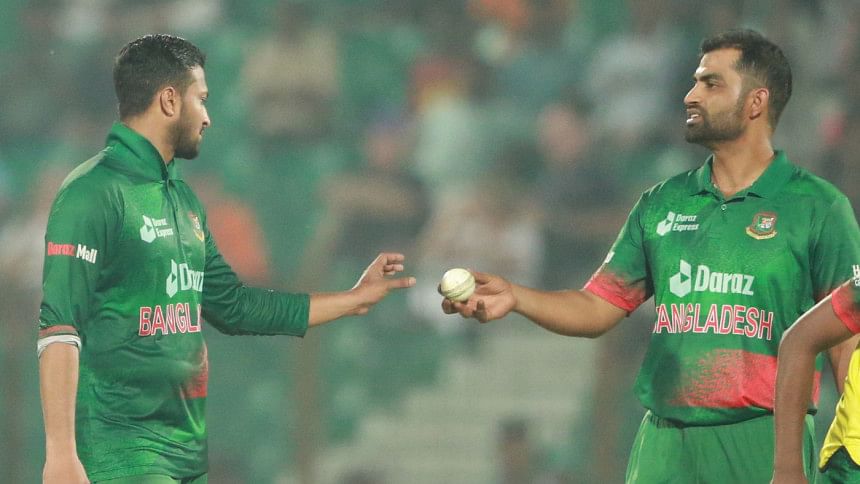 I used to think I had retired from keyboard battles on social media a while ago. But the drama that transpired around the Bangladesh men's national cricket team last week jolted me out of my hiatus. I picked a side and I was going to defend it until I had the last word. Or so I hoped. The truth is that I got tired and lost interest once it dawned on me what this really was – a battle between the egos of two (admittedly larger than life) men. The less we say about the details of their public spat, the better.
There is a lot to be said about the why and how of it all, however. Cricket may not matter too much in the larger scheme of things, but the growth of cricket in Bangladesh and the growing pains it suffers draw some meaningful parallels to how Bangladesh has turned out as a country. We are relatively new on the world stage, always showing promise, but every time something nice is about to happen to us, things take a turn for the worse in new and embarrassing ways. We had two of the biggest personalities in our cricketing history coming to the end of their careers at the peak of their game, about to embark on a world cup mission for the ages, and look at how we dropped the ball.
What is clear from watching the social media monologue posted by Tamim Iqbal followed by Shakib Al Hasan's prime time tell-all interview on TV is that this is a classic case of communication breakdown. We had prior confirmation from the president of Bangladesh Cricket Board that the country's two biggest superstars are not on speaking terms. The claim is that this rift has, up until now, never had any detrimental effect on the team's performance, as the two senior men do communicate on field for playing purposes. Yet, when this squabble eventually caught up to all of us, the toxic fallout was truly something to behold.
The arguments breaking out on social media and in real life have already been quite toxic, where families and friendships are being torn apart based on whether one thinks Tamim was wronged or Shakib was right. Foreign commentators did not shy away from mentioning the behind-the-scenes turmoil on air, which will only fuel media murmurs that are bound to affect the team in one way or another. What has probably rubbed most people the wrong way is the reaction to news coming out of Guwahati (where the team is based during their preparation phase) that Shakib Al Hasan had suffered a minor injury in training. Comment sections on Facebook were flooded with people expressing satisfaction that somehow, a man twisting his ankle was divine intervention that proved he had been the villain all along. It hinted at a sort of moral bankruptcy that we all suspect exists among us, but never quite want to come face to face with. Mashrafe Bin Mortaza, the spiritual leader of Bangladeshi cricket and now a promising young politician, thought the situation was dire enough that he had to call people out. As a spectator, being part of this started to feel a bit nasty.
The important question in all of this is whether this could have been avoided, and the answer has to be yes. It's easy to say that all of this could have been avoided with a frank conversation between two individuals who don't see eye to eye, but could come to some sort of compromise to achieve mutual benefit. But compromise is possibly the most difficult concept to internalise when egos are involved, and in this case, these seem to be two of the biggest egos in the country. In personal, professional, and even national spheres, we regularly observe cases where inflated egos take precedence at a time where simple compromises may have accomplished a lot. Politicians will rather resolve issues on the streets than in a meeting, bosses will forgo an efficient workflow instead of admitting a mistake to an employee, and parents will inflict a lifetime of trauma on their children where an apology may have undone it all. Standing on the wayside, the sufferers continue suffering, willing the egotists to come to their senses.
Coming back to cricket, does this episode tarnish the legacies of two of Bangladesh's brightest stars? It has to; they worked so hard to make sure of it. But at the same time, sports has a magical way of erasing old memories and replacing them with new ones, as long as the new drama is as compelling as the old. Knowing this Bangladesh team, I think we're always due for some good drama.
---
Azmin Azran is the editor of Campus and Rising Stars.
---
Follow The Daily Star Opinion on Facebook for the latest opinions, commentaries and analyses by experts and professionals. To contribute your article or letter to The Daily Star Opinion, see our guidelines for submission.