Can Bangladesh get out of the Adani power deal?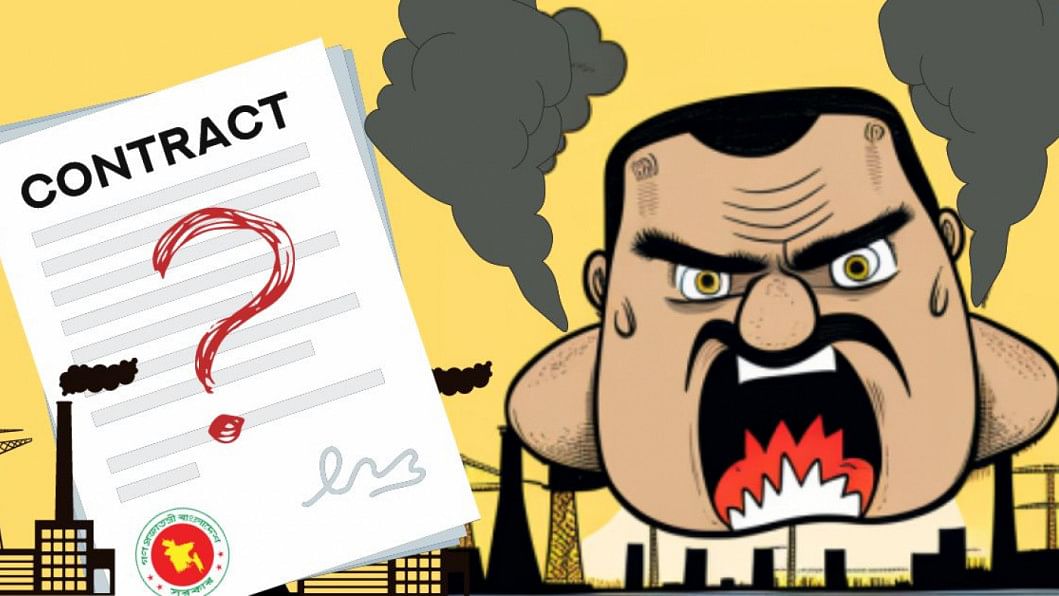 As Indian billionaire Gautam Adani's business empire and its practices have become a subject of intense global scrutiny, Bangladesh, too, seems to be drawn under the scanner. More and more experts are now coming out questioning the rationale behind Bangladesh's power purchase deal with Adani Power (Jharkhand) Limited (APJL), which many of them have termed as "one-sided" and against Bangladesh's interests. Amid such controversy, Tawfiq-e-Elahi Chowdhury, adviser to the prime minister on energy, while responding to questions from the Indian media recently, said talks with the Adani Group on power supply were "private" and "can't be made public."
It's unclear whether the prime minister's energy adviser meant commercial secrecy of the deal or the political compulsion alleged by The Washington Post in a report on December 9, 2022. The question of commercial secrecy is no longer a valid argument, since a number of news organisations have obtained a copy of the contract and experts have published detailed analysis of it. Reviewing the Adani contract, The Washington Post suggested that though the deal appeared unfavourable, not signing it was not an option for political reasons.
Surprisingly, the Bangladesh government did not respond to the newspaper's request for comments or protest its suggestions after the story was published. This policy of secrecy seems to be maintained strictly, as the government refrains from contesting the claims in the local press that the APJL will be paid almost double the purchase price of power compared to that paid to Bangladeshi producers, and three times the price of power imported from other sources in India at present. These price comparisons are crucial as the import of Adani power is in addition to the existing overcapacity.
Last week, Congress leader Rahul Gandhi, in his speech in Lok Sabha, made similar suggestions when he questioned why Prime Minister Narendra Modi's deal for selling power to Bangladesh became a deal between Bangladesh and the Adani Group. Rahul Gandhi's attack on Modi's relationship with Adani is nothing new. What's new, though, is the timing as the Adani Group's share values and fortune have been bleeding heavily following the allegations of widespread fraud and irregularities by the well-known activist investment firm Hindenburg Research. Hindenburg called it "the largest con in corporate history."
Before all this media brouhaha, another serious research pointed out the flaw in the contract and put out a figure of more than USD one billion that Adani would be getting from Bangladesh over its 25-year term. In a joint study, published in June 2022, the Bangladesh Working Group on External Debt (BWGED) and Growthwatch, a voluntary research and advocacy institution in India, said the Bangladesh Power Development Board (BPDB) would have to pay a maximum of USD 1.17 billion and a minimum of USD 918.18 million per year to buy electricity from Adani Group's Godda Power Plant. Of this amount, USD 423.29 million is the capacity charge per year, which amounts to USD 11.01 billion over its lifetime, which will only benefit the billionaire Adani Group to make more money.
Now AdaniWatch, a non-profit project established "to shine a light on the Adani Group's misdeeds across the planet," claims that the contract between Bangladesh and Adani may be "legally invalid." In a co-authored article, Ravi Nair, an independent Indian journalist, says there are at least two issues that may allow either parties to scrap the deal altogether. According to India's Guidelines on Cross Border Trade of Electricity, coal-fired power plants owned by private companies would only be allowed to export electricity if they had surplus capacity. AdaniWatch says India still doesn't have power surplus, and bending the rules by the state of Jharkhand to exempt Adani may not be legal.
It then adds that Adani's inclusion of costs that appear to be non-existent may allow Bangladesh to claim the deal invalid, too. According to the report, under the contract, the BPDB will have to pay a reference tariff that includes excise duty, customs duty for imported goods, service tax, krishi kallyan tax, central sales tax, VAT on equipment, composite tax on civil construction, work contract tax, construction workers' welfare fees, water charges, and income tax. But four and a half months before the contract was signed, the Indian government rolled out a comprehensive Goods and Services Tax regime, replacing almost all those state and centre taxes. Then again in 2019, 15 months after signing the contract, the Godda Power Plant project was declared a Special Economic Zone (SEZ), granting them a lot of tax exemptions. Documents showed that the majority of the company's imports came after the project was declared an SEZ, and the company also avoids paying import duty or any other tax on imported coal. It also doesn't have to pay GST, surcharges on duties, or any other import duty.
AdaniWatch says the power purchase agreement (PPA) "stipulates that APJL must inform BPDB of any changes in law that might affect these assumptions within 30 days of such an occurrence, and any variation shall be adjusted in the reference capacity price." Clearly, the PPA was signed without informing the BPDB about the changes that hugely cut APJL's tax liabilities. AdaniWatch asks whether these changes were notified to the other contracting party, and if it wasn't, the agreement may be legally voided by the BPDB for breach of contract.
There's scant public debate in Bangladesh over such a costly blunder, compared to foreign observers and media, despite the fact that it will be the Bangladeshi consumers who will have to carry the burden. Adani Power Ltd, on February 3, 2023, informed the National Stock Exchange of India that its subsidiary APJL had received a request from the BPDB to consider a discount on the energy charge as per the PPA, adding that no PPA amendment was under consideration. This latest development suggests that the BPDB might do well by demanding scrapping the contract for the deliberate breach by Adani to take undue advantage. Or else questions of political compulsion would prove hard to dispel.
Kamal Ahmed is an independent journalist. His Twitter handle is @ahmedka1