Power crisis: Perils of pursuing the old dangerous path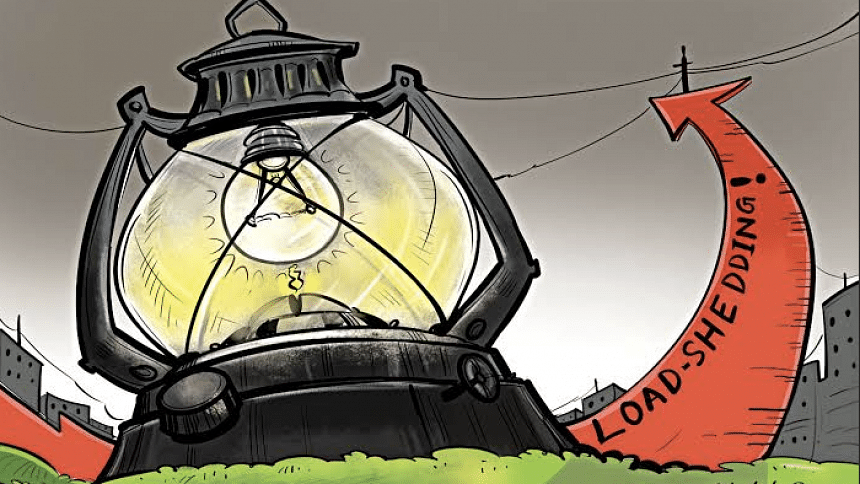 Bangladesh has been experiencing unprecedented load-shedding for more than two weeks now, and the scale of the current crisis certainly demands an answer from the power sector officials. People have been facing 2,000-2,500MW of load-shedding throughout the day. It is expected to get even worse with the Payra Power Plant shutting down last week. Routine excuses for failure from the power ministry cite the global fuel crisis as well as the dollar crunch, which has made it difficult to open letters of credit (LCs) to import fuel and coal. But the economic crisis resulting from the pandemic and the ongoing Russia-Ukraine war can no longer be used as excuses; it is open knowledge that fuel prices have gone down in the international market. LNG prices in the spot market have dropped substantially. Coal prices have also gone down. Oil has been trading in a tight range around the low $75 per barrel, down from $100 per barrel last year.
The dollar crisis, however, is a real issue for Bangladesh. The taka has been depreciating alarmingly against the dollar – the price of the dollar jumped to Tk 106 this year from Tk 89 in June last year. Our foreign exchange reserves slipped under $30 billion in May, according to official figures. If the situation with our forex reserves is so dire that it's driving the whole nation down to a point where citizens have to endure long hours of load-shedding, and industries have to suffer production losses that may eventually lead to their shutdown, the government should just openly proclaim a state of emergency and address the issues that led to this crisis in the first place.
In that light, it is imperative to analyse the power sector's responsibility for this crisis. First, capacity charges are one source to point fingers at. The country has to pay capacity charges to privately-owned power plants in dollars, and these charges have to be paid even if a power plant does not produce any electricity. Idle power plants, and ones which are functioning at half its capacity, are still receiving full capacity payments.
Second, the overwhelming burden of fuel import needs to be reassessed. Our power sector is too heavily reliant on imports; the annual burden is more than $2 billion, depending on the international price of oil, gas and coal. It is axiomatic that if oil-fired power plants are being used to generate baseload electricity, fuel expenses will be very high. But the interesting fact is that more than 5,000MW of gas-fired power plants are sitting idle across the country. Electricity from gas-fired power plants is substantially cheaper than oil-fired electricity, given the current stable price of fuel in the global market. Seeing as the price of LNG has dropped in the spot market, why are gas-fired power plants not being utilised? The answer lies in the fact that we have not built enough regasification facilities to import more LNG. It is hard to comprehend the logic behind building gas-fired power plants with thousands of megawatts of generation capacity – with more on the way – while not planning efficient ways to supply the fuel needed to operate them. When LNG prices were high, not using LNG made sense. But does it make any sense now?
Consumers are frustrated this time, because the authorities have consistently reassured the public that load-shedding would not happen this year. At the start of the load-shedding saga last year, after the Russia-Ukraine war broke out, the public was forgiving – fuel prices had skyrocketed globally and the taka had started to depreciate. But this year, before the sweltering heatwaves hit the country, the officials of Bangladesh Power Development Board (BPDB) reassured the public that they were prepared to produce 16,000MW of electricity. They even declared how much they expected to generate from each source of power. Our political leaders also did not envisage electricity shortage, citing the new coal-fired power plants that have come into operation. Even when fuel prices were higher than what they are today, the authorities were somehow confident enough to claim that there would be little to no load-shedding this year.
With the serious dollar crisis, the only long-term solution is to lessen the import dependency of the energy and power sectors. Of course, this is easier said than done, but to what extent has the government seriously explored other options? After the onset of electricity shortage last year, the experts pointed to the serious neglect of domestic gas exploration. One year has gone by, but very little exploratory drilling has taken place. In the latest budget, very little has been allocated to gas exploration. To ensure even a minimum level of energy security through our own natural gas supply, the country needs to drill at least 25 exploratory wells every year. Assuming a success ratio of 1:5, and discovered gas reserves of 200-300 Bcf, approximately 0.8-1.0 Tcf of gas can be discovered.
Similarly, very little progress has been made with solar electricity panels. We are only generating around 500MW of power from grid-tied solar PV power plants. If one looks at the energy curve of late May and early June, it becomes obvious what a big difference efficient use of solar power plants can make. If 2,000MW of solar power plants were available, we could save nearly $1 million per day in fuel costs. These savings could even be used to pay off some of the overdue coal bills and import more coal. Of course, solar PV which is available only during the day (sunshine hours) cannot solve all our problems, but if designed correctly, it could save up to 20 percent of our fuel expenses. Along with more exploration for natural gas, a total of 30-40 percent savings in fuel cost is possible in Bangladesh.
It is unfortunate that the government is pursuing its old dangerous path of building more power plants and importing more LNG, coal and oil. Given our precarious dollar situation, this only forecasts more danger ahead. Fuel prices can escalate, the dollar crisis can deepen and consumers may resist further hike of energy prices. Given the difficult situation that the BPDB has put itself in, it is difficult to see a load-shedding-free Bangladesh anytime soon. In fact, it could conceivably get worse with the energy and power sectors becoming a huge burden on the economy and aggravating the dollar crisis.
Dr Ijaz Hossain is former dean of the Faculty of Engineering at Bangladesh University of Engineering and Technology (Buet).