What we lost on November 3, 1975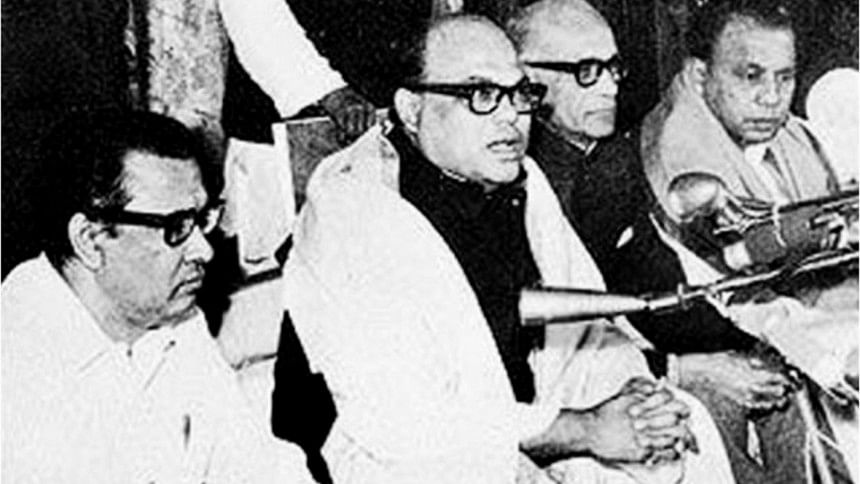 The year 1975 will remain forever a year of treachery, infamy and tragedy. Within a few years of our nation's birth we witnessed the brutal assassination of the Father of the Nation, Bangabandhu  on August 15, along with most of his family members and other innocents caught in that conspiracy of cowardice. Barely three months later, the four national leaders Syed Nazrul Islam, Tajuddin Ahmed, Capt. Mansur Ali and AHM Qamaruzzaman, were killed in cold blood inside Dhaka Central Jail. They had been incarcerated by the killers of Bangabandhu and their accomplices. They had to pay with their lives for being loyal to their leader, to the principles of social justice and truth, to the values of the liberation they had so possessively guarded and helped materialise.
Today, November 3, known as the Jail Killing Day, we mourn this black chapter of our history and remind ourselves of the remarkable leadership, selflessness and vision of these four leaders who had dedicated themselves to freeing their country from oppression. On this occasion, we remember these heroes with love, respect and gratitude.
---
Syed Nazrul Islam
Syed Nazrul Islam (1925–1975) was the Vice President of Mujibnagar Government in exile during the Bangladesh Liberation War and served as the Acting President of Bangladesh from April 17, 1971 till January 12, 1972, in the absence of Bangabandhu Sheikh Mujibur Rahman. Under his leadership, the Mujibnagar Government performed all the wartime activities and led the War of Liberation.
Born in 1925 in Kishoreganj, he completed his MA in history in 1947 and LLB in 1953 from Dhaka University. Syed Nazrul Islam's political career began when he joined the Awami Muslim League. He was arrested by Pakistani police in 1952 for his involvement in the Language Movement. He later became a close associate of Bangabandhu and was jailed during Awami League's Six Point Programme. 
After the crackdown of March 25, 1971, he along with the senior AL leaders escaped to India and later formed the Mujibnagar Government. Syed Nazrul Islam played a key role in coordinating the Mukti Bahini and winning support in favour of our independence from India and other nations. After independence, he led the ministry of industry in the first cabinet of Bangabandhu. He was also a member of the committee made for drafting the Constitution of Bangladesh. 
Tajuddin Ahmad
One of the most important figures in the history of Bangladesh, Tajuddin Ahmad was born on July 23, 1925, in what is now Kapasia, Gazipur. Throughout his academic life, he was a meritorious and brilliant student. 
When Bangabandhu was in solitary confinement in Pakistan, he spearheaded and oversaw the liberation movement. As the premier of the Mujibnagar Government during the Liberation War, he presided over the Bangladesh Sector Commanders Conference, forming the Bangladesh Armed Forces. After Bangladesh came into being, he was appointed the minister of finance and planning. 
While his love, respect and loyalty towards Bangabandhu were beyond doubt, he did not hesitate to speak his mind even if it meant going against the tide. In their final days, Bangabandhu and Tajuddin, political companions for 30 years, might have had differences in opinion, but their fate was tied together. Just after the killers assassinated Bangabandhu on August 15, 1975, Tajuddin was put under house arrest. A week later, he was arrested with about 20 other political figures. Two months later, Tajuddin, along with his three fellow comrades, was murdered inside Dhaka Central Jail. 
M Mansur Ali
Captain M Mansur Ali was the finance minister of the Mujibnagar Government in exile during the Liberation War of 1971. Born in 1919 in Sirajganj, he graduated from Calcutta Islamia College and obtained MA in economics and a law degree from Aligarh Muslim University. After joining Awami Muslim League in 1951, he became very active in politics and was arrested in 1952 in Pabna for his participation in the Language Movement. 
Mansur Ali played an important role in the Six Point Programme. He was elected as member of the Provincial Assembly from Pabna in 1970. As the finance minister in the cabinet of Bangladesh government in exile, he played a key role in the Liberation War. After independence, Mansur Ali became the minister for communication, and then the minister for home affairs and communication in Bangabandhu's cabinet. In 1973, he was elected as member of the National Assembly, and as member in the Awami League Parliamentary Party. 
Captain Mansur Ali went into hiding immediately after the killing of Bangabandhu Sheikh Mujibur Rahman on August 15, 1975. Although Khondaker Mostaq Ahmad included some of the Awami League leaders in his cabinet, Captain Mansur Ali and three other national leaders refused to join his cabinet. Subsequently, they were arrested on August 23, 1975 and brutally killed on November 3, 1975 in Dhaka Central Jail. 
AHM Qamaruzzaman
Born on June 26, 1926 in Rajshahi, Abul Hasnat Muhammad Qamaruzzaman was one of the protagonists of our liberation campaign. 
He obtained a degree in economics from the University of Calcutta in 1946, and a law degree from the Rajshahi University in 1956. A lawyer by profession, Qamaruzzaman never lost in any assembly or parliament election after 1962. 
In the Mujibnagar provisional government, Qamaruzzaman was given the portfolio of interior, relief and rehabilitation ministries. Accordingly, he faced a daunting task: managing millions of refugees and overseeing the relief and rehabilitation process. 
After Bangladesh emerged as an independent country, Qamaruzzaman retained his position as home minister in the cabinet 

led by Bangabandhu Sheikh Mujibur Rahman. 
He was arrested soon after Bangabandhu was assassinated.
---
Follow

The Daily Star Opinion

on Facebook for the latest opinions, commentaries and analyses by experts and professionals.
To contribute your article or letter to The Daily Star Opinion, see our

guidelines for submission

.
---