'I have no way of going anywhere'
Bangabandhu's last words to party leaders asking them to go into hiding minutes before genocide began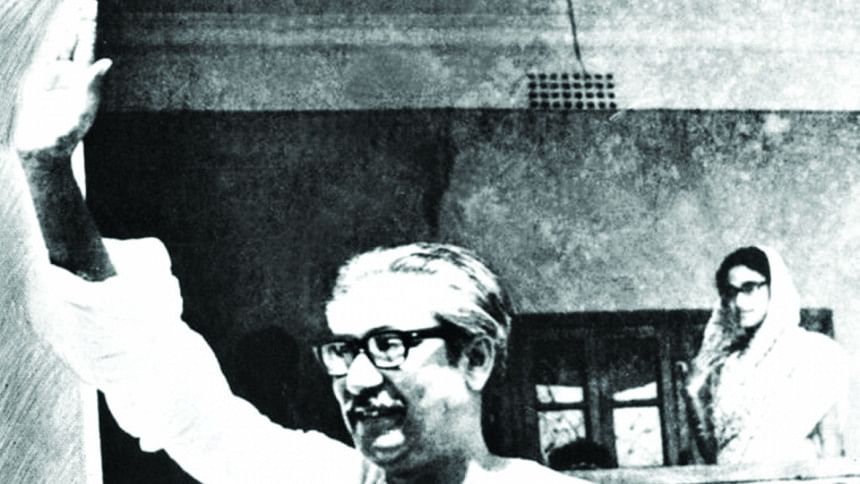 March 23, 1971 was an extraordinary day.
It had always been observed as Pakistan's Republic Day. And yet this time in 1971, something different happened. Instead of the green and white flags with a crescent and a star of Pakistan, green flags with a red disc with the map of East Pakistan in golden colour superimposed, fluttered atop all buildings in Dhaka.
On the streets, hawkers were selling this new flag.
Dr Kamal Hossain came out of his house at 6 in the morning and was immediately floored by this extraordinary scene. He bought a flag near the stadium and fixed it to his car. A strange sense of accomplishment filled up his chest as he drove down to Dhanmondi Road 32 to meet Bangabandhu Sheikh Mujibur Rahman.
Questions were crowding inside his head. Is this going to be true? Will the Bangalis finally get their right to rule? Will the talks between Bangabandhu and Yahya yield the results the whole nation is waiting for? Will the people of East Pakistan be able to determine their fate? Will they get the rightful share of what they deserved – development and political power?
It was only 7 in the morning. Yet people chanting slogans were coming in processions towards Bangabandhu's house. Some of them produced a huge Bangladesh flag and unfurled it atop the house.
Events in East Pakistan were advancing at a breakneck speed at that time. Legally Awami League, that had won the majority seats in the 1970 December election was supposed to form the government, ending 12 years of martial law.  All was set for it as president General Yahya Khan called the assembly session on March 3. But he suddenly postponed it on March 1.
Bangalis erupted in protest. Bangabandhu declared an indefinite non-cooperation movement from the same day. Since then nothing was as before. Dhaka turned into a city of slogans. Offices and banks were shut down. Schools and colleges were closed. The Pakistan government had no control over anything in East Pakistan. Mujib became the de facto prime minister.
Pakistan junta then presented a new trick by calling a dialogue with Mujib on power transfer. It was later to be revealed that the dialogue was nothing but a way to buy time for a military crackdown on the Bangalis.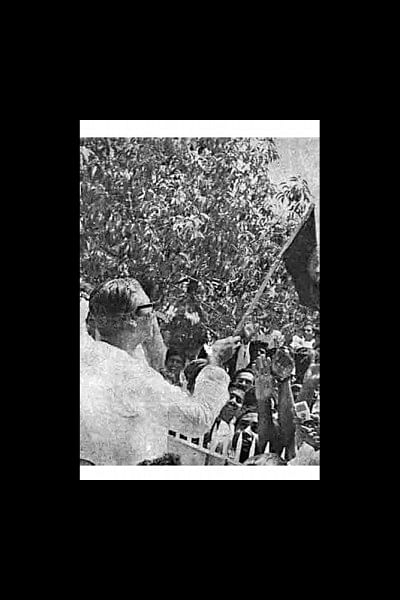 FOOT DRAGGING
Yahya had arrived in Dhaka on March 15 and met Bangabandhu the next day. Mujib was visibly agitated about the postponement of the assembly session. He wanted lifting of martial law and power transfer to Awami League.
Yahya wanted to delay the issue by mentioning that this would create a legal vacuum.  Bangabandhu and his team could be convinced that an interim arrangement could be made to avoid such vacuum before a final constitution is drafted.
And so on this March 23 morning, Dr Kamal and his team had a very important mission. They had to negotiate the draft of the provisional constitution for Pakistan with Yahya.
At 11:30 in the morning, Kamal and his team drove down to the President's House with Bangladesh flags fluttering on their cars to the obvious displeasure of the military guards and officers there.
Inside the President's House they met president Yahya's advisor MM Ahmed, who had been brought in with a team from West Pakistan to discuss the provisional constitution with the Awami League team. Ahmed was more or less amenable to the draft. But it was General Pirzada, PSO to president Yahya, who put his foot down.
Pirzada suggested that Ahmed sit with the AL economic team to examine the financial implications of the constitution that was drafted on the basis of AL's Six-point demand, a document for self-governance.
Dr Kamal and his team sensed that it was just another delaying tactic of the Pakistani junta. Are they doing it as part of some game plan? Or are they just doing it to delay the inevitable – handing over power to Awami League? For now Kamal and his team agreed to sit with Ahmed.
In the evening, as they met again, MM Ahmed handed a list of insertions in the draft. He agreed that East Pakistan could deal with its foreign trade. Tax collection and retention were a problem to be sorted out. 
From there the AL team came to Professor Nurul Islam's residence where the AL economic expert team was continuously meeting and discussing things. The issues proposed by MM Ahmed were presented before the team. Long discussion was held on tax collection and management of separate foreign exchange account. Because of the long economic deprivation by West Pakistan, Awami League wanted East Pakistan's full power on tax collection and retention of foreign exchange.
As the Awami League leaders were seriously pondering these issues, news came that president Yahya Khan was absent from his residence the whole day. He was busy in the cantonment overseeing the last touches to Operation Searchlight, the horrific military adventurism to crush the Bangalis' dream of freedom through genocide.
Bangabandhu and his team could feel that time was running out as students were getting impatient and agitated. Frequent clashes with the military were erupting place at various corners in the city. In Chittagong, port workers blocked the road and refused to unload arms the Pakistan government had brought on the MV Swat. Somehow the workers could sense that these same arms would be used against them. In Tongi and Joydevpur, many civilians were killed as the military opened fire on people obstructing military convoys. In Rangpur, the army and the public engaged in clashes. The situation in East Pakistan was very fluid.               
ANOTHER DAY WASTED
On the evening of March 24, the Awami League team was ready to leave for the President's House to resume the crucial discussion because time was running out. Before the team left, Mujib suggested Pakistan should be known as Confederation of Pakistan.   
The proposal created a strong disagreement from the government team that wanted Pakistan to be named as Union of Pakistan. The Awami League team argued that a single word cannot be the stumbling block in the negotiation as the situation was getting worse and that the issue could be sorted out by Yahya and Mujib.
The Awami League team wanted to finalise the draft that night so that the next morning it could be presented to Mujib and Yahya to sign. An important member of the Pakistan team, justice Cornelius agreed. But Pirzada again objected.
"No, we have some discussions this evening, you may meet tomorrow morning," he said. Pirzada added he would call in the morning with the time of the meeting.
THE CALL NEVER CAME
March 25 dawned with a lot of apprehension.
Bangabandhu stayed the whole day in the downstairs hall of his residence at Dhanmondi 32 with Kamruzzaman, Tajuddin, Captain Mansur Ali, Syed Nazrul Islam, Dr Kamal and Gazi Golam Mostafa. They discussed the future of East Pakistan, what the defeated leader of the Pakistan People's party Zulfikar Ali Bhutto might now do and many other things. Every now and then they glanced at the heavy black telephone set in the corner, expecting the call.
The day wore out and yet that call from Pirzada about the meeting did not come. A sense of apprehension and gloom took over the leaders' minds.
Other calls came though. Numerous callers telephoned to pass information that the Pakistan army was taking all kinds of preparation for an imminent crackdown. A caller said Yahya Khan had just left Dhaka secretly. He had not used his official car to escape prying eyes.
A little later, Sheikh Fazlul Hoque Moni, nephew of Bangabandhu, came in. He informed Mujib that he was leaving Dhaka for Tungipara a little later. London-based Awami League leader Zakaria Chowdhury came in to say he was going to cross the border by night and fly to London. It seemed everybody was dispersing as fast as possible, sensing the looming apocalypse.
BANGABANDHU'S DIRECTIVE TO TAJUDDIN
Bangabandhu then told Tajuddin Ahmed, Amirul Islam and Dr Kamal to hide in the residence of an Awami League supporter in the old area of the town when the military struck and then cross the river and melt into the countryside to build resistance.
It was getting eerily quiet. You could hear the hands of the wall clock moving in their eternal rounds. The city seemed to have become a ghost town.
Around 8pm, Kamruzzaman, Capt Monsur Ali, Tajuddin Ahmed and Syed Nazrul Islam came in to meet Mujib again.
Around the same time, Kamal Hossain returned home to find people waiting for him for the latest. Kamal told them that the military was about to launch an attack and that everybody should go into hiding.
A LAST VISIT
Kamal Hossain and Amirul Islam left hurriedly in a friend's car and moved towards Satmasjid road to pick Tajuddin Ahmed who was later to become the prime minister of Bangladesh government in exile.
But they detoured and stopped at Dhanmondi 32 to see Bangabandhu one last time. Roads were already barricaded with felled trees. They had travelled through the Dhaka University area, painstakingly maneuvering the blockades. The students were barricading the road with anything they could lay their hands on. The mood was grim.
Bangabandhu's residence, which was full of milling people until the afternoon, looked dark and deserted now. Kamal and Amirul found him in the dining room with his wife.
Mujib came out and said impatiently, "Why haven't you gone to the old town as you were told to do?"
As he walked them to the door, Kamal and Amirul asked him what he would do now. Mujib said: "You leave that to me. From now, we are independent. Our people are united and will fight."
'I HAVE NO WAY OF GOING ANYWHERE NOW'
Bangabandhu looked a forlorn figure. The lonely warrior standing bravely in the face of the inevitable.
It was 11 and Bangabandhu had not had his dinner yet. His daughter Sheikh Hasina (who is now the prime minister) and son-in-law MA Wazed Mia, were on the rooftop, worriedly pacing up and down. Hasina was worrying about her father as he had not come upstairs yet. It was long past Dinner time. They usually would have dinner together around nine.
"Abba has not eaten yet," Hasina said. "Let's go down and bring him up."
As they descended, they found Bangabandhu standing at the foot of the stairs, talking to Sirajul Alam Khan, Shahjahan Siraj and ASM Abdur Rob, the three most prominent student leaders who had fired up the students with their rousing speeches.
After he was finished with them, Mujib hugged Hasina and said in an emotional voice: "Ma, I have not seen you the whole day." His eyes were bloodshot.
Around 11:30, the house help came up and said somebody named Jhontu was waiting downstairs to see Mujib.
"Oh, I was just thinking about him. Wajed, go down and bring him here," Mujib was eager to meet the visitor. Jhontu introduced himself as the younger brother of Zakaria Chowdhury, the Awami League leader who had been there in the day.
Jhontu held Bangabandhu in a tight embrace and said," Mujib bhai, the Pakistan army is coming to kill you. You have to leave this place right now. They are getting ready to enter Dhaka city with tanks, cannons and heavy machine guns."
Mujib wanted to know the details of the Pakistan army's planning.
Jhontu seemed to know a lot. He said the Pakistan army would attack Dhaka university student halls. They would crush the police headquarters and East Pakistan Rifles, shoot anyone found on the street and would capture radio and TV stations.
Bangabandhu listened raptly and then loudly called out for his daughters Hasina and Rehana. He told them to leave the house immediately and take shelter in another house rented a few days ago at Dhanmondi Road 8/A on the Satmosjid Road. It was Wajed Mia and Hasina who had scoured the city for the last 15 days and finally rented this house for 900 rupees, apprehending such attacks.
Wajed Mia asked Bangabandhu what would he do now and where he did he want to go.
"I have no way of going anywhere now. So if they want to kill me, they have to do it here. Kamal (Mujib's eldest son) has already slipped out. Jamal (his second son) cannot stay without his mother. So he will remain here."
HASINA LEFT HOME
It was an emotional moment. Hasina and Rehana started crying, holding their father in a tight embrace.
Wajed Mia quickly drove out of the house in his car with a suitcase in the boot. It was dark outside. He noticed some unknown people suspiciously walking opposite the house by the lake. They seemed to be guarding the place.
He saw people putting barricades on the street. He reached the rented house at 12 midnight. Soon after, Hasina and Rehana came with their house help.
Gun shots started a little later. They could hear long bursts from machine guns and heavy booms from cannons coming from the Pilkhana area.
The war had started.
Then they heard an army convoy rumbling towards Bangabandhu's house, probably to take him in. Or to kill him as Mujib had apprehended. They shuddered thinking of that tall, brave man who let everybody escape but himself remained in his station like a true leader.
[The report has been prepared on the basis of the books " Bangladesh: Quest For Freedom and Justice" by Dr. Kamal Hossain, " Bangabanhdu Sheikh Mujib Ke Ghire Kisu Ghotona O Bangladesh" by Dr. MA Wazed Mia and Mooldhara 71" by Maidul Hasan.]