Bangabandhu: Who but him could have made it happen?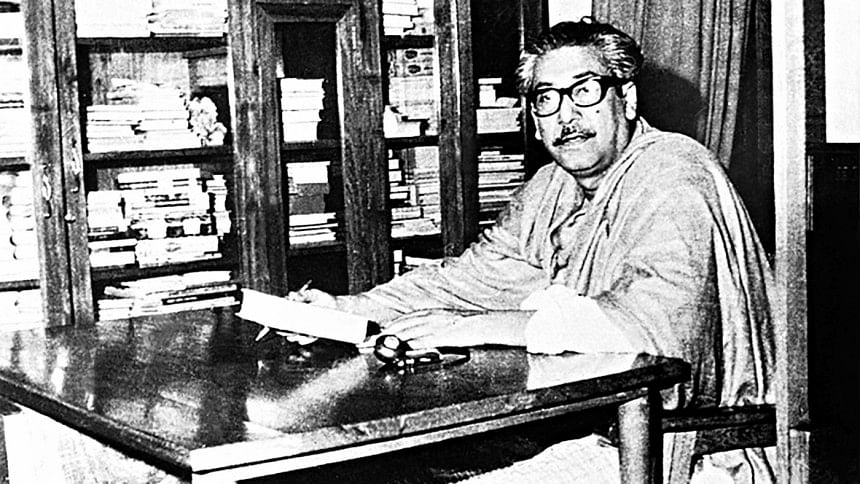 Most nation-states are constituted of diverse groups of people coming from different religions, cultures, languages, and ethnicities. Similarity and difference are two criteria of inclusion in a group.  Muslim leaders in the forties made their followers, especially young student activists like Sheikh Mujibur Rahman believe in two wrong and malefic ideas: i) they are similar to other Muslims of India (or the world, why not!) and together they can form the nation-state of Pakistan. However, to achieve that 'promised sacred' land ii), they must fight their Hindu neighbors who are not only different from them but also constitute the root cause of all of their sufferings. These two ideas confuse many to date.
Soon after the so-called independence from the British in 1947, the Bengali Muslims realized that they have been deceived by the Muslim League leaders. The chimeric nation-state of Pakistan was nothing but a change of masters. Very soon, the similarity of religion between the two groups of Muslims was superimposed by their difference in language and culture. It was specifically on this difference, Bangladesh was created in 1971, in exchange for a huge sacrifice in the forms of death, tears, and suffering.
Since at least 1940, the year Sher-e-Bangla Abul Kashem Fazlul Haque proposed the idea of Pakistan in Lahore, Bengali Muslims had been dreaming of a Muslim-majority, prosperous, independent nation that would solve all their problems. Their saga of independence has two culminating points: Pakistan and Bangladesh. Sheikh Mujibur Rahman, affectionately named Bangabandhu, was involved in both of them, as a worker in the former, and as the sole leader in the latter.
Why do I call Sheikh Mujib the sole leader of the independence of Bangladesh? Of course, there were three other great leaders: Sher-e-Bangla, Huseyn Shahid Suhrawardi, and Mawlana Abdul Hamid Khan Bhasani among several others. However, although hunting a tiger usually involves a group of people, only the person who hits the beast with a bullet is recognized as the hunter. Who, apart from Sheikh Mujib, could have killed the ferocious Pakistani tiger?
Right after the so-called independence in 1947, the young Sheikh Mujib, like many other disillusioned Muslim league supporters, started to protest against the mismanagement of the Muslim League government. He actively participated in the language movement of 1952. In February 1952, he started a hunger strike in Faridpur jail in protest of the inhuman treatment of the prisoners. On the 21st of February, 1952 he became so weak that the doctor thought he was about to die.
In 1954, during the Juktofront election, Bangabandhu tried in vain to convince Bhasani and Sher-e- Bangla not to make a coalition with other insignificant parties. In 1969-70, when Sheikh Mujib became the most important leader of the Awami League (hereinafter AL), he decided that his party will participate in the election alone. The leftists including Mawlana Bhasani and the leaders of all the Islamic fundamentalist parties were asking the chief martial law administrator Yahia Khan to postpone the election on the pretext of the fact that East Bengal had just survived the huge damage of the 1970 cyclone. Sheikh Mujib firmly demanded that the election be held in time and right he was because the AL got a crushing victory in that election.
During the tumultuous days in 1971, Bangabandhu listened to everyone but chose the move he thought was right. "The struggle this time is for emancipation! The struggle this time is for independence!" he clearly said in his historical extempore lecture on 7 March. The enemy got confused, but Sheikh Mujib said the essential, an excellent example of a crypto message. He tactfully managed to avoid declaring independence directly and thus saved millions of lives present in front of him in the then Race Course ground of Ramna.
 A couple of persons who were in person present in that meeting told me that they heard Bangabandhu saying Jie Pakistan after Jay Bangla whereas some others said that they did not hear him say so. I have heard the recording of the 7th march lecture recorded and broadcasted by the Pakistani authorities. Jie Pakistan is there, but I am not an expert to decide whether it is fabricated or not. Be that as it may, even if he had uttered those two controversial words, it could be seen as part of an excellent camouflage by a tactful, seasoned leader like Sheikh Mujib. After saying clearly what the struggle was for to the people who came for the leader's message regarding the liberation war, whatever he added to meet relevant strategic purposes should not be of much importance.
Although Bangabandhu could have been killed by the Pakistani army on the 25th of March, he adamantly decided to stay in his house in Dhanmondi. He was convinced that if the Pakistani army did not find him that night, they would become furious and this fury of a regular army would cost many innocent lives. Before he was mercilessly murdered with all of his family members, secret agents kept on informing him about an ongoing conspiracy either to oust him from power like President Sukarno of Indonesia or murder him like President Allende of Chili. He publicly said that a Muslim does not die but once only and he would rather embrace the fate of Allende than bow his head to imperialism.
Bangabandhu remained in jail for almost the whole Pakistani era. He survived in the jail of West Pakistan, in an isolated cell for about a year. He had almost no idea what was going on in his motherland between March and December 1971. In the prison, he used to do regular exercise to remain in good health to serve his country even in case the junta interns him for a period of twenty years or more.
AL has always included a considerable number of anti-Bengali and communal elements (Kauwa or intruder crows according to AL minister Obaidul Quader), who for their interest, allegedly keep planning and organizing atrocities against the minorities and hence making AL controversial. However, one must not forget that with such an ununiform, irresolute army of supporters Bangabandhu succeeded in liberating Bangladesh from the claws of ferocious Pakistan.
No leader in the subcontinent was as successful as Bangabandhu. No leader had such a tragic end either. Persons like Sheikh Mujib or Fazilatunnesa Mujib are rare not only in the history of Bengal but in the history of mankind. When I compare them with the average Bengalis, I wonder how could these personalities have been born on this soil, in such an unfriendly environment of cowardice and self-centeredness. A few moments later, I remember the Bengali proverb, gobore paddophul which means a lotus might bloom even in cow dung.
The writer is a Professor at the Institute of Modern Languages, University of Dhaka.