47th Death Anniversary of Bangabandhu
Cry, O beloved country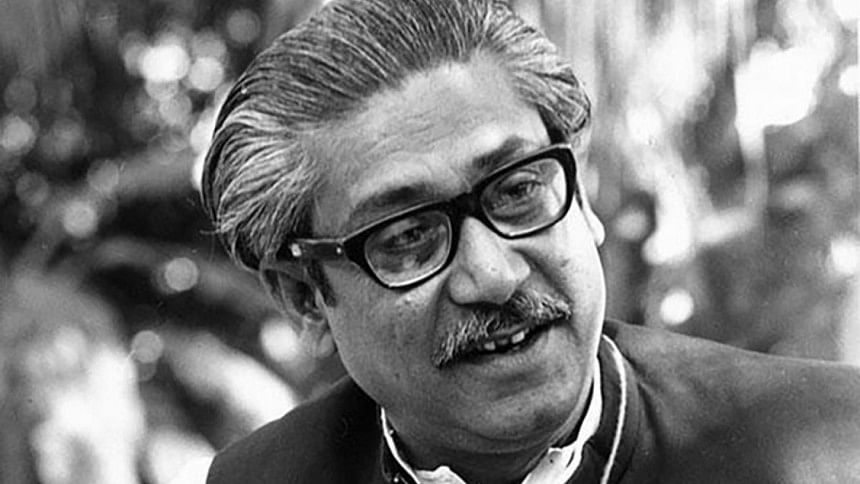 I once wrote about the unforgettable day when I met Sheikh Mujib in an article I named, "At the juncture of history." It did not contain the full details of my interview with Bangabandhu, for he himself forbade us at the time.
But he is not here anymore. I am also 71 years of age. Who knows how long I will be here. I obeyed his prohibition during his lifetime. Now, he is beyond our reach. There is also no fear of posthumous defamation. He is immortal.
This description is not verbatim. What was said later comes first, what was said earlier comes last – what the mind recalls is what comes out of the pen. If there is a mistake, it is because of my memory.
"Look, I have survived death a couple of times. The first time was in Ayub Khan's prison. In the conspiracy case. A friend of mine had warned me that going out of the cell in the evening regularly was dangerous, and that they would shoot me from behind and say that I was shot because I was running away. Such shootings had happened.
The second time was in Yahya Khan's prison. My grave was dug in front of me. Realising that my last moments were approaching, I prepared myself and my mind: if I had to die, why die in fear? I awaited death with a calm mind," Sheikh Mujib said.
He was in a good mood that day. First the recognition from Seven Arab nations, and then an invitation to join the (OIC) conference. Within a few hours of the interview with us, Pakistan gave recognition to Bangladesh, and Sheikh Mujib flew to Lahore by nightfall. There he received a jubilant welcome.
We asked Sheikh Mujib, "When did the idea of Bangladesh first occur to you?" "Will you listen?" He smiled and asked. "It was in 1947. At that time, I was in Mr Suhrawardy's team. He and Sarat Chandra Bose want a united Bengal. I also want one country for all Bangalees. What Bangalees could achieve if they were united. They could conquer the world!"
He became excited as he spoke. "Suhrawardy and Sarat Chandra Bose returned empty-handed from Delhi. Neither Congress nor the Muslim League agreed to their proposal, and they gave up. I also saw that there was no other way, so I came back to Dhaka to start anew. Accepted Pakistan as it was then. But my dream is Sonar Bangla. I wonder how that dream could be fulfilled. There was no possibility. People were so communal! They would have a suspicion if you said you wanted Bangladesh. Suddenly, one day there was a rally cry: We want Bangla language. I also joined the Language Movement. The language-based movement gradually transformed into a country-based movement. Later came a day when I asked my team what the name of our country would be. Some said Pak-Bangla. Some said East Bengal. I said, no, Bangladesh. Then I chanted 'Joy Bangla.' Then they mockingly said, 'Joy Bangla na joy Maa Kali!' What an insult! I was insulted that day. I digested it, though. Actually, they didn't understand me. With 'Joy Bangla,' I meant the victory of the Bangla language, Bangladesh and the Bangalee nation, which is above communalism."
'Joy Bangla' is actually a mantra. Like Bankimchandra Chattopadhyay's 'Vande Mataram' or Dadabhai Naoroji's 'Swaraj' or Gandhiji's 'Quit India' or Netaji Subhash Chandra Bose's 'Chalo Delhi.' This is Shabda Brahma. There is infinite power in a single word or combination of words. That power is immeasurable.
Transforming a communal party into a national party is not an easy task. After going to jail, again and again, and facing death, again and again, he got his dream Bangladesh one day. That Bangladesh is not undivided, but sovereign and independent. He received Pakistan's recognition on the day of his interview with us. Later, a seat at the United Nations. Can a person expect more success at the age of 55? Could anyone else achieve what he did?
With his faith in us, Sheikh Mujib said one more thing on that day. He immediately said that we could not publish it. I am now at a loss for words at the request of history. If I don't publish, no one ever will.
"You know what I had planned? Suddenly one day we will seize power. Capture all the bases in Dhaka city. We had people in the army, navy, air force, police, and civil service. But for one man's treachery, all is lost. A navy officer believed it and informed a subordinate, exposing us. Then we all got caught," he lamented.
I asked, "On what date did the event take place?" He smiled softly and replied, "I won't tell you that." I was silent, realising that I had crossed a level of indecency.
As a result of many penances, a man of faith becomes the Indra of heaven. If the power is depleted or Asura becomes strong, then one day Indra also falls. He escaped death twice only to fall into its clutches the third time. His compatriots and natives seized power – the irony.
Was it necessary? On the day of the interview, Sheikh Mujib told us that he no longer wanted to be in power. What was he to do? His party people were not letting him go. He made it clear that his work was done. He got everything that he wanted.
If he moved at the right time, he would have split the party. That break would not only be for selfish reasons, but also for ideological and political reasons. All Bangalees can never be one, all Bangladeshis can never be one; can all Muslims be one? Pakistan was a disaster for all Muslims. One part of it is thousands of miles away from the other. In the middle was not the sea, but another country. It had no natural centre. The central government never accepted the majority of votes. There was a voting majority of East Pakistan, but the strength of the armed forces belonged to the Punjabi and Pathan minorities of the western region. One day or another, there would be a test of mettle.
Under the leadership of Sheikh Mujib, the inevitable historical change was successfully completed. He was a revolutionary man. A working man dedicated to his vow. His journey started with a dream. The journey ended with the realisation of that dream. Had he resigned on time, he would have survived for some time. But live with what? United Bengal did not have the slightest chance.
He had given up hope too. He relinquished the hope in such a way that it was evident that his business was with Delhi and not Calcutta – with the government of India, not with the government of West Bengal. If we go to Bangladesh, we will not be identified as Bangalees, we will be called Indian. Even in Bangla literature conferences, we are welcomed as foreign guests, such as representatives of Soviet Russia or East Germany. The Bangladesh government was very careful, so that no one would ever think there is an attempt to unite the Bangalees. So that's why there was this sense of divide.
On the other hand, another group was active in trying to unite Muslims. They did not trust Sheikh Mujib. And his murder stemmed from this lack of trust.
This article is an excerpt from Annadashankar Roy's book Kado, Prio Desh (Published in 1976).
Translated from Bangla by Tanvir Ahmed Chowdhury.
Annadashankar Roy was a famous Bangla poet and essayist.