We must live up to Bangabandhu's lofty ideals
This is the only way we can honour his legacy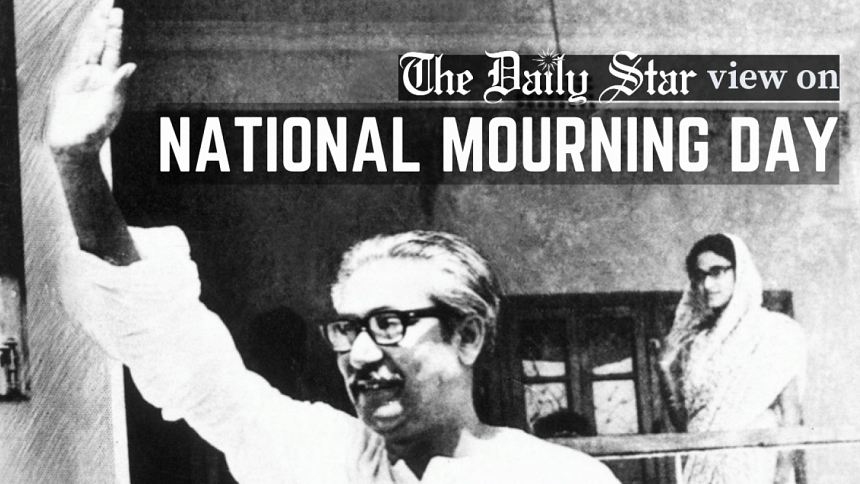 Today marks the 47th anniversary of the assassination of Bangabandhu Sheikh Mujibur Rahman. On this day in 1975, the Father of the Nation, along with most of his family, was assassinated in the most brutal way possible. The manner of his untimely departure – within less than four years of the birth of Bangladesh, and before fulfilling his vision for a nation he liberated from the shackles of subjugation – caused a void in our psyche that is unlikely to ever be filled, a sense of injustice and inadequacy that no court of law can perhaps address.
To talk about Bangabandhu is to talk about his role in uniting us in the pursuit of independence, but also his vision for us post-independence. If the former launched our journey as a nation, the latter offered a destination: a fair, just society in which everyone would be equal in the eyes of the law and enjoy equal rights and opportunities. People's welfare was central to his vision. He fiercely defended their freedom of speech and other fundamental rights, as any modern leader should. He didn't want his monuments to be just bricks and mortar. He wanted them to be built with love in the hearts of his people, something that all leaders should aspire to.
How do we repay someone who gave us so much? By completing his legacy through the fulfilment of his ideals, which, unfortunately, remain unheeded as far as today's society or leaders are concerned. What were his ideals? Although Bangabandhu's notes and books are quite revealing in this respect, those were perhaps best captured in the four foundational principles of state policy laid out in our constitution: nationalism (not in the narrow sense most of us tend to think of it), socialism, democracy, and secularism. In simpler terms, it means that society would be just and everyone would be treated equally, irrespective of caste, creed, gender, religion and language. Citizens would be at the centre of power, and have fair representation. It means greater freedom: the freedom to express grievance, to pursue dreams, to seek and get justice. It means protection for any form of discrimination.
People's welfare was central to Bangabandhu's vision. He fiercely defended their freedom of speech and other fundamental rights, as any leader should.
As we mourn the assassination of Bangabandhu, we also mourn the gradual undoing of his legacy and vision through the decades. So on this day, let us strive to repay our debt to our founding father in the only way we can: meeting his lofty ideals. We must be ready for the sacrifice and painful grunt work needed to build a just society.