Do we have a vision for Dhaka?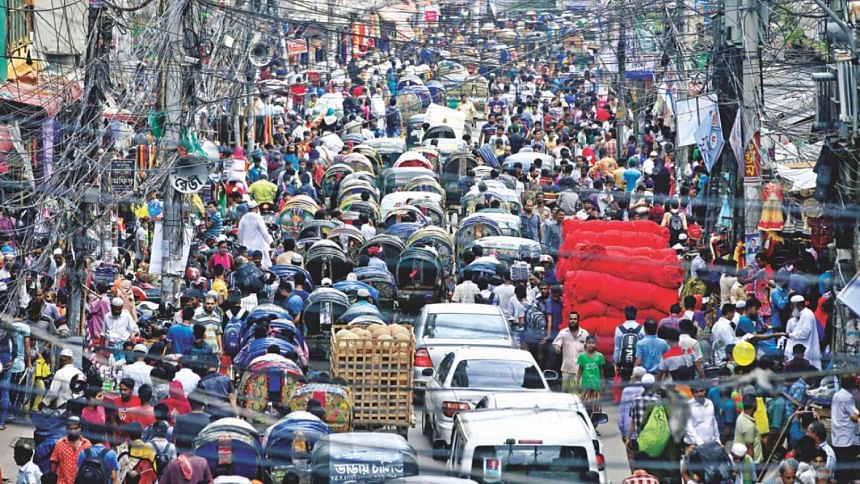 Cities are not merely places to make money. They help create memories, retain heritage, build culture, civility and trust, and ensure social cohesion – all of which require the right spaces and communities.
But marginal communities in Dhaka are increasingly struggling to align their aspirations with the ever-changing capital. And the changes are a surprising intrusion into city life – intrusive enough that they are seemingly killing the city's soul. We don't understand what the master plans mean, but one thing is for sure, ordinary people need social and spatial facilities to thrive, not fancy ideas concocted by using up millions of taxpayers' money.
Dhaka has become a place for economic transactions amid the mayhem. But the city can use some retrofitting to keep up with the standards that everyday life requires; all that is needed are some well-thought-out plans and good intentions.
Chaotic movement in the roads and alleys leads to frustrated people and environmental damage. Last month, I visited Dhaka and noticed random vehicles using emergency lights to wedge through tailgated traffic, ignoring the rights of others to be on the street. Using unauthorised sirens doesn't indicate a crisis – other than the crisis of mobility! What's more, the city's many flyovers actually draw in more cars (proven by many cities worldwide).
What are we heading towards? City expansion or high density? Even though neither of them are trustworthy solutions, planners and government officials don't even confront this fundamental question.
Of my 60 years, half were spent in Dhaka, and I've been witnessing how the city has gradually compromised on essential living standards. The effects of experimental plans, coupled with urban agonies, are seemingly invisible to professional and civil authorities. Dhaka is now a black hole: a city consuming millions of residents but has no sense of quality life.
In this mission to save the city, Dhaka needs relevant professionals and stakeholders to unfold and repair the damages development inflicted on it. Besides, new talents and and experts on specific issues must be welcomed to generate a workable and pragmatic vision.
If nothing is done, the new generation will slowly be devoured by the concrete. So, let's work together to get Dhaka out of this development trap.
Dr Quazi Mahtab Zaman
Robert Gordon University
Scotland