ONE YEAR OF TWO DHAKA MAYORS
More authority needed to deliver civic services
Dhaka South Mayor Khokon for better coordination between all agencies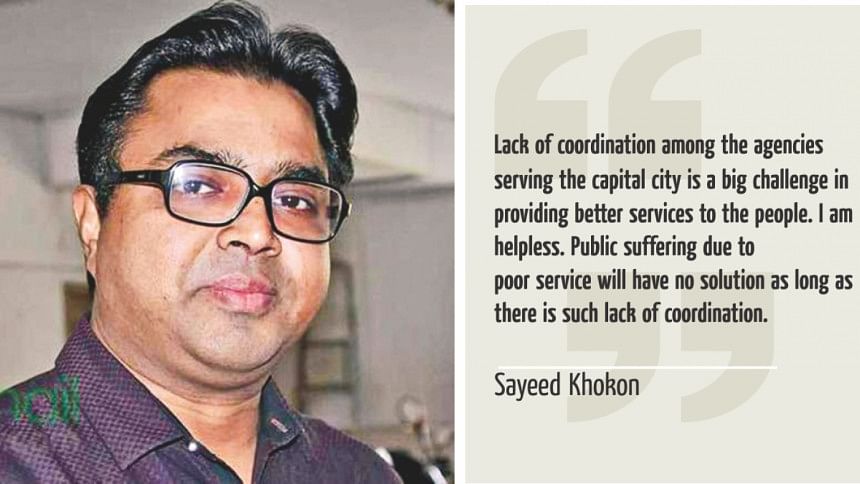 Annisul Huq and Sayeed Khokon took oath as mayors respectively of Dhaka North and South City Corporations on May 6 last year. They took over offices with serious pledges and commitments to bring about qualitative changes in delivering civic services. 

Both, however, found themselves constrained with coordination crisis among the multiple service-providing agencies at every step in this mess of an unplanned city.        
  
Though one year is not an adequate period for making a progress report on a public office bearer, the two mayors have made sincere efforts to make some difference in civic life. In some cases, they achieved extraordinary goals, while in others, they faltered. 

In exclusive conversations with The Daily Star on the eve of their completion of one year in office, Annisul Huq reflected on some of his stunningly bold actions to retrieve public interests against the age-old coterie benefits, his constraints, and future plans to turn north Dhaka into a smart and green city. On the other hand, a committed Sayeed Khokon primarily dwelt on a mayor's fundamental constraints due to lack of coordination with other service providing agencies.
The Daily Star (TDS): One of your top electoral pledges was road repair and maintenance. What have you done so far? 
Sayeed Khokon (SK): We have started repair of 300 roads. Reinforced concrete is being used to repair three-fourth of the roads so they will last for decades. The rest will be repaired with bitumen. Overloaded cargo vehicles are one of the main reasons for the city roads to crumble. A truck is supposed to carry five to seven tons. But many trucks carrying 50 tons enter the city damaging the roads. The traffic police can stop running of overloaded vehicles in the capital to keep the roads serviceable.
Frequent and uncoordinated digging by various utility agencies is another reason our roads have short lifespan. Soon after we complete a road for traffic, utility agencies like Wasa, BTRC, and Titas Gas want to dig at different times for working on their underground cables and pipes. There is no coordination. What can we do?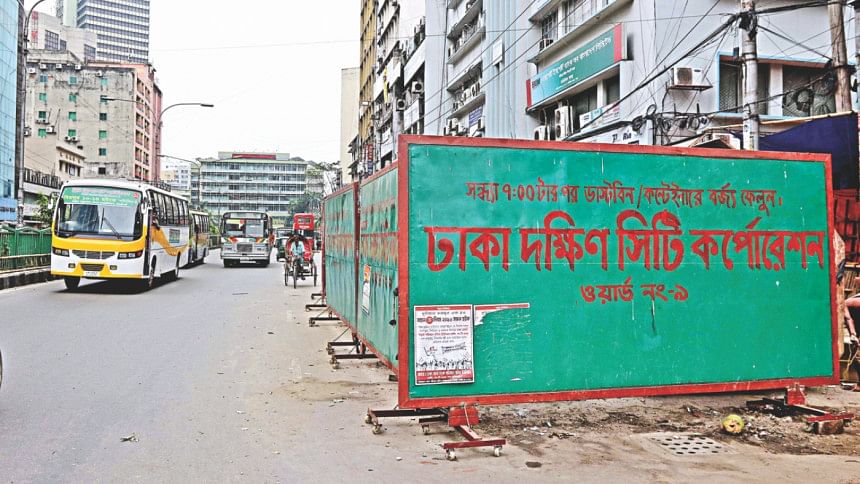 TDS: Do you have any plan to bring some sort of coordination here? How does lack of it affect service delivery?
SK: Lack of coordination among the agencies serving the capital city is a big challenge in providing better services to the people. I am helpless. Public suffering due to poor service will have no solution as long as there is such lack of coordination. We have asked the utility service agencies to draw up at least six-month development plans at a time but they don't.   
We, both the mayors, have requested the Prime Minister to form a coordination committee headed by her. She assured us such a committee will be formed. We hope the committee would be in place soon.
I now have no authority to coordinate various service agencies. What can I do if other agencies fail to deliver civic services? Take for instance, the old town. Drinking water is contaminated and storm drainage is inadequate, the gas pipelines suffer from low pressure. Wasa and Titas fail to deliver the services but who will coordinate it?
Elected mayors have to have the power and the authority to be able to deliver civic services.
TDS: You made a commitment to save the people from mosquito. How are you doing there?
SK: We could not get the insecticide in time because of quality control process. We could not ensure quality chemicals; it is a still a problem. There are allegations that spray men pilfer City Corporation chemicals. It is really a problem. Then there is a dedicated mosquito control authority under the health ministry that is inactive for long. If they sit idle leaving everything to us, then it is a problem.  Nonetheless, we are taking better preparation now to control mosquito. It would be good if they took the whole responsibility.
But we are really in trouble with mosquito control. We could not handle the menace effectively. Whatever you call it--failure or weakness, we shall try to fix it in future.  
TDS: Is there any headway in recovering footpaths?
SK: We have made several attempts to recover city footpaths but we could not keep it going.  We have no police force available for our use. Besides, a section of police allegedly help the illegal occupation of footpaths by vendors. We are now planning to build elevated pedestrian pathways at places where such pathways are illegally occupied.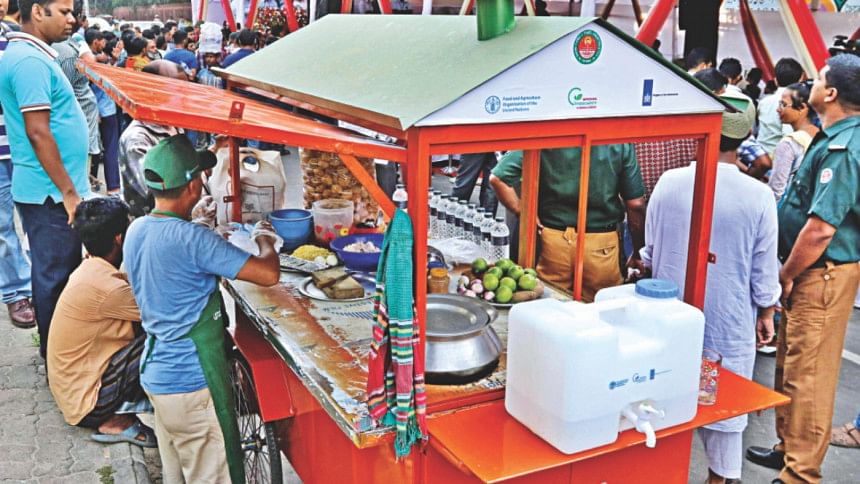 TDS: Is there any solutions to the city's water logging problem—one of your top pledges?     
SK: Kathalbagan, Shantinagar and Razarbagh are known for serious water logging for 10 to 12 hours after an hour of normal monsoon rain. I promised to resolve half the problem. We have cleaned drains in Shantinagar and Razarbagh while Wasa is setting up a pump in Kamlapur and this will together reduce the severity of the water logging in those areas. I hope we will be able to keep the promise. Water logging in Kathalbagan is caused by the water flow control in Hatirjheel development project. So it is a man made problem.   
TDS: Box culverts built by the undivided city corporation over natural canals are widely criticized for reducing drainage flow.    
SK: Box culverts cannot be removed. It is wishful thinking of some urban experts. There are settlements on and around the box culverts. Wasa removes sludge in the box culverts very slowly and it will take six years to clear one culvert.     
TDS: What is the progress of drainage improvement? 
SK: Maintaining storm drainage is the job of Dhaka Wasa. They are supposed to clean the canals. The canals and storm drains are blocked with decades-old sludge. We have asked Wasa to make the storm drainage system functional and hand it over to us. We are ready to take over [its maintenance].      
TDS: What is the progress in making public toilet facilities available?
SK: We've a plan to build 50 public toilets. Currently work is going on for 25.
TDS: What improvement could you make so far in waste management?
SK: There are 81 big waste collection containers and 10 transfer stations across south Dhaka city. Of those, 50 containers have been fenced off to hide them from public view. We are looking for alternative spaces for building more transfer stations but there is no space in this old town. We have a plan to construct 25 stations.
We've installed tracking system to monitor 4,500 cleaners to make sure they attend their work. At least 300 cleaners remain absent every day.
TDS: Are there any plans to increase public security?
SK: Around 40 percent of the south part of the city is covered by CCTV installed by local ward councilors and individuals. We shall ensure100 percent coverage.       
TDS: What is your plan to better maintain the parks and playgrounds?
SK: We've taken initiative to renovate 21 parks and 12 playgrounds. The consultant hiring process is on. The work will begin by June. Fifty-two main thoroughfares will be decorated with different kinds of local flowering plants including Rangan, Palash and Bagan Bilsah. Design is ready. Dhupkhola playground will be modernised as a children's playground with modern rides and facilities and a Tk 200cr project has already been taken to develop the ground.
TDS: What is the progress in replacing street lights? 
SK: Replacing the existing ones with LED lights is ongoing. Hopefully, by early 2017, the entire city will have LED street lights.
TDS: Do you have any plan on community centers?
SK: There are 21 community centers. We have sent project proposal to the ministry for seven of these centers. These will be turned into multistoried complexes with gymnasium, IT centers and women's training facilities. Rest of them will be renovated.
TDS: How do you see the rest of your tenure?  
SK: I am trying my best. My concentration is to do my job. People will see a big change next year.