ONE YEAR OF TWO DHAKA MAYORS
Freeing illegally occupied roads, sites was not easy
Dhaka North Mayor Annisul wants to go ahead despite obstacles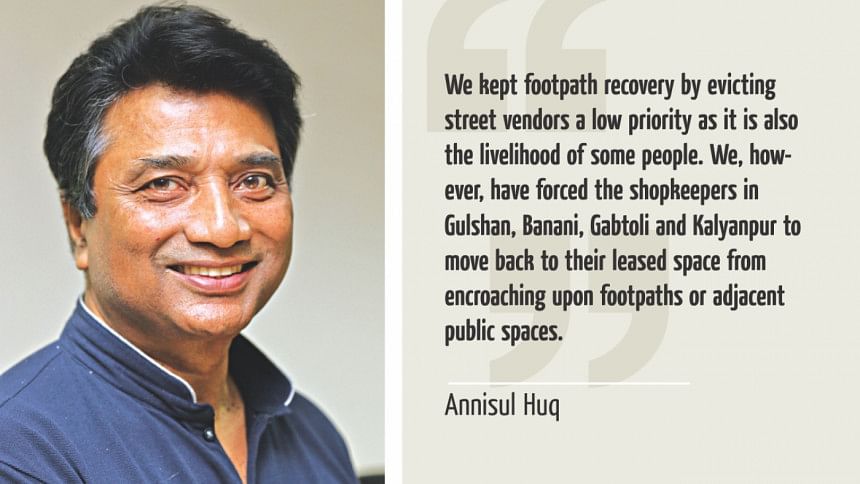 Annisul Huq and Sayeed Khokon took oath as mayors respectively of Dhaka North and South City Corporations on May 6 last year. They took over offices with serious pledges and commitments to bring about qualitative changes in delivering civic services. 

Both, however, found themselves constrained with coordination crisis among the multiple service-providing agencies at every step in this mess of an unplanned city.        
  
Though one year is not an adequate period for making a progress report on a public office bearer, the two mayors have made sincere efforts to make some difference in civic life. In some cases, they achieved extraordinary goals, while in others, they faltered. 

In exclusive conversations with The Daily Star on the eve of their completion of one year in office, Annisul Huq reflected on some of his stunningly bold actions to retrieve public interests against the age-old coterie benefits, his constraints, and future plans to turn north Dhaka into a smart and green city. On the other hand, a committed Sayeed Khokon primarily dwelt on a mayor's fundamental constraints due to lack of coordination with other service providing agencies.
The Daily Star (TDS): What was your first task as mayor?
Annisul Huq (AH): There was a time when Dhaka's skyline was blocked by countless illegal, ugly billboards. No one had the guts to touch those owned by powerful syndicates. But we have done it in four months. Over 20 thousand billboards and banners of different sizes were removed.     
TDS: Was there any other challenge you took on?
AH: We cleared ten sites around the city that had been illegally occupied with unauthorized parking and structures. Clearing the roads has eased traffic and pedestrian movement tremendously. The sites cleared include Mohakhali, Tejgaon, Karwan Bazar main road, Gabtoli, Amin Bazar, Kalyanpur, Abdullahpur, Mohammadpur, Mirpur and a road near Japan-Bangladesh housing. Several hundred transport workers went berserk and fought pitched battles with law enforcers during the eviction drive that I led to free Tejgaon truck terminal of illegal structures and the adjoining wide road of decades-old illegal occupation and illegal parking late last year. The entire road and adjoining footpaths are now clear.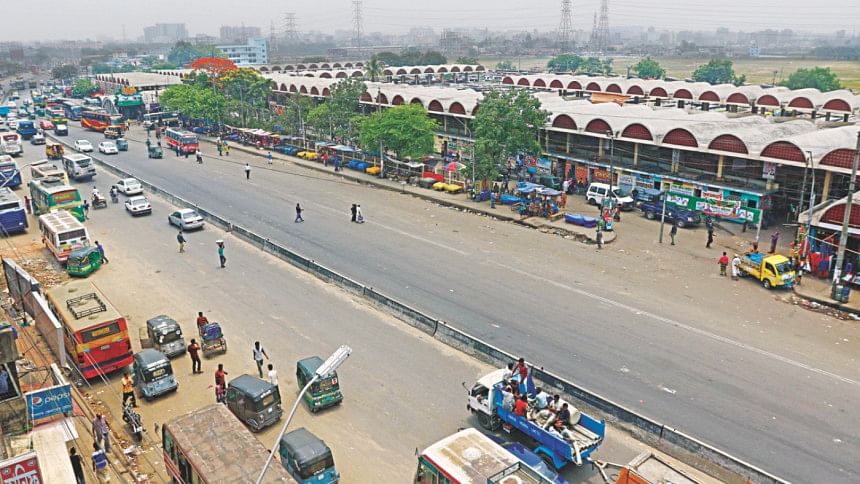 TDS: Your predecessors could not do it over the decades. How did you do it? 
AH:  I had no alternative but to act boldly. Both the jobs were with risks but I had to go for it courageously by persuading those who opposed the move.  They could not buy the mayor's office.
TDS: Were there any obstacles?
AH: There was no political opposition but we had to face some musclemen.
TDS: What is your strength?
AH: The mayor does not work alone; political leaders, ministers, and local councilors helped with clear directions from the Prime Minister.          
TDA: At a pre-election dialogue you had promised that you would fight the mosquito menace as a priority. What have you done to fight mosquito?   
AH: We could not control the menace this year even though we had used more chemicals. Besides, the corporation cannot access those privately owned marshy or low lying breeding grounds. As a result, our mosquito control drive is not effective. People suffered this year but I hope to give them more relief next year.    
TDS: What have you done to recover illegally occupied footpaths?        
AH: We kept footpath recovery by evicting street vendors a low priority as it is also the livelihood of some people. We, however, have forced the shopkeepers at major markets in Gulshan, Banani, Gabtoli and Kalyanpur to move back to their leased space from encroaching upon corridors, footpaths or adjacent public spaces. Now the shoppers can move easily in the market corridors, for example at Gulshan DCC markets. But I need 150 environment police personnel under the mayor's office to make sure the evicted vendors cannot reoccupy the roads and footpaths.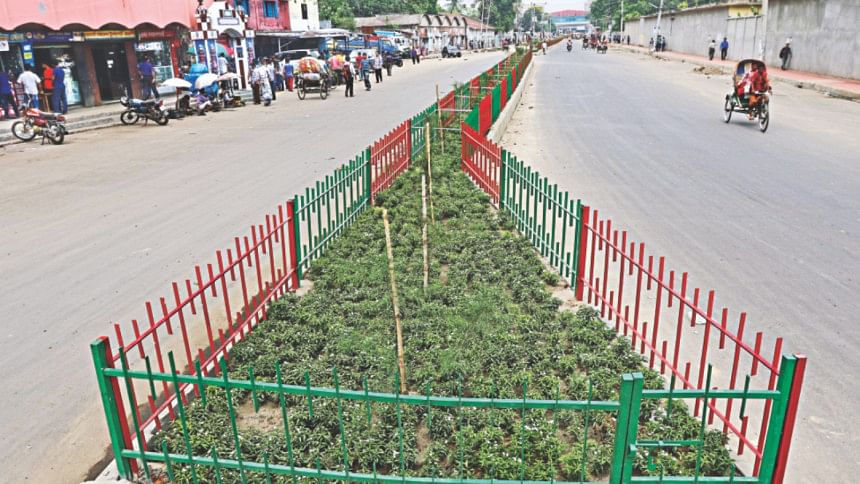 TDS: What steps have you taken for better waste management? 
AH: So far we have been able to build 58 secondary waste transfer stations though we needed 72 with two in each of 36 wards. Some had to be set up on footpaths and roads because there are no vacant spaces. Dhaka is not a planned city. There is no designated space in the city for waste collection centers. In Gulshan, despite being a posh residential area, we could not find any space for waste transfer station. We are [also] going to put 5,000 waste bins along the streets.
TDS: What could you do so far in addressing flooding in the city? 
AH: Dhaka city's storm drainage system is made of surface and feeder drains maintained by two city corporations, while the large diameter storm water pipelines and lakes and rivers are maintained by Wasa.
There are 23 major canals in the city that play vital role as storm drainage. Unless these canals and large diameter pipelines are cleaned, the city's flooding cannot be solved.
TDS: What are the ongoing road, footpath, and drainage development programmes? 
AH: Under the DNCC annual development programmes in the current fiscal year, this city corporation has undertaken repair and improvement of 118 km roads, 148 km drainage and 68 km footpaths. Currently, DNCC is laying wide diameter storm sewer lines in Gulshan, Banani and Baridhara and it will be completed by next year. We hope to reopen all the roads in Gulshan, Banani, Baridhara and other areas that have been dug for laying drainage pipelines, by end of May.            
TDS: You initiated building U-Loops to ease traffic congestion and get 3000 new buses to improve the city's public transport. What's the progress?
AH: U-Loops are regulated traffic turning facility to be built along a 32-km stretch from Gazipur to the capital's Satrasta to reduce congestion by one-third.
There will be 22 U-loops along the road to replace 69 traffic crossings including 20 major intersections. We are going to get Tk 48cr from the planning ministry to build the loops by the end of the current year. The new buses would operate under a franchise system by only five companies instead of the current 190 private companies operating ramshackle buses in the capital.
TDS: What progress could you make on your election campaign 'Clean Dhaka: Green Dhaka?'
AH: On May 2, we formally launched a green campaign of planting half a million trees at two lakhs households, along the roads and footpaths and at open spaces. Prof Abdullah Abu Sayeed, founder of Bishwa Sahitya Kendra and a noted environmentalist would help guide this enormous task. The campaign would be piloted in Uttara during first three months. We have already floated tender to procure the trees and saplings through electronic (online) tender and are going to train 100 volunteers to carry out the job. Fifty-six foot over bridges are to be ornamented with flowering plants. We have a plan to set up 100 modern toilets two of which are already in operation. 
TDS: What else are you planning?
AH: We have a plan to remove the 3.4 km long solid wall along the Tejgaon old airport with see-through fencing to add an extensive open green stretch. I have already talked to the chief of Bangladesh Air Force that manages the old airport and he has been positive to the idea.    
TDS: What plan do you have to maintain and develop the parks and playgrounds?
AH: there are 27 parks and nine playgrounds under DNCC. We are preparing a master plan to take care of them.
TDS: What is your plan on city beautification?
AH: We have invited design for beautification and landscaping work and are going to form a committee to get the job done.
TDS: Are you going to involve any urban planners and landscaping architects in the beautification project?
AH: We are going to form a committee with those who understand the issue.              
TDS: You promised to increase security.
AH:  We have so far installed 600 high-tech closed circuit cameras at key points. Eleven hundred more similar cameras would be installed by June. A fund of approximately Tk 15cr has been raised with donations from businesses. We shall need Tk 30cr to cover the entire north city.
We are also taking stock of what exactly we may need to replace old energy hungry street lights and get 46 thousand LED lights from Europe instead of China, as it has some public health implications.
TDS: What about Karwan Bazar relocation?
AH: Karwan Bazar wholesale market will be relocated to Jatrabari, Amin Bazar and Mohakhali. We shall build a modern commercial hub there.
TDS: What measures have you taken to stop institutional corruption at the city corporation?
AH: We introduced electronic tendering from the very first day for transparency of the tender process. Nobody, however, liked it. I gave a clear message that mayor's office wants to remain clean. Two influential trade union leaders were transferred and demoted to their actual posts to enforce discipline. The DNCC is set to launch an online application to receive citizens' complaints.
TDS: How do you envision your remaining mayoral tenure?  
AH: All the roads in north Dhaka city will be in functional state with 60 percent of the area made green and the solid wastes mostly managed in the next three years.