Workers' health and safety must come first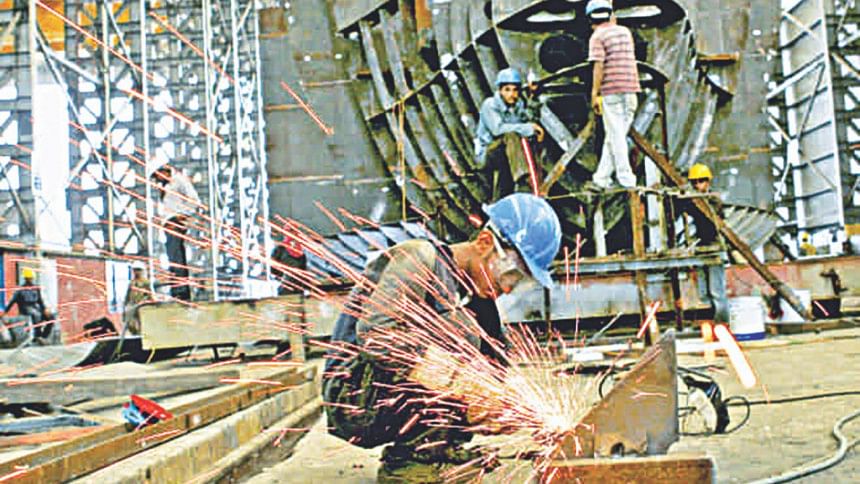 On January 1, 2017, an editorial in The Daily Star titled "Lack of occupational safety" cited a study by the Bangladesh Occupational Safety, Health and Environmental Foundation (OSHE) that provided some astounding figures revealing the current state of workers safety. The study revealed that at least 1,240 workers were killed and 544 others injured at workplaces nationwide. This figure was 289 casualties (almost 23.31 percent) higher than in 2015. The Safety and Rights Society revealed that construction is one of the deadliest sectors, with 426 reported deaths in 2017. The Bangladesh OSHE reported that boiler explosions and the lukewarm response from the government to the various inspectors who conducted safety inspections are two of the reasons behind the increase in this death toll.
Articles with titles such as "Illegal stone extraction must be stopped", "Least bothered about workers' safety", "Treat labourers with dignity", and "Workers' safety must come first" were published in The Daily Star on the 5th, 6th, 26th, and 31st January 2018, respectively.
Occupational Safety and Health (OSH) failures have turned into distress in all sectors—most importantly in transport, construction, ship-breaking yards and the chemical- and leather-processing industries. This has happened all over the country, but most frequently in the districts of Dhaka, Chittagong, Gazipur, Sylhet, and Narayanganj.
The state of OSH in Bangladesh is seriously disturbing and has had an enormous impact on the economy as well as on individuals, families, communities and the reputation of our country. It has created a barrier to development, as well as raised questions about the sustainability of rising industries like ship-breaking and ship-building.
The Constitution of the International Labour Organisation (ILO) emphasises national policies and sets forth the principle that workers should be protected against sickness, disease and injury arising from their workplace. Bangladesh, as an active member of the ILO, has a labour policy and has made safety committees for OSH mandatory under the Bangladesh Labour Act (BLA) 2013 and Bangladesh Labour Rules (BLR) 2015. However, the execution of BLA 2013 and BLR 2015 has remained questionable. The Department of Inspection for Factories and Establishment is one of the leading regulatory bodies assigned to monitor OSH in the country, and it has never functioned properly.
I do not blame public bodies alone, as we, the stakeholders, should also take responsibility for this situation as we know labourers in Bangladesh are mostly led by uneducated, unskilled, untrained, and inefficient management. The majority of construction sectors are led by a "mistry" or by contractors who are not aware of how to comply with laws and regulations on OSH or even the need to do so. Also, owners of transport, construction, and other sectors rely heavily on these labour leaders as a cost-cutting exercise.
Perhaps it is due to the lack of resources (both monetary and human) that government agencies have failed time and again to monitor OSH in various sectors; as a result, worker safety and health are at risk. Therefore, a public-private partnership, with national and international stakeholder involvement and which includes the government, corporations, NGOs, businesses, relevant professional bodies and society, as well as individuals, is needed in order to ensure OSH in the workplace.
In my experience, I have found that designing and maintaining OSH is not only costly, but also a cumbersome process for most companies in developed countries such as the UK. Supporting OSH is expensive, requiring measures such as carrying out visible changes by hiring physicians and healthcare professionals to regularly check workers' health, designing uniforms, and providing safety equipment and safety signs. There are also less visible changes required, such as regular risk assessment, planning of safety manuals, providing induction and training for workers and regular safety training for the above-mentioned labour leaders. I would therefore recommend the involvement of public-private partnerships and stakeholders in OSH.
In practice, relevant government agencies should provide standard employment contracts, regardless of whether they are short- or long-term. This should start with a large amount of compensation for injury and death, employer's liability insurance, and applying a uniform policy according to industry standards. It should also include sick pay, safety manuals with pictures, along with training and inductions for both new recruits and existing workers. Safety posters containing the BLA 2013 and the BLR 2015 and compensation for death and injury must be designed and displayed in manuals in every workplace. Safety manuals should be designed and provided for every employee during OSH. Greater compliance enforced by the government, and local as well as central monitoring of the sector, could prevent many deaths and injuries that are due to a lack of OSH.
For safety training, induction and risk assessment for OSH, large companies should have in-house support and services for workers. Where this is not possible, government agencies will work with various private entities, such as corporates and NGOs. These entities can facilitate voluntary risk assessments and free safety training courses, along with a certificate of achievement in every major city, thus making the care of OSH open to all sectors and organisations. Government agencies should make sure that only OSH-certified labour leaders can handle and lead workers. It can be a good avenue for a business enterprise.
OSH is more of an ethical issue than a business and corporate matter although the demand of the time is to make businesses more ethical. Therefore, it is time for us to be active in ensuring OSH individually, collectively and voluntarily from our own positions as part of our social responsibility. This, along with support from companies, corporate and government agencies, will help Bangladesh be recognised as a country with safe workplaces, which will also meet local and foreign stakeholders' demands. It is time now for us to act fast in order to meet our social responsibility for the safety, health and wellbeing of workers before it goes too far, resulting in a tragedy as disastrous as the Rana Plaza collapse that has had such far reaching and devastating consequences.
---
Mohammad Omar Faruk is a human resource consultant based in London.
Email: [email protected]
---
Follow

The Daily Star Opinion

on Facebook for the latest opinions, commentaries and analyses by experts and professionals.
To contribute your article or letter to The Daily Star Opinion, see our

guidelines for submission

.
---