Student movements and the culture of dissent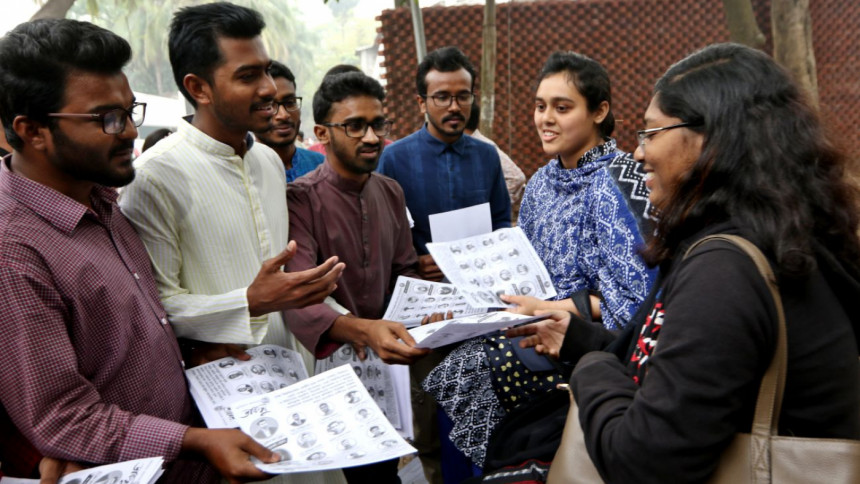 After a long and agonising wait, we are finally going to witness the election of Dhaka University Central Students' Union (Ducsu) on March 11. With all major student organisations participating, the prospect of restoring students' democratic rights at the country's premier public university is certainly a promising one. However, it is worrying that no visible efforts have been made to overcome students' concerns about possible election manipulation and their fear that they could be barred from casting ballots.
It was a great failure of political leaders that the restoration of democracy in 1991 in a student-dominated uprising coincided with the destruction of democracy in educational institutions. As a bastion of oppositional activism and progressive politics, Ducsu has always been a thorn in the side of the establishment. Successive administrations systematically deferred holding of its election with tacit approval of successive governments. The ruling parties feared that an elected students' union might pose a political challenge to their rule, while the university administration also found the situation beneficial if the environment of the campus were to remain unchanged. It allowed the student wings of the ruling parties to establish their overwhelming dominance and control on the campus and in the halls of residence.
Despite a constant public demand for holding Ducsu election over the past 28 years, the authorities paid no heed and managed to postpone it. Why this change of heart now? Does it indicate that we are genuinely moving towards restoring the former glory of Ducsu as an institution that reflects the aspirations of the students?
The ruling party has learned the hard way that student agitations cannot be silenced through mere physical dominance and control. This tactic is no longer as effective as it used to be. The two recent student movements, one seeking reformation of public job reservations and the other seeking road safety, emerged not only in the heart of the capital city but also all over the country despite the ruling party's student wing, Bangladesh Chhatra League (BCL), being in full control of the campuses. The sheer force of the movements made BCL seem somewhat irrelevant.
The political will to allow for the Ducsu election marks a shift from the strategy of keeping control by other means. It is obviously healthier for a democracy when those in power drive students towards engaging in electoral activities. But interventions by ministers and ruling party leaders and involvement of agencies even in choosing candidates, as revealed by BCL leaders (Prothom Alo, February 23, 2019), are ominous signs.
It may seem odd that a students' union election is generating so much attention and chatter. Such an election in foreign countries usually fails to attract even its own union members, let alone the whole nation. This is perhaps the case in our country because of the role played by student movements in our national life. Contrary to the experiences of most other countries, our students, historically, took upon their shoulders the burden of representing the whole society. They spearheaded some of the most significant events in our history—the language movement, 11-point movement, mass uprising of 1969—and played a crucial role ahead of the Liberation War. Even in post-independence Bangladesh, students continued to play a pivotal role in all major democratic movements.
Since its beginning, student activism did not confine itself to merely generating collective power, creating a democratic campus, or negotiating improvements to the academic environment; it served as a force of mass movements. As Ranesh Dasgupta observed, since Partition in 1947, especially after the official objective to achieve universal primary education was set, students started to represent a real organic social structure, and they thus came to the forefront of the nationalist struggle. Emphasising the class composition of early student movements, Dasgupta went as far as to claim that the class struggle of the day was also manifested through student mobilisations as they were from various classes that were seeking a restructuring of the existing social order. The students were speaking for the classes their parents belonged to. It is not that they were less aspirational than those of the present day; it was their organic ties to the social classes that determined their political actions.
Student movements have no parallel in our history in terms of successfully bringing about changes on a national level. It is not only because of Dhaka University's strategic location, but also due to the contagious nature of student movements. The historic events of 1952, 1962, 1966, 1969, 1990, 2008, or 2013 were all intimately connected to student mobilisations. They were generational protests—students all over the country resisted the authorities. They were national protests—the whole nation stood behind them. They were able to bring together all types of people of diverse backgrounds and welded them together as one to fight against the ruling power.
In our political system, the power held and exercised by the state, from time to time, is held in check by the power of student movements. Whenever the ruling regime grew despotic, students emerged as the counter-balance to restrain the rising authoritarian power. Whenever the rule of repressive mechanisms became supreme, students were eventually able to bring back some sort of sanity in the system. At its core, student movements were often the last guards of the national order.
Therefore, if the ruling power thinks that legitimising a strong grip over the campus through elections will ensure that they would not need to worry about student movements anymore, it is perhaps gravely mistaken. If we are to learn anything from student-dominated mass movements, the first lesson would be that these movements are spontaneous, non-hierarchical, with no leadership or organised structure to lead or contain them. An explosive student movement never required any pre-existing structure. A student regime loyal to the ruling party would not stand in their way of taking action.
Instead, unexpected things might happen if students feel unrepresented or abandoned. Outraged students in action, occupying the universities or streets, cannot be tamed by the police. So it might be a losing strategy for the ruling party if its friends and supporters were to stand in the way of their own community.
The ruling party would do better if it realised that organised liberal, secular student activism does not usually provide a strong challenge to them. Student organisations are no political party, and student movements do not seek state power. Students can begin struggles and set things in motion, they can reset anomalies and aberrations that grow within our political system, but their key limitation is that they cannot control the wider national politics. Showing restraint and letting students decide the outcome of the election in a fair play would surely do more good than harm.
The core values that have dominated student activism in Bangladesh are liberal, pluralistic, inclusive and secular. Any coordinated attempt to silence dissenting and alternative voices on the campus would only put up more barriers to the development of a liberal, secular and inclusive society.
Ducsu is seen as a model to be followed by other universities. Therefore, it is of utmost importance that the authorities ensure an election that is not marred by any irregularities, and that the students are not afraid to speak their mind and their aspirations are reflected in the election.
---
Zobaida Nasreen is an associate professor of anthropology at the University of Dhaka. She can be reached at zobaidanasreen@gmail.com.
---
Follow

The Daily Star Opinion

on Facebook for the latest opinions, commentaries and analyses by experts and professionals.
To contribute your article or letter to The Daily Star Opinion, see our

guidelines for submission

.
---