'Provost has no authority to arrange Ducsu hall unit re-election'
Ruqayyah Hall provost says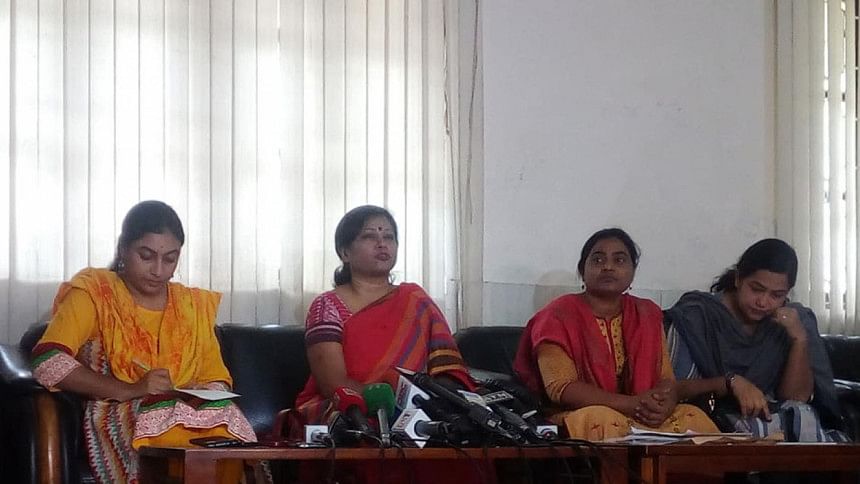 Professor Dr Zeenat Huda, provost of DU's Ruqayyah Hall, today said she has no authority to arrange re-election to Dhaka University Central Students' Union (Ducsu) elections for Ruqayyah Hall unit.
She made the comment while talking to the reporters at a press briefing at DU Teachers' Club around 12:00pm, reports our DU correspondent.
A day before the Ducsu election, university authorities provided six ballot boxes, three "trunks", 4,608 ballot papers for Ducsu election and 4,638 ballot papers for hall unit election, she said.
"On election day, the six ballot boxes were placed at the booths, while the three trunks and 2,608 ballot papers were kept in the room next to the booth which created a misunderstanding," the hall provost also said.
Later, all the candidates had examined the ballot papers which bore no seal, she added.
Replying to a query about the five students of Ruqayyah Hall who are on a hunger strike, the provost said she has asked the hall tutors to inform her about them.
No case has been filed by the hall authority against the demonstrating students, she also said.
In response to another query on allegation of the demonstrating female students being teased by BCL activists, she said the students are demonstrating outside the hall's premises and hence it was not a matter of concern to the hall authorities, reports Bangla daily Prothom Alo.
"Our concern is to bring back the students to the hall from outside its premises," she said.
She also said that she did not know about the incident.
"I was not informed about it. No hall tutor also informed me in this regard," Prof Zeenat added.
On hunger strike demanding re-election to the hall unions, the five Ruqayyah Hall girls claimed that they were teased by ruling party's front Bangladesh Chhatra League (BCL) activists early today.
The girls began their hunger strike yesterday demanding re-election to their Hall Sangsad and resignation of the hall provost over her failure to hold a fair election.