Girls allege BCL teasing during hunger strike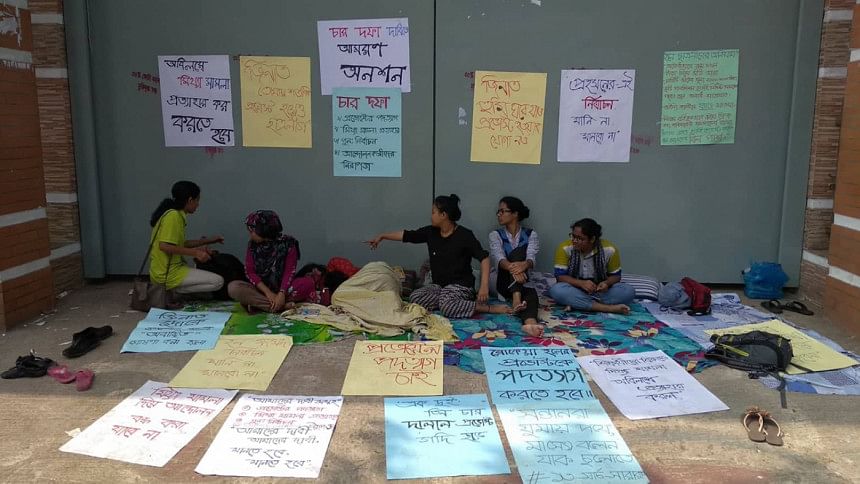 On hunger strike for re-election to hall unions, the five Ruqayyah Hall girls claimed that they were teased by ruling party's front Bangladesh Chhatra League (BCL) activists early today.
"Around 200 activists of Chhatra League came at the hall gates on motorbikes around 2:00am," Shrobona Shafiq Dipty, a participant of the strike, told The Daily Star this morning.
"They hurled comments on us. They jeered at us," said the independent hall candidate.
"We are feeling very insecure in the campus as those of us who were front liners during the agitation have been marked," said Promi Khisha, another participant of the strike.
The girls are on hunger strike demanding re-election to their Hall Sangsad and resignation of the hall provost over her failure to hold a fair election.
"We also demand that the withdrawal of the false case filed against us," Khisha said.
INDEPENDENT STUDENTS' FAST UNTO DEATH GOING STRONG
The hunger strike of six students demanding a fresh Ducsu election is still going strong on the third day.
"We would rather die but won't quit until our demands are met," Al Mahmud Taha, one of the participants of the hunger strike, told The Daily Star today.
"Almost 72 hours have passed but no one (authorities) came to visit us. The question of meeting our demands seems a far cry," said a feeble-looking Taha.
Regretting the authorities' apparent "apathy", Taha said: "Even Anindya, who was hospitalised yesterday, was not attended by any teacher."
The students were continuing hunger strike at the base of Raju Sculpture near TSC and vowed to continue the protest unless their two-point demand is met.
Initially, four independent candidates who lost the polls began the hunger strike. Two students later joined them.
WHAT ARE THEIR DEMANDS?
--Reschedule for fresh election
--Resignation of all concerned of the "farcical" Ducsu polls
WHAT HAPPENED AT THE DUCSU POLLS?
The 28-year-long wait for the Ducsu election ended in boycott by all major panels except for the BCL over allegations of irregularities and vote rigging.
Most participating panels exploded in protests even before the voting ended and demanded a reelection. They had also called a strike, which was later called off.
The university authorities found proof of vote rigging in Bangladesh-Kuwait Maitree Hall, where several hundred ballot papers were found in a sack. All the ballot papers were marked in favour of the BCL candidates, teachers and students said.
The hall provost was removed from duty following the discovery.