Producing the graduates of tomorrow
Skills mismatch between graduates and market demands is a growing concern for Bangladesh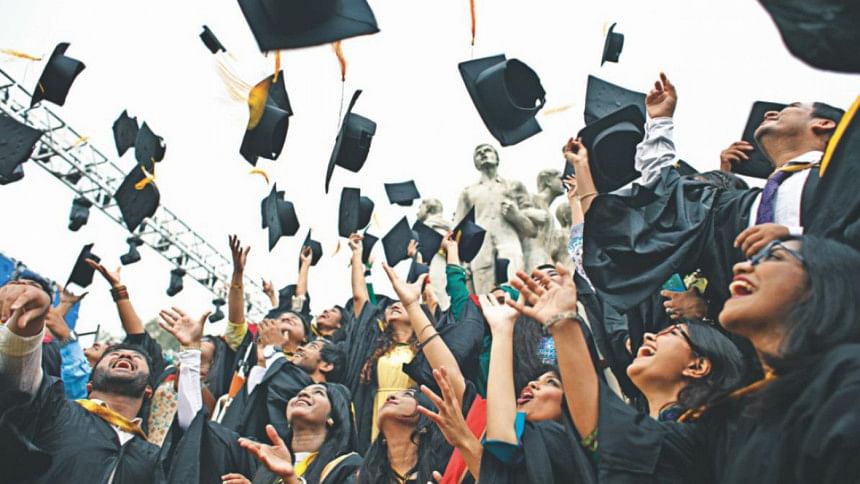 Visualise a sunny convocation day—students beaming with pride and their four years of strenuous academic struggles finally summing up to them tossing their graduation caps as a symbolic gesture to commemorate the end of their undergraduate life. It is a moment of celebration. They are finally becoming graduates! For the next stop, their professional life—with all its corporate terminologies of promotions, bonuses and office culture—awaits.
Unfortunately, the reality deviates from this scenario for many once they start facing multiple rejections when they apply for jobs.
This scenario is not atypical of countless fresh graduates entering the job market in Bangladesh. Recently, North South University (NSU) has been ranked as the leading private university in the country according to a survey conducted by Dhaka Tribune (Bangla Tribune). While our own universities fight amongst each other to cement their position in the top rungs of rankings, we need to take a step back to get a sense of the underlying picture.
The country's education system remains far behind. It has not kept pace with the exponential speed at which the world is changing. Fundamental skills are being overlooked and this will likely balloon into a much bigger problem in the near future.
Not a single university from Bangladesh could secure a position in Asia University Rankings-2019—a list consisting of 417 universities. This comes at a time when the atmosphere in the job market—where cut-throat competition prevails—is becoming more and more hostile. Let's zoom out even further. The fourth industrial revolution is well underway—the era of an amalgamation of technological innovations consisting of physical, digital and biological domains will catalyse the onset of automation, artificial intelligence and massive data exchange. A transformation in the global demand for skills among graduates is expected due to these colossal changes. According to McKinsey Global Institute, 800 million jobs are to be replaced by 2030 due to automation. Enterprises worldwide will be challenged including our domestic ones. 
In a world where artificial intelligence will redefine our job descriptions, having an edge with interpersonal skills is integral. But even if we keep aside this not-so-far-fetched future for now, we have to accept the fact that our own markets are struggling with the quality of graduates the universities are churning out. The calibre of new recruits is being called into question by employers. Employers expect them to be creative, possess complex problem-solving abilities, be quick learners and, most importantly, have people management skills. Contrary to the expectations of market leaders, most graduates here suffer from inhibitions when it comes to communicating. One would actually think that the university curriculum would therefore focus on equipping the students with these skills in demand. Unfortunately, that is not so. University curriculum is not modelled in such a manner that necessitates the development of interpersonal skills.
The problem here boils down to skills mismatch: the skills that the students actually acquire do not align with what industries require. Scrutinising this problem further would reveal the distress our National University graduates have to undergo—as substantiated by a World Bank report which disclosed that 46 percent of NU graduates remain unemployed for three years before securing a job. Our university curricula need to be reformed to not only keep pace with the ever-changing global landscape but also feed the demands of our domestic market.
Business graduates, in this regard, still have better odds at being more competent in terms of interpersonal skills. The courses are designed in a manner that encourages them to cultivate their communication skills. After all, the idiosyncrasies of the corporate world, or of any industry for that matter, revolve around dealing with customers, suppliers, intermediaries and all sorts of stakeholders—which only goes to show the importance of people skills. However, most business graduates are only superficially equipped and they often have to struggle when they face the real world. A business student, for instance, graduating with inadequate skills—related to slide-making and public speaking for example—would be put in a humiliating position if they have to present in front of corporate big guns.
Our world renowned RMG sector is an embodiment of that. With expatriates occupying the executive managerial positions due to a dearth of local skilled workers in the top management, in the RMG industries, around USD 2.35 billion is being remitted out of the country annually. It is quite unfortunate that our graduates are not being endowed with specialised skills pertaining to communication, negotiation and decision-making abilities that this economic-growth-enhancing industry desperately demands. This leaves the RMG entrepreneurs no choice but to hire foreign workers to lead the factories.
The picture gets even bleaker for students specialising in STEM (science, technology, engineering and mathematics) who are not even required to work on their basic communication skills according to their academic curriculum. Besides this, there are two other issues to be noted. First is the language barrier when it comes to communicating in English—a necessity of the 21st century. Second is computer literacy needed to excel in handling spreadsheets, making PowerPoint slides and having enough web skills to make the most out of this social-media-driven world.
We should start focusing on harnessing the skills of our graduates. We should be producing graduates who have the required eloquence and confidence to present themselves in front of a panel of corporate heads. We need graduates who are able to solve complex problems and play critical roles in decision-making. The needs and demands of the industries are changing with the architecture of the global job market. The ripple effect of such a continental change would, one way or the other, have a huge impact on Bangladesh. Having symmetrical information between employers and job-seekers has become essential in order to perfect this market and reduce this skill mismatch.
Bangladesh, despite its social and economic woes, is miraculously paving its way up the ladder of development. But the country's education system remains far behind. It has not kept pace with the exponential speed at which the world is changing. Fundamental skills are being overlooked and this will likely balloon into a much bigger problem in the near future. The agenda of ensuring continuous adaptive learning while nurturing an innovative mindset should thus be the raison d'être of tertiary education in order to help our graduates meet the demands of the time.
---
Iqra L Qamari is a student of economics at North South University and is an intern at The Daily Star.
---
Follow The Daily Star Opinion on Facebook for the latest opinions, commentaries and analyses by experts and professionals.
To contribute your article or letter to The Daily Star Opinion, see our guidelines for submission.
---