The kitchen market is on fire, thanks to the recent inflation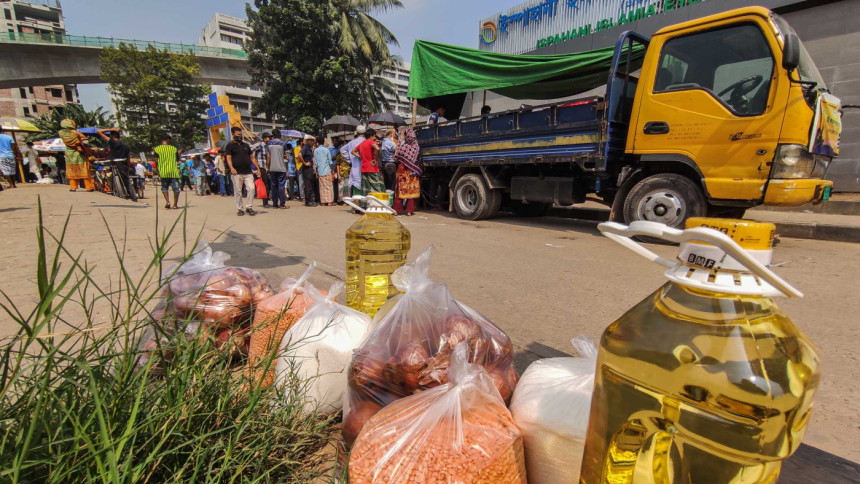 I regularly scan the headlines of Bangla newspapers. Recently, I came across several news items with headers that go along the line "Bajare agun, purchhey shadharon manush," meaning "The market is ablaze and the ordinary consumers are burning." The implication is that the rising prices of essential goods have set the market on fire, and the flames are getting out of control. Once you go through the detailed narrative, the story inevitably provides data from different kacha bajar or kitchen markets in Dhaka as well as around the country, offering price information on various staples and items of everyday consumption.
As a price-conscious consumer, but mostly as an economist, inflation—and deflation, too—plays a big role in my everyday decisions. I also have some very close relatives, particularly an octogenarian mother-in-law, who live on a fixed or limited income. Most of them belong to the middle class and have a tight budget, and some of them are on the verge of sliding into the lower-middle-income category. They keep me constantly posted on the upward trends in the prices of everyday items.
Undoubtedly, inflation is an ever-present phenomenon in our lives. It looks like the price level is meant to go up! There are different measures of the price level, known as the price index, and whether we measure it by the Consumer Price Index (CPI), Producer Price Index (PPI) or the more esoteric GDP Deflator, the price level in the country has been going up. Indeed, it would be surprising if the price level for any country in this day and age remained steady for a sustained period of time.
There might have been a short duration in the past when the price level indicator was flat. It is entirely possible that during a prolonged recession or deflation, movements in the prices of some products may show a decline, such as during the Great Depression in the 1930s or the Great Recession of the financial crisis that happened between 2007 and 2009. However, for most people, memories of a deflationary period are indeed rare—except for the people of Greece after 2013 and Japan from 1991 to 2001.
As we know, some price variations are seasonal, and prices go up as well as come down. Once in a while, I would hear something like: "Oh, this year, the price of mangoes is less than last year" or "The price of coarse rice has gone down, and it is affordable for poor people." But most of the time, we see news stories about the fires in the grocery stores—i.e. that prices of everyday commodities are "super hot."
Every now and then, I have an interesting conversation with my mother-in-law about the prices of everything in the grocery market, or the so-called kitchen market. She would occasionally draw my attention to the ever-increasing prices of essential items, particularly rice, potatoes, lentils, onions, sugar, and meat. Fortunately for her, she owns the flat in which she has been living for many years, and does not feel the impact of the sticker shock of rent increases. But, even at this age, she is very active socially, and goes to the Ladies Club and entertains family and friends who visit her regularly. I must say, she is grateful for the community support she receives. But, all this costs money and her finances got tighter due to the pandemic's effect on the economy.
My mother-in-law, like my aunts and cousins, lives on a modest pension from my late father-in-law, supplemented by rental income. I ask, out of concern for her well-being: "Amma, prices of everything have gone up, as you report. I also read about it in the newspaper stories. Is your income keeping pace with the rising prices?"
She laughs, and asks: "Where in the world have you heard that the income of retirees is adjusted for inflation? Is this America? Are you living in a dream world? How can I ask the government to give me a raise?" I checked with my friends at the Policy Research Institute (PRI), who confirmed that cost-of-living adjustment (COLA) is rare in Bangladesh.
For readers not familiar with COLA, a cost-of-living adjustment is an increase made to pensioners or many others who receive a fixed income, to counteract the effects of inflation. Cost-of-living adjustments are typically equal to the percentage increase in the consumer price index for urban wage earners and clerical workers (CPI-W) for a specific period. It is prevalent in developed countries, and COLA adjustments are part of contract negotiations for workers in many developing countries, too.
Coming back to my ongoing conversation with my family members, whose financial stability has been hammered by recent price inflation, I try to reassure them. "You know, elevated inflation is caused by transitory factors." The term "transitory" was popularised by Jerome Powell, the chairman of the US Federal Reserve System (Fed). The inflation rate in the US has jumped up in recent months, and when Powell was confronted by Congress on the duration of inflation, he reassured the nation that inflation was transitory and would go away as supply bottlenecks are eased.
The Fed summarised the situation very aptly: "Supply and demand imbalances related to the pandemic and the reopening of the economy have contributed to sizable price increases in some sectors."
Prices of many items of everyday consumption have seasonal variations, too. For us, supply and demand imbalances trigger ups and downs, and usually prices of rice, onions, and other vegetables come down after a new harvest. On the other hand, prices of imported goods, for example soybean oil and petrol, are likely to be sticky.
The social cost of persistent inflation can be damaging, and might even trigger demonstrations by the public, as witnessed recently in India. Undoubtedly, inflation or rising prices affect people of different walks of life differently. The recent increase in the cost of living in Bangladesh varies—by city and the type of work you do. If your nominal income is fixed, then your real income goes down. A pensioner usually receives periodic adjustments, but in Bangladesh, the pay scale is revised with a lag. A wage-earner in a tight labour market might be able to get a raise if inflation is persistent, but a rickshaw puller might have a tough time keeping up with inflation.
The hardest hit are the day labourers whose income changes as the amount of work fluctuates on a daily basis. Typical is the story of a worker who works in kitchen markets to carry goods to a shopper's car (a "minti" in the local dialect), who found that his daily income dropped from Tk 700 to Tk 300 during the pandemic. It is unlikely that he will be buying much meat for his family.
A recent news report said that the price of beef per kg was Tk 203 in 2009 and recently was selling for over Tk 600 per kg. That works out to an annual increase of 14.77 percent. A friend of mine reminds me that boneless beef now sells at Tk 900 per kg at minimum.
High inflation, combined with the government's pandemic spending boosts, are known to benefit the better-off and harm the lower-income earners. Prices of housing, food and energy—three of the highest-cost items for lower-income earners—are accelerating sharply. Lower-income earners tend to be renters, who face sharply higher rental costs, while higher-income households tend to be homeowners, who benefit from soaring home values. Evictions of renters and their return to villages are common phenomena in Bangladesh during times of economic hardship. Many have seen their income go down due to loss of jobs and business due to Covid restrictions, and had to resort to borrowing to tide over difficulties.
In Bangladesh, the job market for newly graduated young people is yet to pick up. The stress level for the job-seekers is extremely high and has reportedly pushed the level of suicide among young people to new levels.
Many years ago, I saw a cartoon in the "MAD" magazine. The caption was: "What goes up must come down." I now realise, from my experience, that this law does not apply to the prices of essential goods in Bangladesh.
Dr Abdullah Shibli is an economist and IT consultant, and a senior research fellow at the International Sustainable Development Institute (ISDI), a think tank based in Boston, US.