BCL is totally out of control
Their unchecked criminality is hurting public universities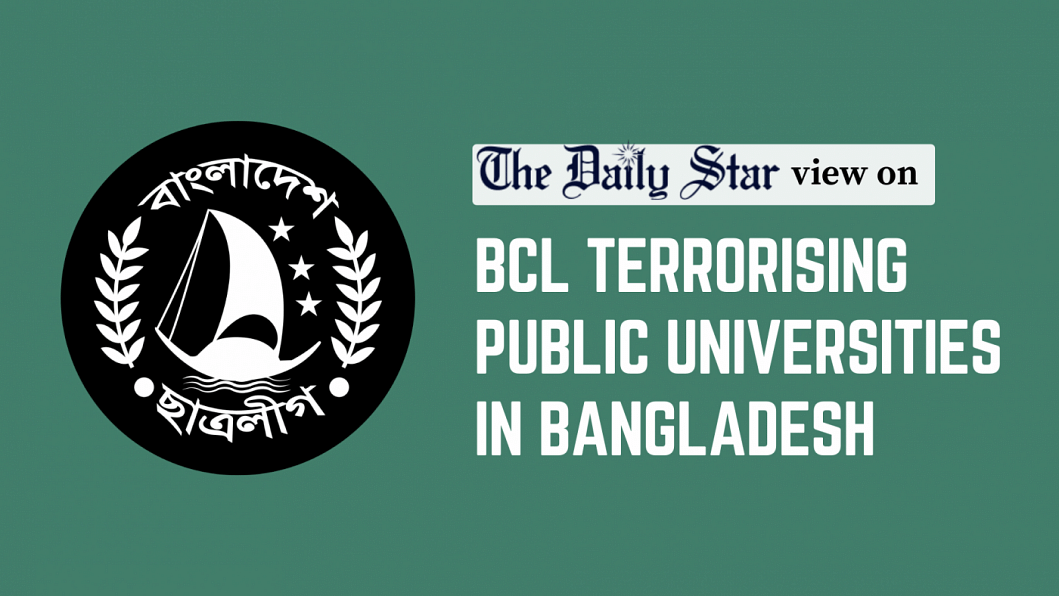 Over the last 14 years or so, Bangladesh Chhatra League (BCL) has always been in the news for their objectionable conduct across public universities. From harassing and torturing general students and political rivals to engaging in criminal activities, such as extorting and mugging, to intimidating teachers and journalists – there seems to be no end to their criminality. And over time, they have become more emboldened as university administrations hardly take any action against them. And the ruling party seems hardly ever bothered about it so long as the BCL maintains control over campuses on its behalf.
The daily Prothom Alo published a number of reports yesterday detailing how BCL leaders and activists are enjoying a free rein in public universities. At Chittagong University, for instance, they frequently clash with each other, often with sharp weapons. They are publicly extorting the contractors implementing development projects at the university, illegally occupying hall rooms, beating administrative officials, sexually harassing female students, vandalising university properties and even threatening the teachers. Even journalists are not spared. Reportedly, on Sunday, some BCL activists severely beat up the CU correspondent of Prothom Alo, Mosharraf Shah, for reporting on clashes between two factions of the pro-Awami League student body, which is disturbing, to say the least.
The situation is equally worrying at Jahangirnagar University and Rajshahi University. At JU, BCL leaders and activists recently held the vice-chancellor hostage at his office for about two hours for not appointing a certain BCL leader as teacher. Also recently, a BCL leader from RU suggested, live on Facebook, that it was wrong for the prime minister to appoint that university's VC, pro-VC and others if they did not stand by the BCL's side.
Such audacious comments and activities of the BCL at these prominent public universities – as well as at Dhaka University, where the group has been equally active – are totally unacceptable. Left unaddressed, these activities create fear among ordinary students and disrupt the learning environment. We urge the administrations of public universities and the ruling party to take sterner measures to control the unruly members of the BCL in the greater interest of our country.