The Mayor needs our support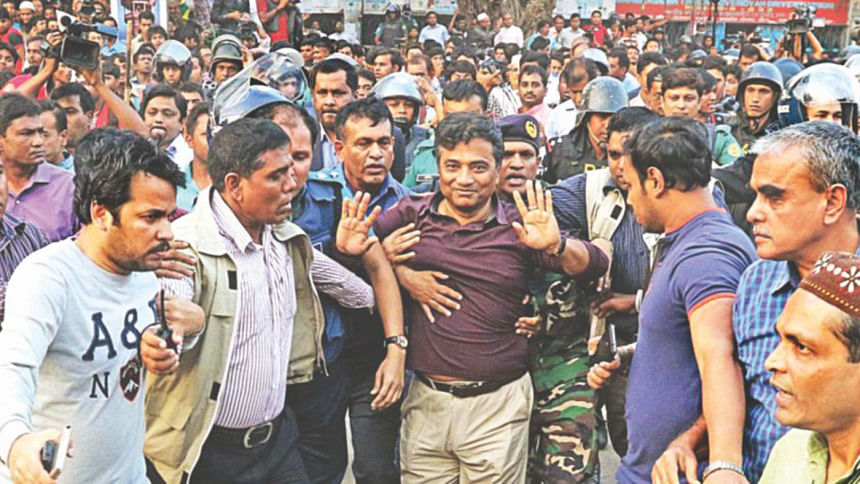 The Dhaka North City Corporation mayor Anisul Huq rightfully deserves support for his gutsy actions and utterances in the context of the eviction drive at the capital's Tejgaon Truck Terminal that sparked clashes, resulting in physical injuries and destruction of property. The mayor stood tall as he said, "I am telling you, this mayor will be very tough in future and showing muscle power won't work. There will be no compromise."
Discerning observers may have sadly noted that in our parlance, actions to free public spaces of illegal occupation and make them available for the general public have not been a priority with those responsible for public welfare. Practically speaking, many of us have scant concern for public good and far too few citizens are interested in public welfare. 
Lack of concern for public good manifests itself in many ways – in the way we walk or drive on the road and in more significant ways like attitudes to encroachments or destruction of public property. The general reaction to the hundreds of encroachments, which are suffocating our cities, is governed by what is loosely assumed or hastily glimpsed or piously hoped for. We have very little sense of pride in our city, country or history. How many citizens are willing to speak up in support of the mayor who is left with the odium of discharging his statutory duty of protecting national assets? 
If we look deeper, we would find that we are as careless about public property as we are careful about our own property. Those who would not allow any trespassing on their private estates are willing to contemplate, with total equanimity, encroachments on public property and destruction of public amenities. Dhaka and Chittagong are in a state of unsettling degeneration, partly resulting from public property being encroached upon with impunity, with the misguided sympathy of a section of the country's citizens. It is time to realise that humanitarianism has to be distinguished from the miscarriage of mercy. The 'blessed' bullies and slumlords who have grabbed public lands are making large untaxed incomes every month out of the miseries of the homeless. No doubt, shelter for every citizen is an imperative, but there are cleaner ways of achieving that than converting public property into illegal estates. 
It needs to be borne in mind that public interest requires the promotion of law and order. Those who support encroachments may be motivated by kindliness but good motives are not enough. Many extremists are impelled by good motives to criminal action and they claim to proceed on the notions of social justice.      
The mayor diagnosed the malaise very rightly when he said, "They make a lot of money by illegally grabbing space here. . . Some trucks are here for years. Vehicles are being repaired and painted from a long time. The terminal space is not meant for this." He had very rightly ventilated people's anguish when he said, "People remain stranded on the road for hours. Even pregnant women suffer in traffic congestion here due to illegal parking on roads."
On ground, it is found that a good part of the area in question is occupied by trucks parked helter-skelter at any time of the day, impeding vehicular movement. There is illegal parking in adjoining areas. To make matters worse, the land of the terminal has been encroached upon over the years and illegal structures have been built by shady elements. 
The action of the mayor was undoubtedly in public interest which, however, did not go down well with some people in the transport workers union. The unfortunate part in the whole transaction is that some quarters believe that the public space can be occupied illegally by private establishments through demonstrations and muscle power.
Reduction of traffic congestion and vacating illegal occupation of public spaces are essential tasks that brook no delay in an orderly civic life. The mayor is venturing to do exactly that, and he should have unstinted support of all regulatory and development agencies to complete this task. It is thus only proper that the unruly behaviour and actions, which included violence and criminal confinement, of a section of the public must not go unpunished.
The mayor needs to be empowered and that has to be visible. Doing the needful in public interest at the Tejgaon Truck Terminal could be a test case. Surely the Mayor's job cannot be restricted to the planting of flowers and the offering of prayers at graveyards. The cynics have to be proved wrong by demonstrating that public enemies can be effectively neutralised during a non-caretaker administration. 
The writer is a columnist of The Daily Star.