US-Bangla plane crash: 'Kathmandu Post news report unethical'
Says Nepali probe body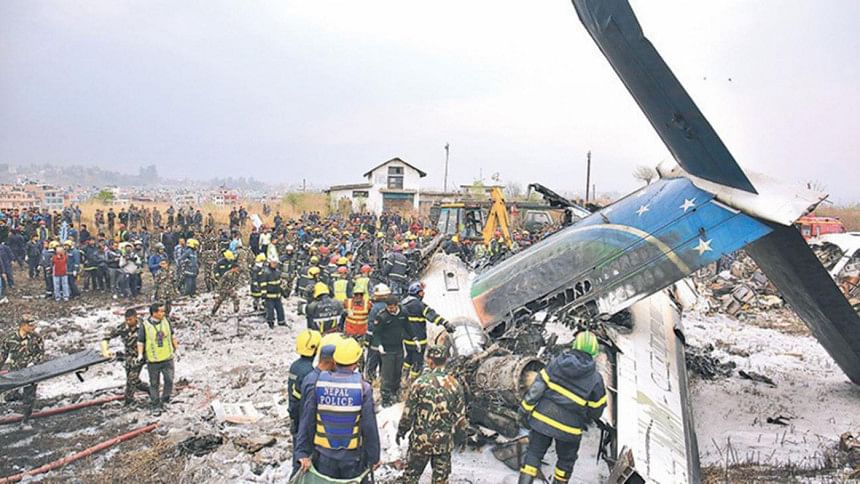 The Accident Investigation Commission (AIC) of Nepal tonight termed the Kathmandu Post news report on US-Bangla airlines plane crash ''unethical and fraudulent''.
In a press release, the AIC expressed its serious concern and gross dissatisfaction regarding the news about the accident investigation report on the Bangladeshi private airliner.
In the release, the AIC said the investigation to find the probable cause and contributory factors of the accident is going on.
"The sole purpose of the Accident Investigation Commission is to find out the probable cause and try to prevent further accident of similar nature in future. The commission believes that the accident investigation is not a matter for media propaganda," it said.
The commission also said it has serious objection to such kind of "unethical and fraudulent" news report which may give wrong conception and beliefs in the public and concerned people. "It is a matter of disgrace to publish such sensitive matter, which is still under investigation and discussion within the commission, without validating authenticity of the news from proper authority."
The Kathmandu Post in its report published today said the pilot of the US-Bangla plane that crashed at Kathmandu's Tribhuvan International Airport in March was responsible for the accident.
The report said the pilot appears to have lied to the control tower during the landing procedure and was smoking continuously inside the cockpit during the one-hour flight from Dhaka to Kathmandu before it crashed killing 51 people.
The Kathmandu Post claimed according to details of the official investigation led by the Nepal government, a copy of which was obtained exclusively by the newspaper, Captain Abid Sultan was going through tremendous personal mental stress and anxiety, and a series of erroneous decisions on his part led to the crash of the Flight BS211.