Plane Crash Victims: Identities of rest three confirmed
Bodies to be brought back tomorrow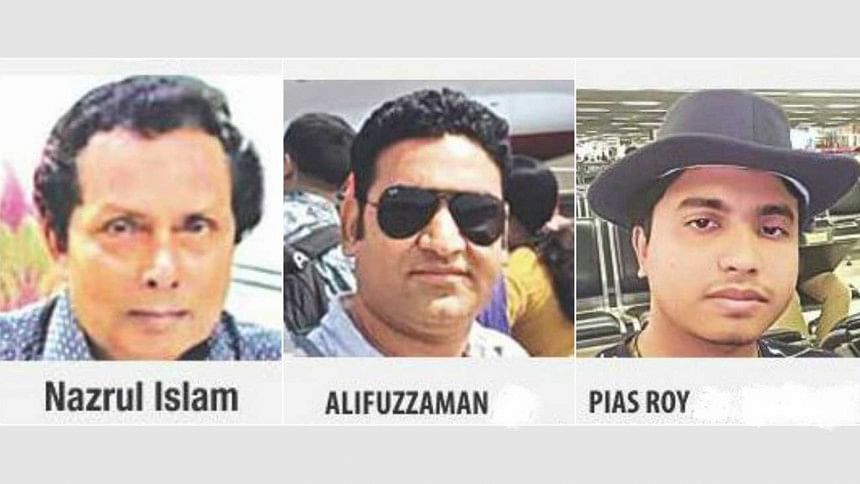 The identities of the three remaining Bangladeshi victims of the US-Bangla aircraft crash were confirmed yesterday.
They are Nazrul Islam, 62, Mollah Alifuzzaman, 30, and Pias Roy, 23, according to a top official of US-Bangla Airlines.
"Their identities were confirmed through forensic tests. The bodies will be flown home on Thursday [tomorrow]," the official told The Daily Star on condition of anonymity.
The airlines authorities yesterday sent injured Nepalese passengers Princy Dhan and Binod Poudey to India and Singapore for further treatment, said Imran Asif, chief executive officer of the private airliner.
With the two, three injured passengers are now being treated in India, as many in Singapore and seven in Bangladesh, he added.
Meanwhile, victims of the March 12 accident were buried amid tears yesterday, a day after 23 bodies were handed over to their family members.
Family members, relatives and officials of the local administrations took part in the funerals, reports our district correspondents.
The crash of US-Bangla flight BS211 at Tribhuvan International Airport in Kathmandu killed 51 people, including 26 Bangladeshis.
At least 20 people, including 10 Bangladeshis, survived the crash.
Akhtara Begum was laid to rest at Gourhanga graveyard in Rajshahi city following her namaz-e-janaza.
A retired physical instructor of Rajshahi Government Women's College, Akhtara and her husband, Nazrul Islam, were among the victims of the plane crash.
Although Akhtara's body was flown home along with 22 others on Monday, the body of freedom fighter Nazrul, also a retired general manager of Bangladesh Development Bank, could not be brought home as it had not yet been identified then, said their daughter Nazneen Akhtar Kakon.
Hasan Imam and his wife Begum Hurun Nahara Bilquis Banu were buried at the Martyred Intellectuals Graveyard in Dhaka, said Bilquis's brother Alamgir Malek.
US expatriate Bilkis Ara Mitu was also laid to rest at the same graveyard. She was from Nawdapara in the capital.
Tahira Tanvin Shashi was buried at her grandmother's grave at Sewta graveyard in Manikganj after Zuhr prayers.
Her body was brought to her house in the town's Launch Ghat area around 10:00am. Several hundred people gathered at the house to see her for the last time.
After prayers, her namaz-e-janaza was held at the Government Debendra College ground. Manikganj Deputy Commissioner Md Najmus Sadat Selim, District Council Chairman Golam Mohiuddin and hundreds of people from all walks of life attended the namaz-e-janaza. 
Shashi's husband Rezwanul Haque Shaon has been undergoing treatment in Singapore with 40 percent burns to his body.
Rafiquzzaman, director of Protibondhi Nagorik Shangathaner Parishad, his wife Sanzida Haque, coordinator of Sushashoner Jonno Nagorik (Shujan), and their son Aniruddha Zaman were buried in Kesharkhil village of Noakhali's Sonaimuri upazila.
Earlier, their namaz-e-janaza at Kesharkhil Girls High School ground was attended by their relatives and Shujan Secretary Badiul Alam Majumdar.
Umme Salam, senior assistant secretary at the General Economics Division of the Planning Commission, was buried in a graveyard in the capital's Dakhkhinkan area, her relative Kamal Uddin said.
She was from Noakhali's Begumganj upazila.
After two namaz-e-janaza, FH Priok and his three-year-old daughter Tamara Prionmoyee were buried in Nagarhawla village of Gazipur.
CONDITION OF ABID'S WIFE UNCHANGED
The condition of Afsana Khanam, wife of US-Bangla Pilot Abid Sultan, remained unchanged yesterday as she was put on life support at the National Institute of Neuroscience and Hospital.
She suffered a stroke at her Uttara home on Sunday and was put on a life support machine at the hospital in the city's Agargaon the following day.
"She has been put on ventilation support at the Intensive Care Unit," Badrul Alam, joint director of the hospital, told reporters.
"Although her condition is critical, her kidney and heart are functioning normally. The medical board will check her health tomorrow [today] morning," he added.
All four cabin crew members, including Abid, of the US-Bangla flight died in the crash.