Back home with scars, trauma
First injured Bangladeshi victim of Nepal plane crash brought to Dhaka, 3 more 'to arrive today'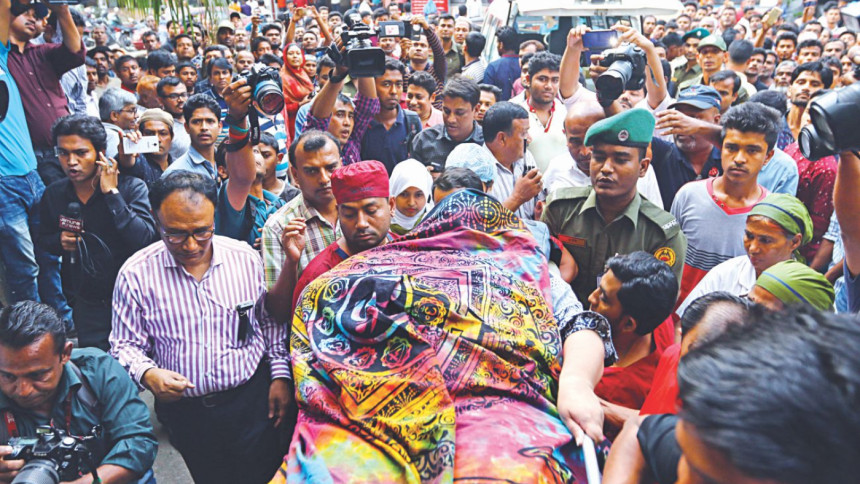 The first Bangladeshi survivor of the US-Bangla disaster in Kathmandu returned home yesterday.
Straight from the airport, Shahreen Ahmed, who was undergoing treatment at the Kathmandu Medical College Hospital since Monday's crash, was taken to Dhaka Medical College Hospital's burn unit.
After primary check-up and going through her files, Samanta Lal Sen, national coordinator of burn units, said she had five percent of her body burnt and her right leg was fractured. "We dressed her burn wounds."
Her brother Lt Col Sarfaraz, who accompanied her from Kathmandu, said his sister was extremely lucky to survive. "She was towards the front end of the plane and was trapped inside. Soldiers rescued her cutting the fuselage," he told The Daily Star. 
Sen and Sarfaraz said she was able to talk but yet to overcome the trauma.
Sen said it might take two to three weeks for her to physically recover.
Shahreen, who could walk with support, was later moved to a VIP cabin of the unit.
Survivors Mehedi Hasan, Saiyada Kamrunnahar Shwarna and Almun Nahar Annie are stable at a Kathmandu hospital. They refused to fly home yesterday.
Traumatised by the crash, they are afraid of flying and were intending to travel by road but doctors at the Kathmandu Medical College Hospital refused to allow them.
They are scheduled to fly home today and would be taken to United Hospital, US-Bangla airlines spokesperson Kamrul Islam said last night.
Of the seriously wounded, Md Rezwanul Haque is under treatment at the Singapore General Hospital, Rajkumer Chhetri, general manager at Tribhuvan International Airport, told The Daily Star.
Emrana Kabir Hashi, now at the ICU of Kathmandu Medical College Hospital, might be taken to New Delhi today for better treatment.
Chances are that seriously injured Eakub Ali, now at Kathmandu's Norvic Hospital, will also be taken to India today.
Md Shahin Bepari, Md Kabir Hossain and Sheikh Rashed are stable at Kathmandu Medical College Hospital but in no condition to fly.
A seven-member Bangladeshi medical team reached Kathmandu yesterday. The team split into two groups. One was working at the medical college morgue while the other joined Nepalese doctors in treating the injured.
Head of forensics at DMCH Sohel Mahmud after visiting the morgue told journalists that they would help relatives identify the victims.
"We will collect samples like teeth, hair, and bones of the victims that will help confirm their identity. The entire procedure will take eight to 10 days."
So far, doctors have completed autopsies on 35 bodies, 12 of them Bangladeshis.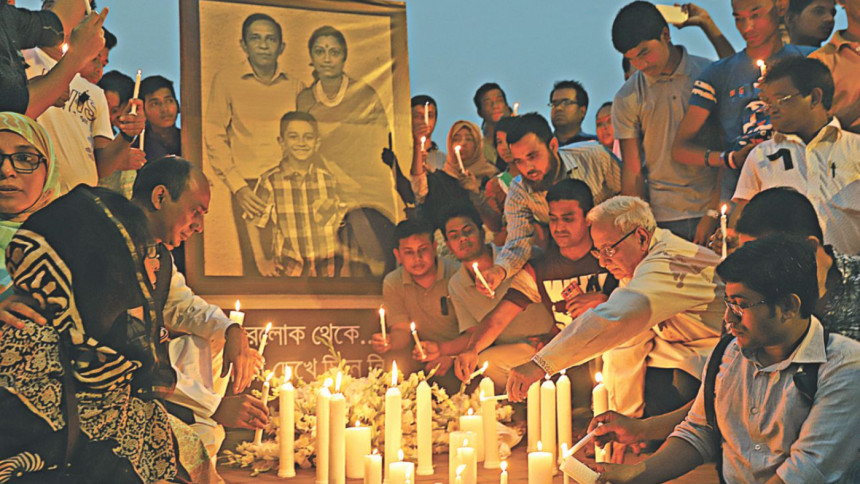 Autopsies on all the bodies would be done today and after that the identification process would begin.
Bodies not in a state to be identified would go through DNA tests.
A two-member team of Criminal Investigation Department (CID) also reached Kathmandu to collect DNA samples of the victims. The samples would be cross matched with samples of the victims' family members at the CID lab in Dhaka.
Meanwhile, Civil Aviation Authority of Bangladesh collected all relevant documents of the ill-fated aircraft, the pilots, and other crew members from US-Bangla Airlines, said Director Flight Safety Wing Commander Ziaul Kader.
"We are going for thorough inspections to see whether the airlines adequately maintain their aircraft and properly follow safety regulations. We need to check the flight safety mechanism too," he told The Daily Star.
The drive would begin next week.
Capt Salauddin M Rahmatullah, chief of accident investigation of CAAB, said they requested the Nepal authorities to keep a doctor, who deals with crew members' health, in the team carrying out autopsies on the pilots and crew members.
A Bombardier Dash 8 of US-Bangla with 71 people slammed on an empty field and burst into flames at the Tribhuvan International Airport in Nepal on Monday.
At least 28 Bangladeshis were among the dead.
The country yesterday observed a day of mourning.
Different government, semi-government, autonomous, and private offices marked the day keeping the national flag at half-mast. People of different institutions wore black badges.
Special prayers will be offered today at all places of worship, including mosques, temples, churches and pagodas, seeking eternal peace and salvation of the departed souls.