Serving people with pain in heart: PM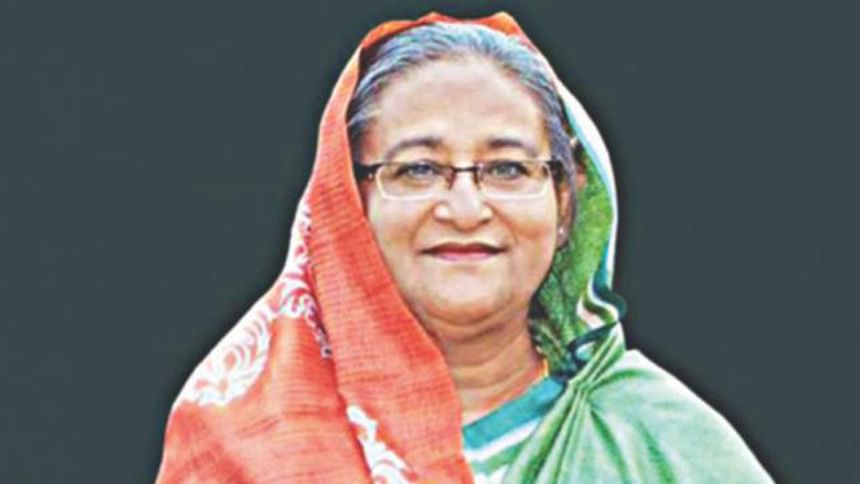 Prime Minister Sheikh Hasina today said she is trying hard to serve people so that they could properly celebrate their festivals despite having all the pain of tragedies like August 15, 1975 and August 21, 2004 in heart.

"It's our duty to serve you; let the Eid bring all the joy and happiness to you all. You know what we lost in August 15, 1975 and August 21, 2004. Only we two sisters are alive...we've been working hard keeping all the pain in our hearts for you so that you can celebrate your festivals in a befitting way," she said.

The Prime Minister said this while talking to media after exchanging Eid greetings with a cross-section of people, party leaders and workers and professionals at her official residence Gono Bhaban.

She also praised the law enforcement agencies for their all-out efforts so that people could celebrate their Eid without any hindrance.

"You're going to your village home; we're trying our best so that you can reach your village homes and return comfortably and safely," Hasina said.

The Prime Minister said Father of the Nation Bangabandhu Sheikh Mujibur Rahman had always said for any great achievement there is a need of great sacrifice. "We always think that. We're working so that people can live a better life."

Saying that the people of the country is celebrating the Eid-ul Azha in a festive manner, the Prime Minister hoped that they would pass their coming days in the same festive mood.

The gate of Ganobhaban was opened to visitorsat 9.30 amwhen people from all walks of life started returning after offering their Eid prayers and waited in a long queue to meet the Prime Minister.

On the occasion, the big lawn of Ganobhaban was tastefully decorated.

At the beginning, senior Awami League leaders and cabinet members greeted the Prime Minister by presenting her with bouquets.

Leaders of different political parties, parliament members, freedom fighters, leaders of associate bodies of Awami League, different professional and trade bodies as well as cross-section of people, including destitute, exchanged Eid greetings with the Prime Minister.

As in previous years, some of the visitors took the programme as an opportunity to draw attention of the top executive of the country to their woes and sufferings, and sought her intervention and support to get those resolved.

Later, the Prime Minister exchanged Eid greetings with judges of the Supreme Court, senior civil and military officials and envoys of different friendly countries.