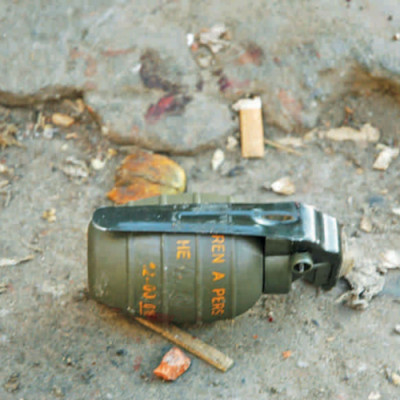 Eleven years ago on August 21, 2004 the nation was rattled, shocked and surprised by an unprecedented grenade attack on a peace rally organised by Bangladesh Awami League in front of their party office at Bangabandhu Avenue. Subsequent events, enquires and logical deductions concluded beyond doubt that this attack was made to kill Sheikh Hasina, the then Leader of the Opposition in the parliament and the President of Awami League. Though she escaped the dastardly attack, saved by her party workers who created a human shield around her, twenty four party workers including Ivy Rahman, President of Mohila Awami League and wife of Zillur Rahman, the party secretary general and later the President of Bangladesh, were killed. Sheikh Hasina suffered severe damage to her ears which permanently impaired her hearing ability. About three hundred party workers were grievously injured some of them maimed for life.  
Attacks on political rallies by opponents in Bangladesh are not new but an attack using service grenades to kill the leader of a political party and its workers is something unheard of anywhere in contemporary history.  
The then ruling party never acknowledged that it was an attempt on Sheikh Hasina's life. The Four Party Alliance government led by Begum Zia tried to cover up the matter through concocted stories and preposterous lies. Some BNP party workers went to the extent of saying in the parliament that the entire incident was staged by Awami League itself and that Sheikh Hasina may have carried the grenades in her handbag. Some of them were audacious enough to say that the entire incident was masterminded to draw public sympathy and discredit the ruling party. "The grisly grenade attack was aimed at diverting the people's attention from the government's success that made them worried about the future" the then prime minister Khaleda Zia said on Sep 2, 2004 at BNP's founding anniversary programme. On September 15, 2004, echoing his leader Khaleda Zia's statement Maj (retd) Hafizuddin Ahmed said in parliament, "They are experts in bombing. Why are they pointing the finger at the BNP?" Onetime Awami Leaguer and a tail ender in BNP, the then State Minister Fazlur Rahman Patal, went a bit further saying, "What Sheikh Hasina had wanted on August 21 was more dead bodies like that of Ivy Rahman so that she can create a photo gallery of dead bodies. Like she had not executed the verdict of her father's killing during her tenure, she once again wanted to do business with the procession of dead bodies."    
The police became a willing accomplice to the theories of the alliance government and was quick   to create a fiction that the attack was the doing of a group of local thugs led by one Joj Miah. Later investigation found that Joj Miah, a local anti-social element, confessed in the court under duress about his 'involvement' in the grenade attack and for this his family got two thousand taka per month from the police. 
Ironically, the Awami League rally was organised to protest against the rising lawlessness and militancy in the country. It was sort of a 'peace rally' only to end in mayhem. The attack is still seen as a plan to make Awami League leaderless and a sequel to the August 15, 1975 attack on Bangabandhu and his entire family. Some of Begum Zia's alliance partners, at least for publicity, condemned the attack but it was not taken in good grace by Begum Zia. According to newspaper reports published following the event, she even rebuked these coalition partners for condemning the attack on Sheikh Hasina but, strangely, on second thought staged a public relations drama by announcing that she would like to go and visit Sheikh Hasina. Fearing public wrath, she eventually gave up the idea.  
To hoodwink the people, a one-man judicial enquiry commission was formed with Justice Joynul Abedin. He enquired into the matter and finally came out with the revelation that 'a big foreign power, who helped the emergence of Bangladesh by secession from Pakistan with oblique motive to make it a subservient state ...orchestrated this dastardly and mindless attack.' Needless to say, such rubbish coming from an ex justice was trashed by all quarters. Not to be deterred by any criticism, when a new probe was ordered and an additional charge sheet was filed after 1/11 alleging the involvement of Tarique Rahman, his accomplices, and the government machinery, BNP Joint Secretary General Ruhul Kabir Rizvi said in a briefing on August 21, 2011 that "the confessional statement Joj Miah made during the BNP government was true. The supplementary charge sheets submitted recently are politically motivated." The FBI volunteered to investigate the incident but they were never given any assistance by the then government. 
Once the caretaker government took charge after 1/11 they began fresh enquiry into the gruesome incident and arrested Mufti Abdul Hannan of Harkat-ul-Jihad-al-Islami (HUJI) alleging his involvement in the August 21 grenade attack. He was already in police custody for hurling grenades at Anwar Choudhury, the British High Commissioner, in 2004 in Sylhet. He was subsequently found guilty for this crime and sentenced to death in December 2008. Once he was quizzed about the August 21 attack he confessed that influential leaders of BNP including Tarique Rahman, senior officials of Home Ministry, police, DGFI, NSI and Prime Minister's Office were closely involved with the planning and bombing on that fateful day. 
Fifty two alleged perpetrators are being tried in a speedy trial court. Of them, nineteen are fugitives including Tarique Rahman. The peace loving people of the country want the trial to come to an end and all those found guilty sentenced to the maximum punishment and the politics of blood, brutality and assassination come to an end. Justice delayed is justice denied. 
The writer is the Chairman, University Grants Commission of Bangladesh.