Annisul's dream left unfulfilled: Still no parking solution for Satrasta-Tejgaon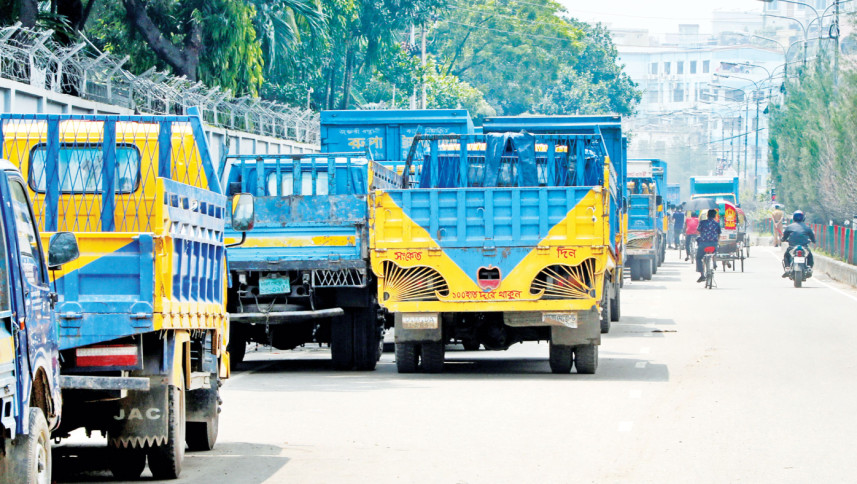 DNCC couldn't start any physical work for the plan, a year after announcement
Mayor Atiqul said shifting truck stand to another location not possible
Land needed from two ministries to build terminal
When DNCC conducts drives, truckers leave but return soon after
It has been one year since authorities announced construction of a multi-purpose truck terminal at the capital's Tejgaon to accommodate all trucks and keep Satrasta-Tejgaon road free of vehicles.
But Dhaka North City Corporation (DNCC) could not start any physical work for the plan.
DNCC Mayor Atiqul Islam on December 30, 2020 announced the plan while visiting the current terminal and meeting leaders of truck owners' association to solve the problem, as trucks are regularly parked on the road, especially at night.
The renovated Satrasta-Tejgaon road had become an embodiment of late mayor Annisul Huq's tireless efforts to ease the city's unbearable traffic congestion.
But the road, named after Annisul following his death in 2017, is now suffering through the same problem, as authorities concerned did not take any visible action for a sustainable parking solution, which Annisul had pledged.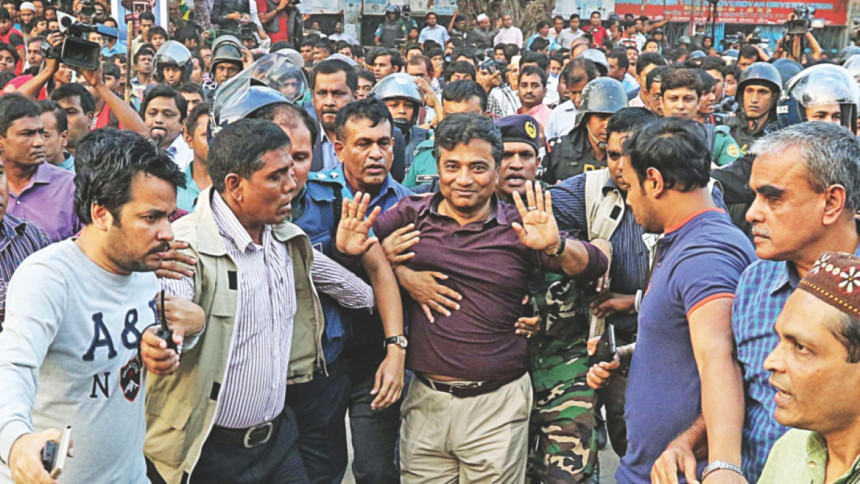 On December 18, Mayor Atiqul told The Daily Star that shifting the truck stand present there to another location is not possible, as around 5,400 trucks load and unload goods at the area daily.
Authorities are planning to construct a new terminal at the location, and they need land from the post, telecommunication and information technology ministry, he said.
"After getting land from the government agencies, we will prepare a project proposal and start implementing the plan," he said.
The mayor said they have already discussed the issue with the prime minister and Home Minister Asaduzzaman Khan, who is also a lawmaker of the area, around three months ago, to take necessary steps in this regard.
Trucks are parked on the road, due to lack of space at the truck stand. When DNCC conducts drives against illegal parking, truckers clear the road but return soon after. So, a terminal is essential to resolve the issue, he said.
DNCC Chief Estate Officer MD Muzammel Hoque said there are six acres of land at the adjoining area of the truck stand, and have sought the land from the telecommunication and housing ministries.
Of the six acres, three are of the telecommunication ministry and three of the housing ministry. DNCC has issued letters to both several months back and are now waiting for their response.
"I have directed DNCC officials concerned to submit a proposal to Bangladesh Railway for getting around 21 bighas of land and forming a project to construct a multi-purpose truck terminal," Atiqul said last year, during the visit.
However, the railway did not provide the land, as they have a plan to construct a railway hub for freight trains.
Around 2,000 trucks would be able to park at the multi-purpose terminal simultaneously, and around 5,000 trucks would be able to use it daily, he added.