Pick for Barishal Mayor: A resolute Hasina prevails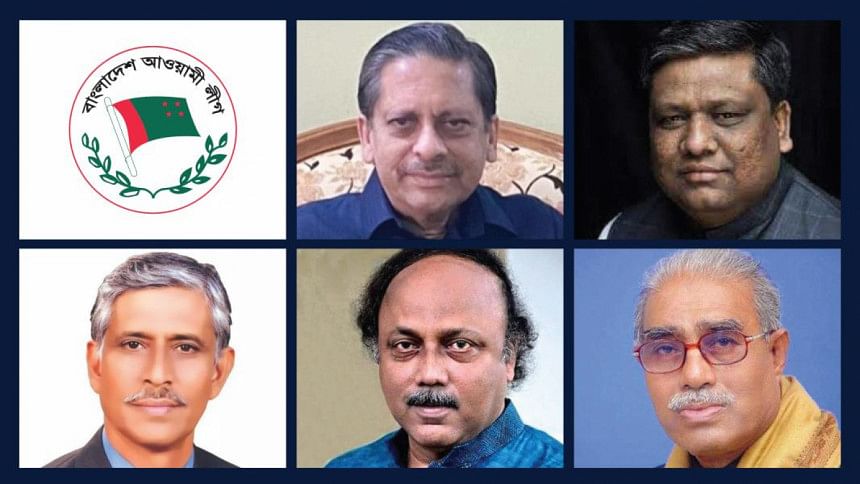 Barishal dominated the talks when the ruling Awami League's  nomination board sat on Saturday to pick mayoral candidates for five cities.
Held at the Gono Bhaban with AL President Sheikh Hasina in the chair, the meeting didn't take long to finalise nominees for Khulna, Gazipur, Rajshahi and Sylhet.
But for Barishal, there was a lengthy discussion between Hasina and Abul Hasnat Abdullah, the MP from Barishal-1 constituency and also a cousin of the AL chief.
The other members of the board kept silent all along.
According to insiders, Hasnat repeatedly pleaded with Hasina to nominate his son and incumbent Barishal mayor, Serniabat Sadiq Abdullah. 
But the AL chief backed Abul Khair Abdullah, the youngest brother of Hasnat, after the names of those who collected the nomination forms were placed at the meeting, said three board members who attended the meeting.
The nomination panel went with the party chief. 
Arguing for his son, Hasnat said he was the current mayor and a strong contender.
If Sadiq didn't get the ticket, his political career would come to an end. "My political career too will be over," he told the meeting, according to sources.
Hasina wouldn't buy it and said Sadiq, also the general secretary of Barishal city AL, will not bring any good for her or Hasnat, the sources added.
At that, Hasnat urged the PM to take him out of the game as well -- if his son weren't picked, he would not continue to be in politics.
At one point, Hasnat fell sick. Hasina called in her personal doctor who checked his health and found nothing to worry about, said the insiders.
After the break, Hasnat proposed that his son be nominated for the mayoral polls and Khair for parliamentary election from Barishal-1.
In reply, Hasina said that as per the party decision, Khair would be nominated as mayoral candidate, and the AL Parliamentary Nomination Board will decide on Barishal-1 constituency when time comes, according to the meeting sources.
Recalling the memories of the August 15 bloodbath in 1975, Hasina said Khair was shot in the massacre. Yet he didn't get anything and never wanted anything and so he should be given a chance.
On August 15, 1975, when Father of the Nation Bangabandhu Sheikh Mujibur Rahman was assassinated along with most of his family members by a group of army personnel, Abdur Rab Serniabat, the father of Khair and Hasnat, was also shot to death at his Minto Road residence.
Serniabat was then the minister for irrigation and flood control. Six members of the family were killed on that fateful night.
Khair doesn't hold any portfolio of the party and was a member of the previous committee of Jubo League.  He has no party position in Barishal either.
Khair is not even a permanent resident of the city and visits there occasionally.
Around two months back, he visited Barishal on the occasion of the death anniversary of his mother. And two brothers overserved it separately.
It is a common knowledge in Barishal that Khair has a stiff rivalry with Hasnat.
Khair held the programme for his mother at his rented house in the city's Bangla Bazar area.
Later, indicating Abdur Rab Serniabat's residence on Kali Bari Road in the city, he told reporters that he also belongs to that house but is not allowed there.
Meanwhile, sources said Khair may visit Barishal tomorrow to start electioneering.
Hasnat Abdullah is the president of Barishal district Awami League, the lawmaker from Barishal-1 and a member of AL's central working committee, all at the same time.
With Sadiq as the general secretary of Barishal city AL and city mayor, the father and son control the AL politics in the district, without giving their political rivals any space.
Barishal district and city AL units proposed only Sadiq's name as the mayoral candidate before the central committee though there were several other mayoral aspirants. A total of seven aspirants bought nomination papers for the mayoral post.
After being elected Barishal mayor and Barishal city AL general secretary, Sadiq Abdullah earned a bad name for his grip over launch, speedboat and bus terminals, locals said.
His relationship with the local administration deteriorated and it all came to the fore in August 2021 when an upazila nirbahi officer's home was attacked.
Bangladesh Administrative Service Association even demanded his arrest.
There are several incidents where Sadiq disrespected and physically assaulted senior leaders of the party, according to locals.
During his tenure, he increased holding taxes by around four times, angering the city dwellers. Besides, he made approving building designs a lengthy process.
Yesterday, AL candidate for Sylhet Anwaruzzaman Chowdhury, the joint general secretary of the party's UK wing, met AL chief at the Gono Bhaban and expressed his gratitude by offering bouquet.
Then PM asked him to go for all-out campaign and work with all party leaders and activists, said sources.
Anwaruzzaman is going to Sylhet today and will formally start his electioneering.
Leaders and activists of Gazipur visited Azmat Ullah Khan, the AL pick for the city, at his Tongi residence. He is the president of Gazipur city AL.
Apparently, there was no excitement among the leaders and activists of Khulna and Rajshahi cities as they were somehow convinced long ago that the incumbent mayors were getting the party tickets again.