Trial drags on for 24 years: Man has no strength left for legal battle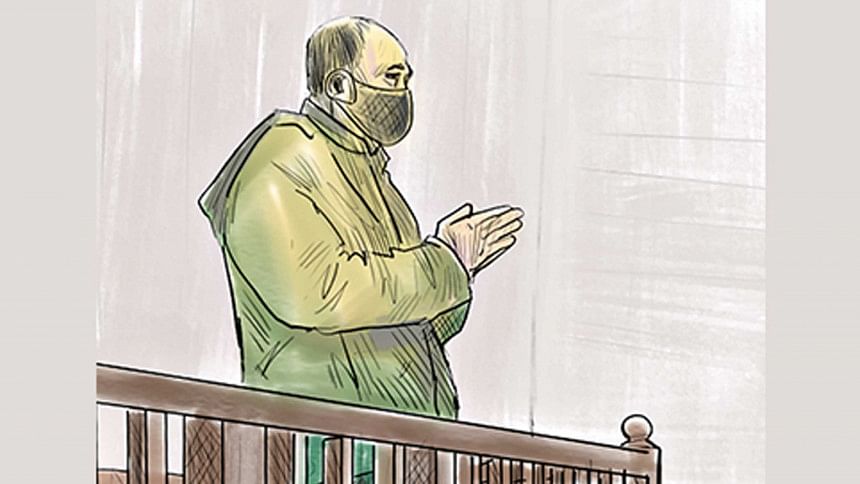 As his name was called out, Ahad Ali stepped inside the courtroom and stood in the dock with both hands pressed together in a gesture of mercy, staring at the judge with pleading eyes.
He stayed in the same position for the next 10 minutes while the court held the hearing of a drug case filed 24 years ago in which he is the lone accused.
The judge of Special Judge's Court-2 of Dhaka left the courtroom, passing an order for a fresh date of the next hearing -- an inevitability Ahad has learned to live with.
He got down from the dock, walked out of the courtroom, enquiring about the next date with his lawyer. About two hours later, he left for his Rajshahi home with the thought of coming back on May 11 for the next hearing.
For more than two decades, Ahad has been shuttling back and forth between Rajshahi and Dhaka to appear before the court for a crime that he claims he did not commit.
The long trial process is taking a heavy toll on him, costing him money, time and energy, and leaving him in constant worry.
He was in his mid-20s when he was arrested in 1998 from Dhaka's Gabtoli Bus Terminal on the allegation of possessing heroin. The man -- a father of two -- is in his early 50s now, but the case drags on. Until February this year, no witness came to testify.
"Only Allah knows when it will come to an end, when I will be free from this cursed life," Ahad told The Daily Star on the court premises after the hearing, held on February 8.
This is a glaring example of what happens when someone gets caught in a complex and lengthy judicial process and how a case can linger for so many years.
This newspaper has been following the case for the last six months, trying to track down the witnesses and the plaintiff, and going through the case documents.
Ahad was initially hesitant to talk, fearing that speaking to the media could complicate his case further. He finally shared the events that changed his life forever.
THE ARREST
It was a spring evening on March 28, 1998.
Ahad, who claimed to be a small trader back then, was all set to return to his Khetur village home in Godagari of Rajshahi with a few bundles of slippers and sandals bought from a wholesaler in Old Dhaka. He would sell those at his tiny shop in the village.
He reached the Gabtoli Bus Terminal around 7:00pm, bought a bus ticket and kept waiting.
Out of nowhere, a police team from the terminal outpost arrived and found a packet, a few feet from where he was sitting. They searched it and said it contained heroin. They immediately turned to him, asking whether it was his.
Ahad replied in the negative, but the policemen were not convinced. They kept insisting that the packet was in his possession. He told the police why he came to Dhaka and requested them to speak to his mohajon (wholesaler) from whom he bought the footwear.
The policemen went to a telephone shop nearby and came back to say they could not reach the wholesaler over the phone. "The police kept accusing me. I repeatedly told them the packet was not mine but they would not listen," Ahad said.
After he was hauled up to the bus terminal's police outpost, Ahad said, the police demanded he pay them Tk 5,000.
"'Give us the money and we will let you go', one of them said. But I told them that I have Tk 500 to Tk 600 left after buying the products and I have to go home. There was no cellphone with me to communicate with my family."
From the outpost, he was taken to Mirpur Police Station.
"I had nobody to help me out…" said Ahad, heaving a deep sigh while recalling the nightmares he had gone through.
The Daily Star tried to verify Ahad's version but no policemen involved in the arrest were found for comment. These correspondents also could not contact the then officer-in-charge of Mirpur Police Station.
Mostazirur Rahman, current officer-in-charge of the police station, said he was not aware of anything about the case.
"We don't know where the policemen involved with the case are -- whether they are still in the service or went on retirement. There is no such record with us," he said.
THE CASE
Abdus Salam, a constable of Gabtoli Bus Terminal's police outpost, lodged a first information report with Mirpur Police Station on March 28, 1998.
In the complaint, he stated that he along with four constables -- Jafar Ahmed, Abdur Rashid, Haider Ali and Morshed -- searched the accused's black bag after a tip-off.
They found "heroin weighing around 100 grams in a small polythene bag in presence of two eyewitnesses -- Bidhan Kumar Sarkar and Sheikh Abul Kashem".
Apart from Bidhan and Kashem, seven policemen and a government-appointed chemical examiner were also made prosecution witnesses.
A sample of the drug -- 200 milligram -- was sent for chemical examination, which "found it to be heroin".
The case, filed under Narcotics Control Act-1990, was transferred to the Court of Chief Metropolitan Magistrate (CMM) of Dhaka the next day. Ahad came out on bail a few weeks later.
According to the Act, people in possession of less than 25 grams of heroin could be punished with two to 10 years' imprisonment. Possession of more than 25 grams is punishable by life imprisonment or even death.
On September 17, 1998, Nasir Uddin Khan, then officer-in-charge of Mirpur Police Station, submitted the charge sheet. Charges were framed a year later, the beginning of the trial proceedings that now seem an endless legal battle.
FIRST WITNESS TURNS UP AFTER 24 YEARS
After the charge sheet was accepted, the case was transferred to Metropolitan Sessions Judge's Court in March 1999, and to Second Additional Metropolitan Sessions Judge's Court several years later.
In April 2011, the case was sent to Special Judge's Court-2, where at least 40 hearings took place in the last 11 years, according to court documents.
Initially, the hearing date would come in six months' intervals, but lately it has come down to three to four months.
Police and prosecution failed to produce any of the 10 witnesses in all those years, said court sources and Ahad's lawyer.
The court in its orders said since the quantity of drugs seized from the accused is large, it should not be proper to dispose of the case without hearing the testimony of the witnesses. The court kept on giving new dates.
On February 8 this year, a witness, Abul Kashem, appeared before this court for the first time.
He told the court: "I was working in the bus counter in Gabtoli on that day when police came to me and wrote down my name and address. They told me that they took my particulars for a case."
As the judge asked him why he gave his particulars to police without knowing the details, Kashem said, "Sir, what else could I have done since they are policemen?"
These correspondents were present at the hearing.
After the testimony, Kashem approached Ahad and asked, "Do you know me?"
"No" replied Ahad, posing a counter question, "Do you?"
"I have never seen you in my life, let alone knowing you," said Kashem.
Kashem, who has been living in his village home in Faridpur for around 15 years now, told The Daily Star that he used to work in the Jaker Paribahan bus counter at Gabtoli in 1998. He left the job around 15 years ago and settled in his village.
About 10 days before the hearing date, he received a summons through the local police asking him to appear before the court to testify in this case on February 8.
"I was surprised. Until today, I had no idea what the case was, who was the plaintiff and who was accused. I came to know about it after coming to the court this morning," Kashem said on the day of his testimony.
"I was surprised to hear that a person could be tangled in a case for so long."
'CANNOT RECALL'
The Daily Star contacted Bidhan Kumar Sarkar, another civilian witness whose name comes second among the 10 witnesses.
He was surprised to hear the details of the case and said he "cannot recall" any such event or the fact that he was made witness in any such case.
"I cannot recall. I am hearing it from you. Neither did I receive any papers in this regard," he said over the phone.
Bidhan, now 62, worked as a counter master of Sohel Paribahan in Gabtoli terminal from 1994 to 2014. He now lives in Gopalganj.
Sanjib Mondal, who has been Ahad's lawyer for the last several years, said they filed discharge petitions several times since no witness could be produced. But the case lingers on.
The testimony of the first-ever witness also made things clear, he said, adding that, "I hope the court will dispose of the case soon."
Contacted, Public Prosecutor Farid Ahmed said it was not his duty to produce witnesses. "The defence lawyer has to tell the court that the case should be disposed of since no witness has been appearing to testify."
When shared the details of the case, Barrister Jyotirmoy Barua, a leading human rights lawyer, said there should not be any logical grounds for dragging this case for 24 years.
"It's comparatively a serious case as the punishment of possessing more than 25 grams of heroin could be death. When the gravity of the offence is so high and a witness gives such testimony, you can imagine who is at fault."
It is the state's responsibility to file a case, investigate it, produce the witnesses before the court through the public prosecutor, and present all the evidence before the court through its different apparatus, he said.
"If there is anyone's negligence in this case, it is the state. The state failed to ensure justice."
Our staff correspondent in Rajshahi contacted one of Ahad's neighbours Jainul Ahsan, who said, "We heard it a long time ago that Ahad was accused in a case for drug peddling but we did not believe it."
He added, "Ahad is a good human being and has no problem with anyone in our locality."
Ahad has a few bighas of land which he cultivates and also works as a deep tube-well operator. "All his work is related to farming," added Jainul, himself a farmer.
Talking to this newspaper yesterday, OC Kamrul Islam of Godagari Police Station, said they have computerised criminal records of 10 years but Ahad's name is not there. "We will have to check papers to know if he was ever named previously." 
Meanwhile, Ahad is too exhausted. Every time he comes to Dhaka, he desperately wishes it were the last time. Instead, he goes back home with a fresh date on his mind – this time on May 11.
His wife was recently diagnosed with breast cancer and her treatment became his major concern. His elder son got a job a few months ago and daughter sat for the SSC examination this year.
"It's been so many years now. I just pray and hope that the court closes the case once and for all, so I don't have to bear it anymore," Ahad told these correspondents before leaving the court premises.