The death of a playground
Used as a field for 50 years, Tetultola now on way to becoming a police station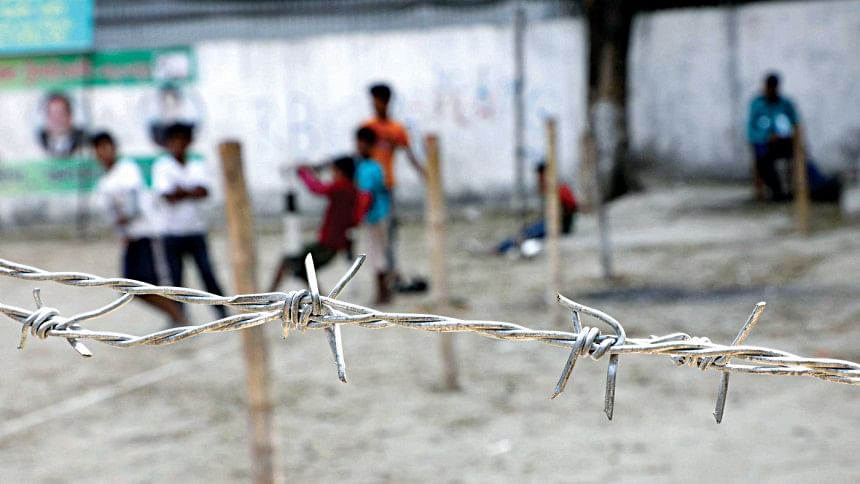 At first glance it may not seem like much: a small piece of land, devoid of greenery or any sort of facility. But to locals, especially children, the Tetultola playground has always been a place to escape from the daily grind of life.
But the same place that was full of frolicking children even two months back, a place that has welcomed all for the last 50 years, is now surrounded by barbed wires.
On January 31, Dhaka deputy commissioner's office handed over the playground's land to Dhaka Metropolitan Police (DMP) to set up an establishment for Kalabagan Police Station, which is currently located at a rented place on 30 North Road.
Amid a dearth of open spaces in the capital, this is yet another example of how the city dwellers are continuing to be deprived of playgrounds and parks.
However, residents refuse to give up hope to retain the playground. For several months, they've been demonstrating with the demand to keep it as it is, for the sake of children.
Over the years, Tetultola playground, which covers around one bigha of land, has been in use in multiple ways. It has acted as a playground, an Eidgah, and a place for namaz-e-janaza.
"There is no other place for our children to play. We've been playing in the field for the last 50 years," said Syeda Ratna, coordinator of Tetultola Math Rokkhya Andolon.
According to Kalabagan resident Masud Mahbub Shamim, a former engineer of DIT used to own the land. After he left the country, it was recorded as abandoned property through the then president's order, following the Liberation War. It then came under the housing and public works ministry.
After the place was announced abandoned, different people and groups tried to grab the land using fake documents, but each of their ploys was foiled by locals, Shamim added.
On behalf of locals, Shamim even wrote a letter to the prime minister on January 20, 2014, requesting her to save the land from grabbers. Following the letter, the premier had directed authorities to look after the matter, he said.
Contacted, an official of the DC office said the land was never a playground; it was an abandoned property.
He said the land used to be under the housing and public works ministry, and following a land survey, it was acquired for Tk 24 crore and was handed over to the home ministry.
A gazette regarding this is waiting to be published, he added.
Md Shahid Ullah Khandaker, secretary of housing and public works ministry, said a police station is necessary at the location, but they will look into whether there were any flaws in the whole process.
Sajjadur Rahman, deputy commissioner (Ramna division) of DMP, told The Daily Star that on Tuesday, Dhaka DC, the land's custodian and a representative of the government, handed over the land through the national land allotment committee. Police received the land after paying the necessary amount.
This was a government decision. As there is no permanent establishment for Kalabagan Police Station, they applied for the land, said another DMP official.
Iqbal Habib, joint secretary of Bangladesh Poribesh Andolon, said in the proposed Detailed Area Plan (DAP), Tetultola playground is not earmarked as a playground. But in sub-zone-17 (Dhanmondi, Zigatola, Kalabagan and Kathalbagan) there is a proposal to keep sufficient open space for the areas.
The estimated population of the areas would be around 2.65 lakh in 2025, and they will require 13.9 and 11.7 acres of land for playgrounds and parks, respectively, Habib said.
According to the playground, open spaces, parks and water bodies conservation act, no one can change the characteristics of a playground. As the place has been used as a playground for a long time, changing its characteristics will be illegal, he said.
According to a 2014 High Court judgement, there is a specific direction for the DC office to take action against any encroachment on open spaces or playgrounds, but the office is not taking any steps in this situation.
Urging city mayors to save the playground, Habib said according to the Local Government (City Corporation) Act 2009, city corporations can protect these kinds of playgrounds on an immediate basis.
Syeda Rizwana Hasan, chief executive of Bangladesh Environmental Lawyers Association (Bela), said choosing a police station instead of a playground is the most "uncivilised" decision. By no standards of urban planning can this be justified. She said the plan must be scrapped, or law enforcers will come face to face with a generation that will never respect them.
Stressing the need to protect the playground, Adil Mohamad Khan, former general secretary of Bangladesh Institute of Planners, said ideally, a neighbourhood park is required for every 5,000 people, while a community park is necessary for 20,000-30,000 people in a ward. More than one city park is required for a large city.
Thirty percent of wards in Dhaka city do not have any playground or park, which particularly harms the mental and physical growth of children, as they have no space to play and interact with friends, he said.
According to the proposed DAP, 25 out of 75 wards under Dhaka South City Corporation and 10 out of 55 wards under Dhaka North City Corporation do not have a single park or playground.