Tensions on Myanmar border: Panicked, locals scramble to safety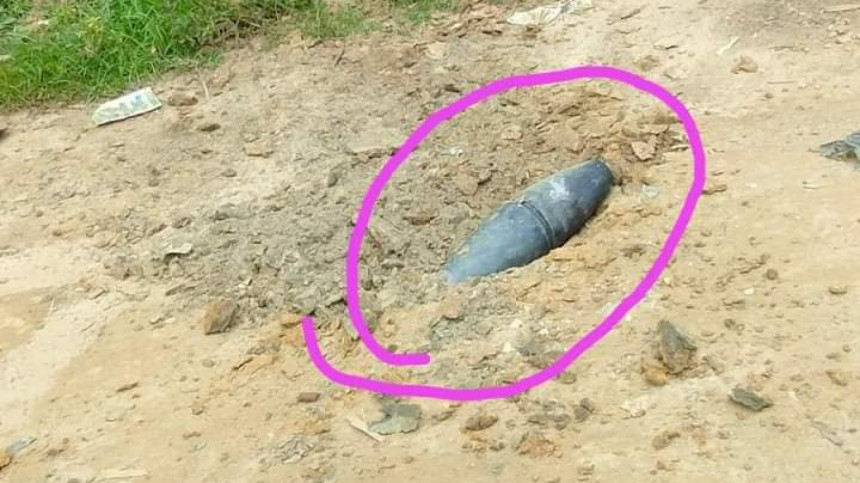 Thirty-year-old Noor Hasina lives in a house in Konarpara along the Tambru border in Bandarban's Naikhongchhari upazila.
Around 8:30pm on Friday, a mortar shell suddenly hit the fence around her house. Her husband, Badiul Alam, was away from home at that time.
She left the house immediately with her four children, the youngest only four months old.
"I took shelter in a relative's home in Ghumdhum, about half a kilometre off the border," she said.
The Daily Star met her in the border area around 9:00am yesterday when she returned home to see its condition.
Like Hasina, some other families left their homes on Friday night in fear of life after a mortar shell fired from Myanmar exploded at a Rohingya camp on no-man's land near Tambru Bazar. The explosion killed a Rohingya youth and injured five other people, including two children.
"At least 35 families of Baisfari, Paharpara, Konarpara and Majherpapra areas have left their homes and taken shelter at their relatives' in different areas of Cox's Bazar," AKM Jahangir Aziz, chairman of Ghumdhum Union Parishad, told The Daily Star.
Monowara Begum, 32, a resident of Paharpara, said they could not sleep Friday night because of the sound of continuous gunshots coming from across the border.
"The sound was so loud that it felt like our home would collapse," she told this newspaper near Tambru Bazar.
Visiting the border area yesterday, these correspondents found that the situation was tense. Some local traders did not even open their shops.
Abdul Karim, a grocer at Ghumdhum Bazar, said he didn't open his shutters over worries that anything bad could happen anytime.
Meanwhile, a special one-hour closed-door security meeting was held at the Bandarban deputy commissioner's office from 3:30pm yesterday.
DC Yasmin Parvin Tibriji, however, didn't disclose anything about the meeting.
"We are on high alert after the Friday night's incident. We have asked the Border Guard Bangladesh to step up vigilance and security," said Yasmin.
The district administration is making announcements through loudspeakers to make the locals aware of safe movement.
Speaking to The Daily Star, Salma Ferdous, Naikhongchhari upazila nirbahi officer, said they have asked the residents of bordering areas not to move with their cattle or for farming until the situation becomes normal.
"We have asked them not to venture outside without a necessity. We are hopeful that normalcy would return soon," she said.
But the locals would still go out to earn their living, putting their lives at risk.
Nurul Basar, 58, a farmer from Paschimkul area of Ghumdhum, said he grows rice on a land in a bordering area.
"For the last two weeks, I have not been able to visit my land due to the firing. What would I eat with my family if I cannot grow paddy? I must go out," Basar told this newspaper.
Yesterday, 164 SSC examinees of Ghumdhum High School centre took their exam at Kutupalong High School centre in Ukhiya of Cox's Bazar.
Mukarrama, one of the examinees from Paschimkul area of Ghumdhum, said, "We are sitting the exams amid tensions as we are living in fear for our lives."
Hamid ul Hoque, headmaster of South Ghumdhum Government Primary School, said attendance of students has become thin because of the current situation.
The Myanmar military has been reportedly carrying out air and ground assaults on the Arakan Army along Bangladesh-Myanmar border for the last few weeks.
Frequent clashes between the military and  Arakan Army are taking place. Some artillery and mortar shells have landed in Bangladeshi territories, triggering diplomatic protests by Bangladesh.
Queried, Lt Col Faizur Rahman, director (operations) of BGB, told The Daily Star, "We are on high alert to protect and secure our border. We have asked the locals to move safely."
The BGB was very careful so no Myanmar citizens could enter Bangladesh.
According to locals, gunshots stopped at the border after Fazr prayers around 5:00am yesterday, but sounds of explosions were heard in the border area five times -- two around 11:00am, two around 1:00pm and one around 2:00pm.
Dil Mohammed, chairman of the Rohingya camp management committee at Konarpara, said a Myanmarese fighter jet was seen hovering over the border area after Friday night's mortar shell explosion.
"Myanmar is doing this intentionally just to foil the repatriation of Rohingyas," he alleged.
Our Bandarban correspondent also contributed to this report.