Sanctions on Rab to remain until held accountable: US ambassador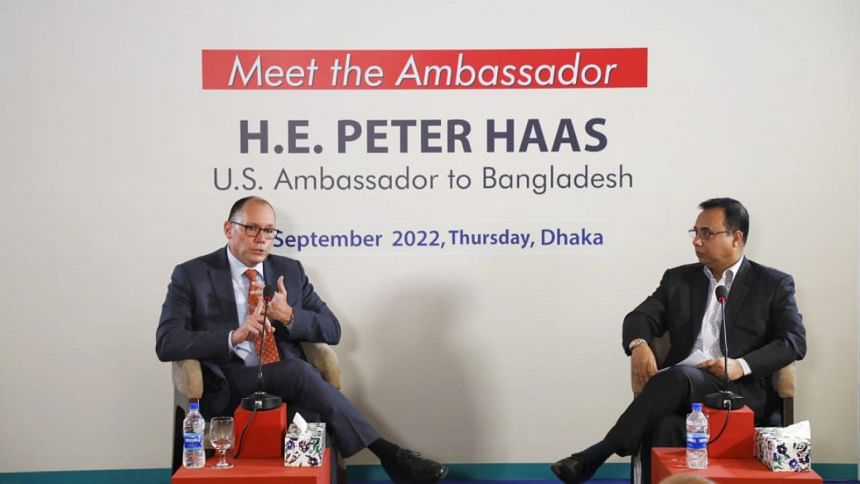 The sanctions imposed by the US against Rapid Action Battalion and seven of its former and current officials will stay in place, until the perpetrators are held accountable.
US Ambassador Peter Haas made the statement at "Meet the Ambassador" event organised by the Center for Governance Studies and German think tank Friedrich Ebert Stiftung at a city hotel today (September 29, 2022).
Leaders of political parties, academics, journalist and former diplomats were present at the programme.
"The sanctions are not intended to punish but to change the behaviour and hold them accountable," Haas said.
However, he said the number of extrajudicial killings has significantly changed since the sanctions were imposed in December last year.
"This is a very good signal," Haas said.
Asked about the alleged enforced disappearances, Peter Haas said that they want independent mechanism for investigation into the allegations.
He also highlighted the free, fair and inclusive elections slated for next year, but also expressed concerns over the political violence in the recent times.
Peaceful and fair elections are not possible if there is violence, he said.
The US diplomat also spoke about various aspects of US-Bangladesh relationship including trade, labour rights, regional and global politics, Indo-Pacific Strategy and trade.
On labour rights, Haas said Bangladesh has made remarkable progress in terms of workplace safety in the export-oriented industries but the US still has concerns.
Now, he said, the US wants Bangladesh to allow the workers to have trade unions and the right to mobilise and bargaining for their rights.