Reduce out-of-pocket costs
Speakers tell seminar on Universal Health Care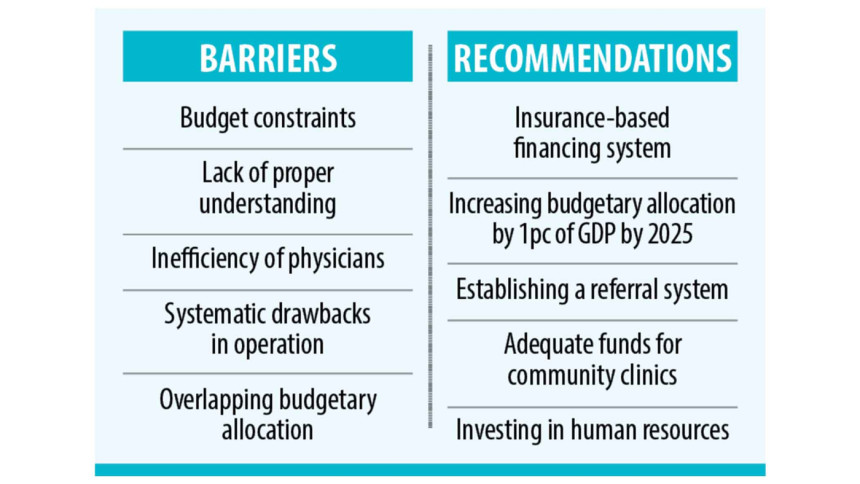 Along with strengthening the existing general tax-revenue-based healthcare financing system, new avenues like an insurance-based financing system can be a way to reduce the burden of out-of-pocket costs on patients, said speakers at a seminar yesterday.
They also stressed pouring adequate funds into strengthening the community clinics with the necessary workforce and logistics to ensure free-of-cost primary care for all to achieve universal health coverage (UHC).
Besides, there is a need for political commitment to prioritise preventive and promotional healthcare policies along with curative measures, they said at the event at Dhaka University.
The seminar was jointly organised by Dhaka University's Institute of Health Economics (IHE) and Unicef Bangladesh.
"The systemic hindrances within and outside the health ministry have caused inefficiency in utilising the given allocation," Prof Syed Abdul Hamid said while presenting a keynote at the event.
In addition to budget constraints, he highlighted several barriers to efficient health service delivery, including a lack of proper understanding on the part of the bureaucrats, the inefficiency of the physicians and systematic drawbacks in operation, and overlapping budgetary allocation by different government bodies.
Proposing contributory social health insurance in addition to the tax-revenue-based financing system, he stressed establishing a referral system where the community clinics, equipped with nurses, paramedics, and midwives, will be the first place for the patients to go.
"Primary healthcare should be completely free for all," said Robert Yates, executive director of Chatham House.
He stressed prioritising full population coverage and meeting the needs of the vulnerable, increasing public financing for health by an additional 1 percent of the GDP by 2025, allocating additional resources to primary healthcare, and investing in human resources, medicines, commodities, infrastructures, and governance.
IEDCR Consultant Dr Mushtuq Hussain said, "We have inadequate hospitals, but we have to ensure preventive health promotion to stop people falling sick."
Moderated by Md Asadul Islam, former senior secretary at the health ministry, Maya Vandenent, chief of health, Unicef Bangladesh; Tawhidul Islam from World Health Organization; Dr MA Sabur from the World Bank and Prof Nasrin Sultana attended the event among others.
IHE Director Prof Sharmeen Mobin Bhuiyan presided over the seminar.