A promise finally to be fulfilled?
Underpass in Airport road's Kurmitola to open this month, say officials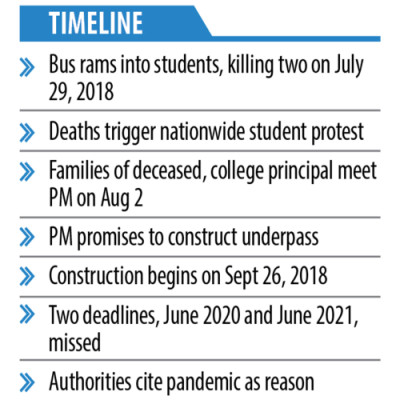 After missing two deadlines, the government is going to inaugurate the long-awaited underpass at the capital's Airport road this month.
The decision to construct the underpass was taken after two students were killed by a bus in the area in 2018.
"We have already completed works of the underpass, and it is expected to be inaugurated by this month," said Mohammed Shamim Al Mamun, executive engineer of Roads and Highways Department (RHD).
All work of the structure was supposed to be completed by June 2020, but authorities missed the deadline and extended it till June 2021. However, it missed that deadline as well and took six more months to complete work.
"We missed the two deadlines due to the pandemic," Mamun said.
On July 29, 2018, a bus rammed into Dia Khanam Mim and Abdul Karim Rajib, students of Shaheed Ramiz Uddin Cantonment College, killing them and injuring 12 who were standing by the bus stop on Airport Road.
The deaths triggered a nationwide student protest, calling for safe roads, which eventually prompted the government to approve the long-delayed road transport law.
Amid the movement, families of the two students and the college's principal met the prime minister on August 2 that year, and the PM promised to construct an underpass near the college.
But since the underpass is yet to be opened, pedestrians and students of Kurmitola area continue to cross the busy Airport Road risking their lives.
Recent road accidents in Dhaka city brought the road safety issue to the forefront yet again. Students have been occupying the roads and demanding for safe roads.
RHD began constructing the underpass, at a cost of Tk 57 crore, on September 26, 2018. It is 53-metre long and 3.5-metre wide. Bangladesh Army is implementing the project.
Once opened, it will facilitate safe movement of pedestrians, as a large number of commuters and students cross the road daily.
RHD's Mamun said there are lifts and escalators for the underpass, and murals adorn the structure.