Great Danger Signal 8 for 12 districts
Mocha gets even stronger
The biggest cyclone in 16 years may strike at a speed of 175km per hour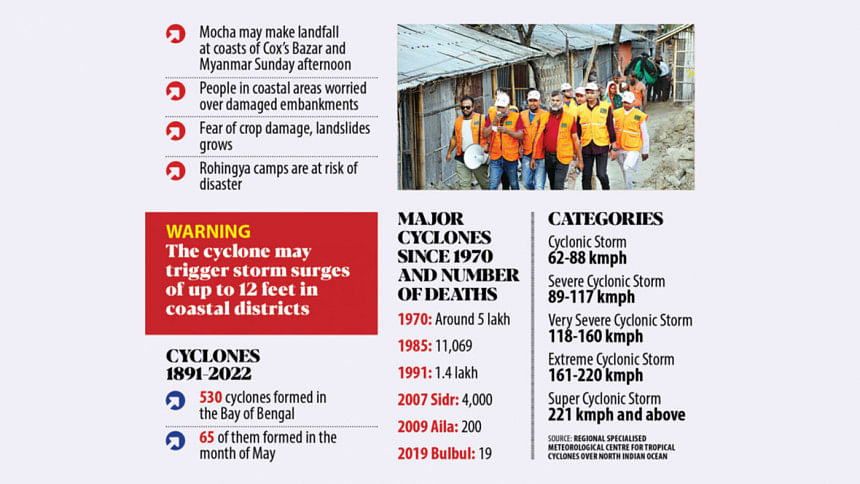 Gaining more and more strength with each passing hour, Cyclone Mocha is likely to turn into an extremely severe cyclonic storm by this morning, say forecasts.
Officials predict floods in vast areas along the coastline and storm surges up to 12 feet in Teknaf where the cyclone may make landfall around noon on Sunday.
This season's first cyclone was around 800km south-southwest of Cox's Bazar at 9:00pm yesterday, approaching the coast at a speed of 15km per hour, said Bangladesh Meteorological Department (BMD).
The Met office advised "great danger signal no-8" for 12 coastal districts, including Chattogram, Cox's Bazar, Noakhali, Feni, Laxmipur, and Bhola. This means there is a possibility that the wind speed may exceed 90km per hour in these districts.
BMD Director Azizur Rahman last night said Mocha could make landfall in Teknaf and wind speed could reach 175 kmph.
"The cyclone is still getting stronger. We checked several models and believe that it will not be a super cyclone," he added.
Humanitarian information portal ReliefWeb in a statement last night said the cyclone would expose nearly eight lakh people in Bangladesh and around 30 lakh in Myanmar to danger.
Meanwhile, fear of devastation has gripped the Rohingya camps in Cox's Bazar where over 10 lakh refugees live in houses mostly made of corrugated iron sheets and wood.
The World Meteorological Organisation in a briefing in Geneva warned of "big humanitarian impacts" and possible landslides.
ST MARTIN'S BRACES FOR IMPACT
Almost all the tourists left the island by last night and arrangements had been made to shelter its 10,000 residents, said Mujibur Rahman, chairman of St Martin's Union Parishad.
"We have enough dry food for the people," he added.
Fishing boats that were out in the sea started returning to the shore later in the day.
One of the returning fishermen, Abdul Goni, said, "We were in panic. Since we don't know the severity of the cyclone, we just pulled up the nets and came back."
The fishermen were desperately trying to keep their boats at a safe place, he added.
EMBANKMENTS IN POOR STATE
In Chattogram, Bangladesh Water Development Board (BWDB) has identified vulnerabilities in a total of 50 kilometres of embankment.
Noruttom Banik, a resident of Maitbhanga area of Sandwip upazila, said the embankment, which was supposed to protect the villages from storm surges, was in a poor state and a big surge may easily breach it.
Abul Khair Nadim, the local union parishad chairman, said, "It was repaired the last time in 2008. Nothing has been done since."
Mehedi Hasan, chairman of Sonadia union parishad, said the embankment over a length of five kilometres was in a bad shape. He added that there were around 60,000 residents in his constituency.
Thousands of people in Khulna, Satkhira, Bhola and Patuakhali are in fear too.
A 12km embankment in Khulna's Koyra upazila is vulnerable and locals fear that many villages will be completely flooded.
Cyclone Sitrang last year damaged around 100-km of embankment in Bhola. But it has not been repaired yet.
"My village will go underwater if the embankment is breached. From what I hear, huge waves are likely to breach it," said Muhammad Ibrahim, a resident of Tulatoli area of Bhola.
GOVERNMENT RESPONSE
The government has prepared 1,606 shelter centres in Cox's Bazar and Chattogram for about 10 lakh people, said a press release.
In Cox's Bazar, about 8,600 volunteers of Cyclone Preparedness Programme (CPP) and 2,200 of Red Crescent Society will help people evacuate and reach the shelters.
In Chattogram, the Civil Surgeon Office has formed 284 medical teams. A total of 16,880 volunteers of CPP and Red Crescent have been engaged.
On Bhasan Char island, over Rohingya 28,000 refugees are being prepared for evacuation. They will take shelter in 53 centres.
In Rajshahi, farmers are rushing to harvest paddy from the field.
[Our correspondents from the respective districts contributed to the report.]