'Importing' goods 'Made in Bangladesh'
CEPZ factory brings in finished products declaring those as raw materials
A Chinese company housed in the Chattogram Export Processing Zone imported finished goods with "Made in Bangladesh" labels by declaring those as raw materials, in an incident that violated both local and international rules.
The finished goods were intended for Dollar Tree, a discount variety store chain in the US, which has been locked in a trade war with China since 2018 as part of former US President Donald Trump's "America First" economic policy.
Earlier in May, Chattogram Bond Customs officials seized 7.6 lakh units of bags, earphone boxes and paintbrushes worth Tk 1.53 crore from the factory of Conda Art Materials Bangladesh, one of 114 foreign companies operating in the CEPZ.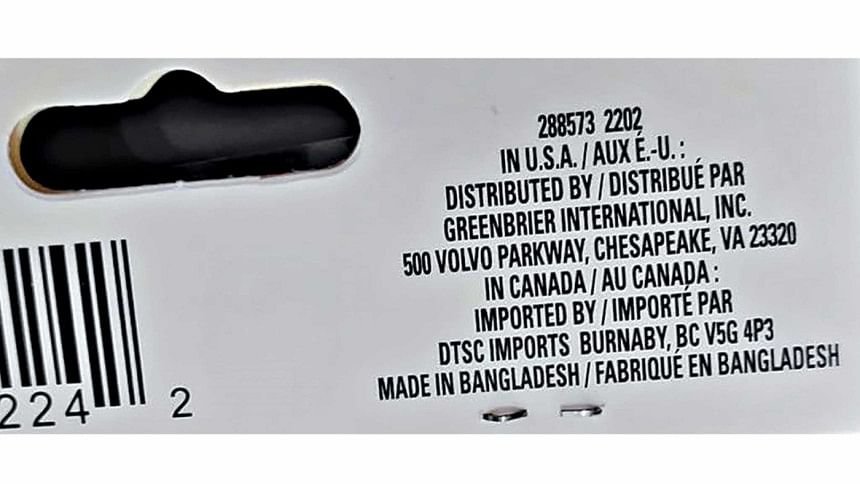 Conda Art Materials is a subsidiary of Ningbo Conda Art Supplies Group, a leading art and craft materials provider that ships products to more than 90 countries and sells on Alibaba's TMall and Amazon from its 66,000 square metre manufacturing base on Daxie Island, located 40 kilometres from Ningbo City.
In October 2019, it opened a factory in CEPZ, Bangladesh's first export processing zone that was established in 1983.
As a factory located in an EPZ, Conda Art is allowed to import raw materials duty-free as per its bond licence.
But Conda declared the finished goods, which carry a 73 percent levy, as raw materials for canvas panels -- evading duties of about Tk 1.39 crore.
In making the false declaration, Conda Group would have dodged the World Trade Organisation's rules of origin when its factory in CEPZ did not have the equipment to manufacture those products.
"This is the first time such a fraud has been identified in the country," Hossain Ahmed, member of the National Board of Revenue's customs export, bond and IT department, told The Daily Star on June 23.
According to the customs rule, if an export-oriented company imports finished products by declaring those as raw materials under the duty-free facility, it will be asked to pay the dodged revenue as well as a penalty.
The authority can also suspend the company's bond licence for the offence.
Conda Art though was ordered to pay Tk 1.39 crore as dodged revenue and Tk 2.76 crore as a penalty, with its bond licence staying intact.
All the previous export and import data of Conda Art is being collected from the servers of the NBR and the Bangladesh Bank, Bond Commissioner AKM Mahbubur Rahman told The Daily Star.
Action will be taken in this regard after a detailed investigation, he said, adding that Conda Art has paid the penalty and the duties.
"We will consider what punishment can be applied for tampering with the rules of origin since the matter is new to us," Ahmed said.
Contacted, Eric Fu, general manager of Conda Art, told The Daily Star through a translator on July 20: "The matter has been settled with the Customs and the evaded duties along with the penalty have been paid as per the authority's demand. There is nothing more to comment."
The finished goods were brought in accidentally, said Saiful Islam, assistant manager of Conda Art's commercial department, who liaised with the customs to sort out the issue.
When prodded on the "Made in Bangladesh" labelling on the products, Islam danced around the issue.
"According to the law, there is no obstacle to exporting those goods after paying the dues and penalty. Besides, we have already applied for approval to manufacture those products in our factory," he said.
To prevent a repeat of the incident, the authorities will be more watchful, said Moshiuddin Bin Mesbah, executive director of CEPZ.
At present, 179 companies are operating in CEPZ with registration from the Bangladesh Export Processing Zones Authority, 12 of which are Chinese-owned.
"EPZ is not a warehouse where a company imports finished goods for export to a third country. Exporting products without any value addition is not allowed," Mesbah said.