Global clothing retailers turning to Bangladeshi fabrics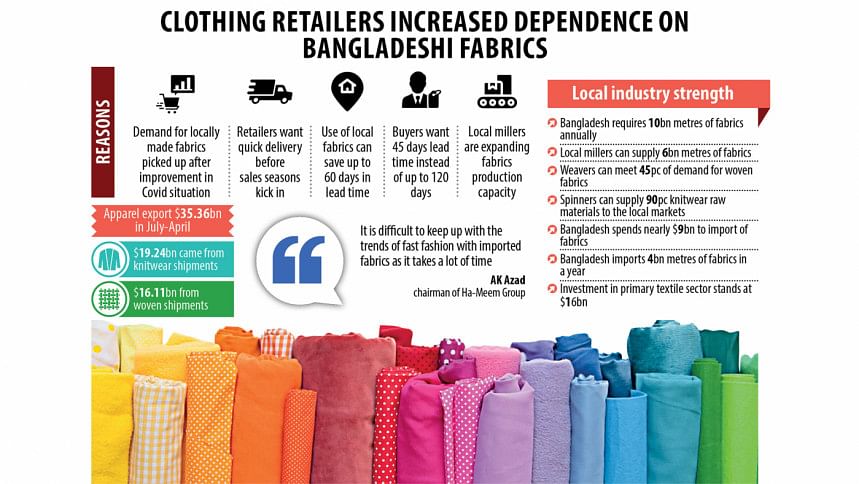 Major international clothing retailers and brands are increasing their reliance on the fabrics made in Bangladesh to produce apparel items, owing mainly to shorten lead time and cut the shipping costs that have gone through the roof.
As a result, local garment exporters can supply finished goods to their buyers within 45 days to 60 days, down from the 90 days to 120 days needed when goods are made from fabrics imported from countries such as China, India, Indonesia, South Korea, and Pakistan.
Other factors for the growing use of local fabrics by international retailers and brands include the urge to make it to the shops in the European and American markets before the sales seasons kick in.
Previously, buyers used to sell goods over three seasons. Now, they run their businesses in six seasons thanks to the emergence of fast fashion, which refers to clothing designs that move quickly from the catwalk to stores to take advantage of trends.
"It is difficult to keep up with the trends of fast fashion with imported fabrics as it takes a lot of time," said AK Azad, chairman of Ha-Meem Group, one of the top apparel exporters in Bangladesh.
For example, renowned buyers such as H&M and Zara used to place orders with a lead time of three months. Now the lead time has come down to two months because of the rapid change in fast fashion.
"So, buyers are preferring local fabrics," Azad said, citing longer lead time, abnormal freight charge, and non-availability of containers as major challenges facing both buyers and exporters.
Shorter lead time and availability of raw materials like fabrics have become major determinants in the global supply chain as economies reopened.
Even before the onset of the pandemic in March 2020, the dependence on local fabrics was growing because of the trade war between the US and China.
The use of local fabrics surged with the easing of Covid-19 restrictions with a view to delivering the products on time and reducing shipping costs, which have shot up more than 500 per cent.
China is the main source of fabrics used in Bangladesh. But it takes 30 days alone just to bring them to the factories from the world's second-largest economy.
"But if fabrics are made locally, it takes 45 days altogether to ship goods. So, the retailers and brands are preferring local fabrics," said Monsoor Ahmed, chief executive officer of the Bangladesh Textile Mills Association (BTMA).
"I am overbooked with orders," said Abdullah Al Mahmud Mahin, managing director of Hamid Fabrics Ltd.
Currently, the company supplies woven fabrics to renowned retailers and brands such as Hugo Boss, Abercrombie & Fitch, Tommy Hilfiger, Calvin Klein, JC Penney, H&M, Esprit, M&S, s.Oliver, and Colors of Benetton.
Besides, more than 300 large, medium and small retailers and brands source garment items from 
Bangladesh. They include Gap, Walmart, Tesco, G Star, VF Asia, Li & Fung, Uniqlo, Zara, Inditex, American Eagle, and LC Waikiki.
As global buyers are widening their footprint in Bangladesh, Hamid Fabrics expanded its production capacity to one lakh yards of woven fabrics per day from 75,000 yards just before the coronavirus outbreak.
"With the improvement of the global Covid-19 situation, the sales in Europe and the US have rebounded and many buyers are facing a shortage of apparel items now. As a result, they are calling for quick supply of goods," said Mahin.
Urmi Group, another garment exporter, makes 35 tonnes of fabrics per day and supplies the entire produce to its garment segment to manufacture products for its clients.
"I have had to increase my production capacity as buyers are demanding more local fabrics," said Asif Ashraf, managing director of the company.
Urmi Group is sitting on a lot of orders and is expecting to rake in $200 million in exports this year, up 20 per cent from a year ago. The rise in the local production of fabrics has pushed up the import of raw cotton in the last few years.
Bangladesh may need 9.5 million bales of the textile raw material this year to feed the vast textile industry, according to estimates of various international research bodies. It was 7 million bales three years ago.
Md Shahidullah Azim, senior vice-president of the Bangladesh Garment Manufacturers and Exporters Association, says exporters can save up to 60 days in some cases if apparel items are produced from local fabrics.
"However, the price is a major factor since China can supply raw materials at competitive rates."
Mohammad Ali Khokon, president of the BTMA, echoed Azim.
He added although mills are flooded with orders, the inadequate supply of gas has appeared as a major bottleneck for the sector.
Local millers are lagging behind China when it comes to offering competitive prices and fabric designs, added Azad, a former president of the Federation of Bangladesh Chambers of Commerce and Industry.