Inflation rings alarm bells
Hit 10-year high in Aug; govt releases 2 months' data together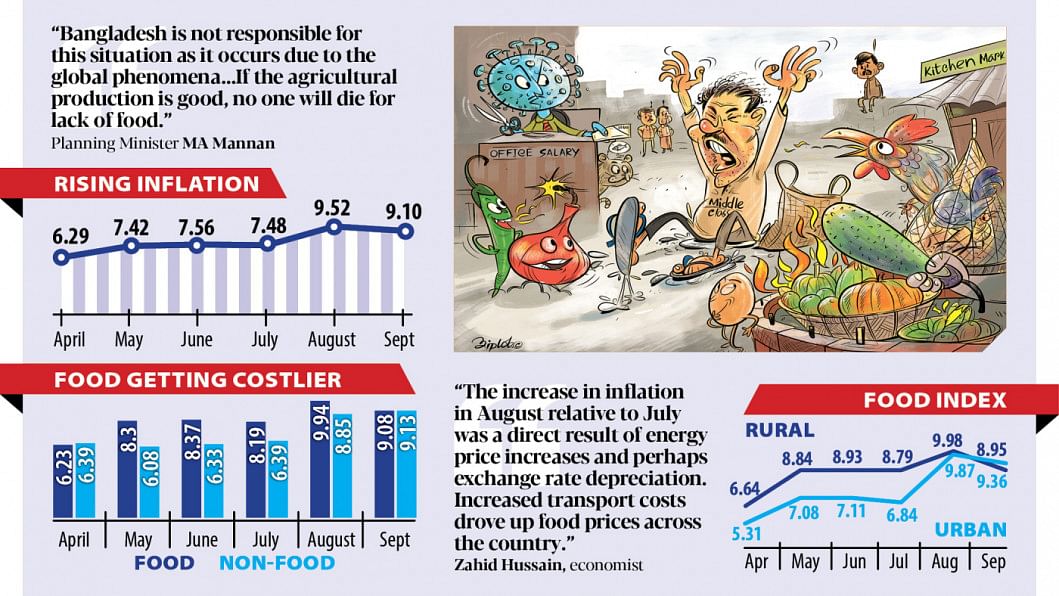 People in rural areas were hit harder by food and non-food inflation than those in urban areas over the last two months, with the overall inflation surging to a 10-year high of 9.52 percent in August.
It, however, fell to 9.10 percent in September, but people in rural areas continued to feel the pinch as non-food inflation was close to 10 percent that month, according to data released by Bangladesh Bureau of Statistics (BBS) yesterday.
Inflation has been on an upward trend over the past several months due to higher food prices amid global supply chain disruptions and uncertainties stemming from the Russia-Ukraine war.
Planning Minister MA Mannan gave the inflation data at a briefing at the Planning Commission yesterday.
Usually, the BBS publishes inflation figures of a month in the first week of the following month. But it delayed the release of the inflation data for August and September as it did not receive "green signal" from the government, said planning ministry officials.
According to the data, food inflation soared to 9.94 percent in August -- the highest since April of 2012 -- and decreased slightly to 9.08 percent in September.
On the other hand, non-food inflation was 8.85 percent in August but jumped to 9.13 percent in September.
In rural areas, the overall inflation was 9.70 percent in August whereas it was 9.18 percent in urban areas.
Besides, food inflation was 9.98 percent in rural areas in August compared to 9.87 percent in urban areas.
Zahid Hussain, former lead economist at the World Bank's Dhaka office, said, "The two-percentage point increase in inflation in August compared to July was a direct result of energy price increases and perhaps the exchange rate depreciation. Increased transport costs drove up food prices across the country while exchange rate depreciation increased the cost of imports."
In July, inflation was 7.48 percent.
Inflation declined in September, thanks to a slight drop in prices of some food items. However, food inflation was still 0.9 percentage points higher than that in July and 3.9 percentage points higher than that in September last year, he said.
Zahid further said non-food inflation increased further in September this year, suggesting that the inflationary momentum has not dissipated yet.
"Domestic supply shocks are continuing with power outages and gas shortages disrupting domestic production. The consequent productivity slowdown will fuel inflationary momentum … A prolonged drought has adversely affected Aman cultivation.
"No single policy intervention can be adequate under circumstances like these," he said, suggesting that supply management needs to be prioritised with food and energy security at the top.
He also stressed the need for the protection of vulnerable groups to alleviate the burden of the cost-of-living escalation.
"The government's laudable initiative to subsidise food to 10 million poor families through Family Cards must continue, be scaled up, and better targeted," he added.
Ahsan H Mansur, executive director at the Policy Research Institute of Bangladesh, said the high inflation is a result of global uncertainties.
"Inflation is also high in other countries in Europe and the US…
"We had anticipated that the inflation rate would be higher."
Asked about inflation in rural areas, Mansur said the markets in urban areas are usually less volatile than those in rural areas.
The prices of commodities in rural markets, especially the small ones, shoot up all of a sudden, he added.
At the briefing, Planning Minister MA Mannan said Bangladesh, like other countries, is facing problems due to the ongoing global volatility… there will be no food crisis in the country if the agricultural production remains good.
The government is trying its best, he said, urging consumers to spend money judiciously.
"We have to save foodgrains, money, electricity and water. At the same time, we should prevent wastage," he said.
Shamsul Alam, state minister for planning, said inflation rose not just in Bangladesh, but also in other countries such as India, the UK, and the US.
Inflation here is now at a tolerable level, he claimed.