Govt revises down growth forecast
Expansionary budget next fiscal with eye on polls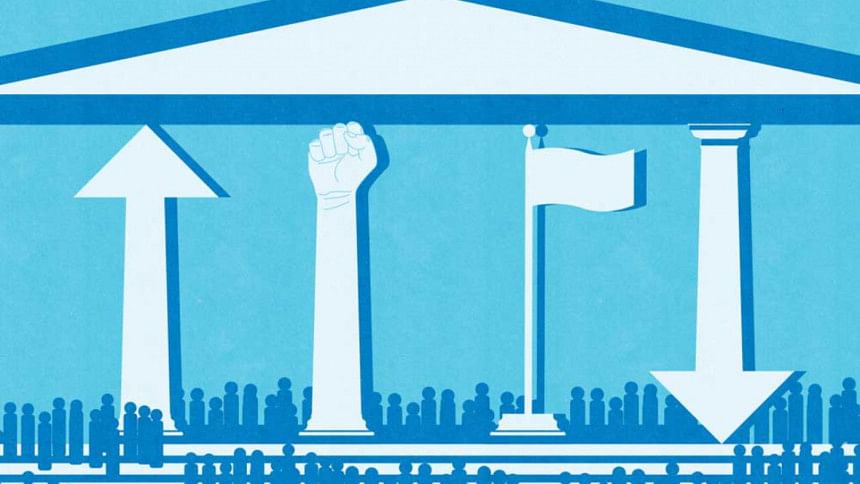 The government has trimmed its growth forecast for this fiscal year by a whole percentage point to 6.5 percent as the energy shortage and inflation dampened economic activities.
However, the government would be gunning for the 7.5 percent GDP growth it had initially hoped to achieve this year in fiscal 2023-24, The Daily Star has learnt from finance ministry officials involved in drafting the budget.
"The economic situation will start to stabilise from next month," said an official on the condition of anonymity.
The pressure on reserves will subside as the opening of letters of credit has already started to drop on the back of the government measures.
"That will take care of the inflation," he said.
The inflationary target for this fiscal year though will be revised upwards to Tk 7 percent from 5.6 percent.
In the first five months of the fiscal year, inflation averaged 8.77 percent.
"After hitting a decade high of 9.52 percent in August, inflation started to drop. Inflation will come down further," he said, adding that an inflation target of 6 percent will be set for the next fiscal year.
The elevated inflation means the government's subsidy bills will overshoot the Tk 82,000 crore allotted in the budget.
"It can cross Tk 100,000 crore," the official said.
Subsequently, the revised budget will not be pared back much, in keeping with the trend that started last fiscal year.
The revised budget would be Tk 657,971 crore, down about 3 percent.
In the face of growing demand for subsidies, rising interest burden and higher government wage bills, the finance ministry cut the budget for fiscal 2021-22 by about 1.69 percent -- the lowest in recent memory.
Like last year, the government's interest burden is high. The lower economic activities mean tax collection will be less, so the government is borrowing more to meet its expenditure.
Interest expenditure is expected to increase next year too as the government comes up with an expansionary budget with an eye on the national elections, scheduled to take place in the first week of January 2024.
The size of the next budget is likely to be Tk 750,194 crore, up about 10 percent from this fiscal year's original budget.
However, in keeping with the government's austerity measures, the allocation for the annual development programme will be massively downsized.
About Tk 166,000 crore will be kept for development purposes, down 32.5 percent from this fiscal year.
The revenue target will be Tk 486,000 crore, up 12.2 percent from this year.
Of the sum, the National Board of Revenue will be tasked with bringing in Tk 442,000 crore, up 19.5 percent from this fiscal year.
The budget deficit is estimated to be Tk 264,194 crore.