Hepatitis B During Pregnancy: Newborns at risk of liver cirrhosis, cancer
Early diagnosis of expecting mothers, precautionary measures can reduce risk by 90pc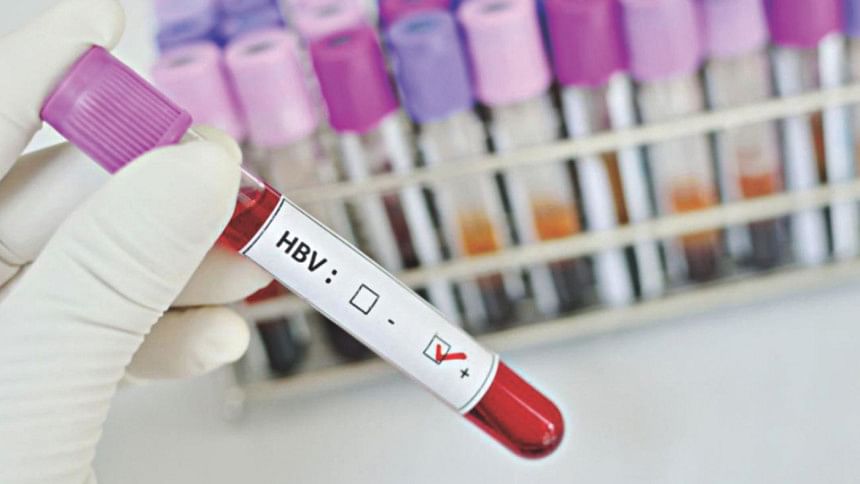 Hepatitis B virus is one that can be easily passed on from mother to child, putting the newborn at the risk of future liver cirrhosis or cancer.
This is why testing for the virus in women is crucial at the time of pregnancy, so that preventive measures could be taken for the babies.
Those who test positive for hepatitis B surface antigen (HBsAg) and hepatitis B e-antigen (HBeAg) have around a 90 percent chance of passing the virus onto their baby, while HBeAg-negative mothers still carry a 10-20 percent transmission risk, said liver specialists.
Infants who contract the virus within six months of their birth have almost a 90 percent chance of becoming chronic carriers, with around 25 percent eventually developing liver cirrhosis or liver cancer in early adulthood, they added.
Moreover, the carrier mothers continue the spread of the virus in later pregnancies as well.
For example, 23-year-old Marjia Akter, a homemaker from Netrakona, initially ignored her frequent abdominal pain and fever. Upon testing, she was diagnosed with hepatitis B virus (HBV), after enduring the symptoms for over half a year.
The doctor later advised tests for Marjia's three-year-old daughter and she too was positive for hepatitis B.
Currently, both the mother and child are undergoing treatment at the National Liver Foundation of Bangladesh (NLFB).
Another regular patient of NLFB is 50-year-old Rabeya Begum, who also unknowingly infected her only daughter and son.
However, her 24-year-old daughter Sumi Akter was able to take preventive measures during her own pregnancy -- with a birth shot and immunoglobulin (antibody) for her baby, which helped avoid the spread.
Dr Mohammad Ali, liver surgeon and founder of NLFB, who has been recognised as one of six hepatitis "elimination champions" in 2021 by the Coalition for Global Hepatitis Elimination, said that mother-to-child transmission (MTCT) is responsible for about 50 percent of chronic HBV infections worldwide.
"As the expecting mothers first go to a gynaecologist right after conception, that doctor must be the one to recommend the test [for HBV] during prenatal check-ups. They should also recommend that every newborn receive the HBV birth shots within 24 hours, as per the World Health Organization guidelines, instead of the current practice of taking it at six weeks.
"But in a country where more than 62 percent of total births take place at home without proper antenatal care, and almost half of the deliveries are done with the help of traditional birth attendants, it's quite difficult to test women during pregnancy or give birth shots and antibody to the neonates."
He added, "Besides, the mothers' knowledge of viral hepatitis and its transmission is also inadequate, while the availability of birth shots, immunoglobulin and testing facility of HBsAg in rural health facilities is also limited."
According to him, if newborns of HBeAG positive mothers are given the birth shot and immunoglobulin within 24 hours of their birth, it reduces the risk of contracting the virus by 90 percent.
Currently, the HBV birth shot costs Tk 400, and the immunoglobulin costs Tk 5,430 and is not available widely.
About the prevention of mother-to-child transmission of HBV, high-risk pregnancy specialist Dr Raunak Jahan said that upon a positive confirmatory test, the expecting mothers are required to perform further viral-load testing.
"The symptomatic mothers -- having nausea, vomiting, abdominal pain and jaundice -- are given antivirals if needed, with the collaboration of gynaecologists and hepatologists, to reduce the risk of transmission to the baby, which can occur during pregnancy, childbirth and lactation.
"Even after giving the birth shots and antibody within 24 hours, we need to closely monitor the baby, as symptoms may appear later, and the infection requires long-term treatment."
Sadly, there is no specific data on the prevalence of hepatitis B among pregnant women in Bangladesh, although small-scale data from tertiary hospitals shows the rate is 0.5- 3.5 percent, depending on the region.
The Obstetrical and Gynaecological Society of Bangladesh (OGSB) has been urging the government to ensure vaccination for those born before 2007, when the HBV vaccine was included countrywide in the Expanded Programme on Immunisation.
"Besides, every couple should go for preconception counselling, while after conceiving, systematic antenatal care should be made mandatory," said Prof Dr Ferdousi Begum, president of OGSB.
"Moreover, in positive cases, the husbands must get vaccinated and use condoms during intercourse to avoid transmission."
Currently, the health directorate's Viral Hepatitis Programme, Communicable Disease Control, Directorate General of Health Services, and icddr,b have been jointly conducting a study to understand the prevalence of HBV infection among pregnant women and children under-five.
"But it's impossible to get the real picture, due to the low ANC [antenatal care, or care during pregnancy] and institutional delivery rates. We can only arrange the tests if they come to the health facility," said Dr Aninda Rahman, deputy manager of the programme.
Asked about the need for the inclusion of HBV birth dose in the EPI schedule, as per WHO guidelines, he said, it is included in next five-year action plan to control HBV.
"The plan is awaiting approval of the ministry," he said.