Hazera dreams big after the oldest of her 40 children pass HSC exam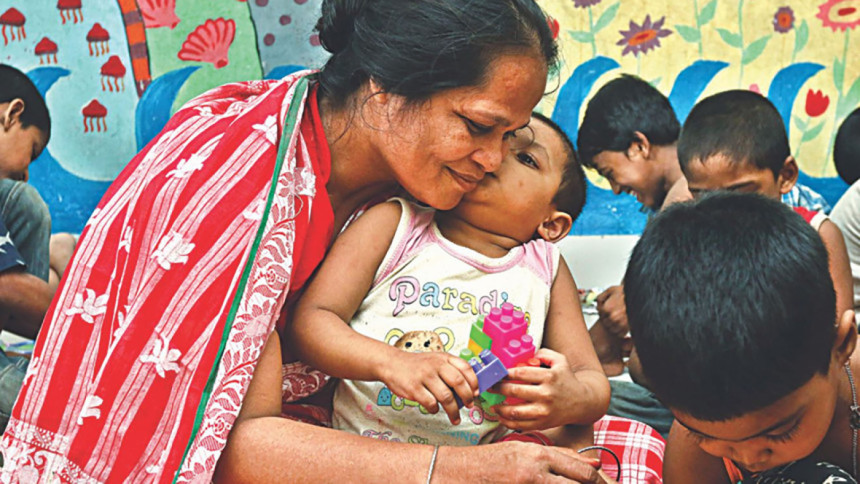 Hazera, the mother of 40 children, has been proud of her oldest daughter who recently passed the HSC exam, and now dreams of doing something big and leading a life full of dignity.
The 18-year-old Falguni (not her real name) is one of her 40 children, who once struggled for their identities, for what their mothers do.
However, at the shelter of their non-biological mother Hazera Begum, who they refer to as "Ammu", started to understand who they are and what the value of their lives are.
Hazera, the founder president of the shelter for the children of sex workers named "Shishuder Jonno Amra" (We are for the children) started the organisation in 2010, initially with 25 children.
Today, the centre is a home to 40 children, under the supervision of Hazera and the financial support from the well-off section of the society, different trusts, and charity organisations.
"I started this centre with the responsibility of taking care of them and giving them a future so that no one questions their identity. I don't know how successful I am, but I feel proud when I see that one of my children has crossed another milestone by passing HSC exams," she said.
"Nothing is more joyous to me than this," said Hazera Begum.
"She has been under my supervision since she was three. She has secured a GPA of 4.08 from a private college in Mohammadpur. Now, we are thinking of preparing her for university admission tests. I hope she will do great in future too," said Hazera.
Falguni, who is also ecstatic with her results, said the news of her HSC result has brought a ray of hope among the other children in the shelter too.
"My self-confidence has increased. I have come a long way, and am now hoping to go further in the future. Now, I'll be preparing myself for university admission tests," she said.
When asked what she wants to be in the future, Falguni said she never thought of being something that she could proudly share with anyone. "Now the responsibility has increased a lot and I will fix it (what she wants to become) after discussing with Ammu," she added.
Falguni, who never bothered about her biological mother's profession, said she is totally dependent on Hazera for everything in her life. Even, she uses the identity of Hazera Begum as her mother everywhere, including her birth registration certificate.
Falguni's biological mother, who was once involved in the sex trade, is living abroad currently and communicates with her occasionally.
According to Hazera Begum, like Falguni, two of her children also passed SSC exams this year, and a few have been studying in different schools in the capital. "I might not be able to provide quality education to all of them. But I am hopeful that they will do great in their life," she said.
Working as a sex worker in the brothels and on the streets until she was 23, Hazera started working with Dujoy Shishu Nibash run by CARE Bangladesh since 2000 for the children of sex workers and was appreciated for her dedication from people all over the country.
In 2008, when the centre was closed due to a fund crisis, Hazera, with her life-long savings and assistance from the humanitarian people, started her own shelter at Savar in 2010, which later shifted to Adabar in the capital in 2011.
Today, Hazera dreams of providing higher education to her daughters so that they do not end up being a part of the sex trade like their biological mothers while providing vocational training to the boys so that they do not resort to a life of drug trade and extortion.