A good initiative falls short of goal
Little progress in integrated, mechanised farming scheme to cut cost, increase yield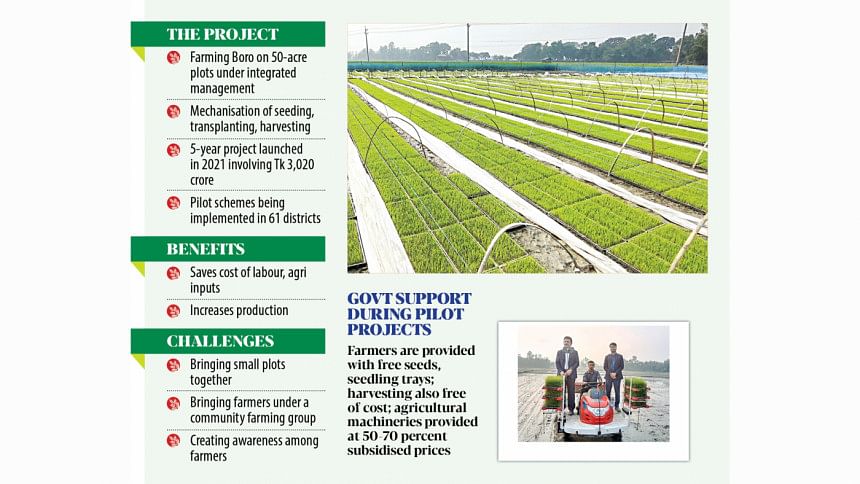 "We get 18 to 20 maunds of rice from one bigha of land but the output rises to 25 to 28 maunds in integrated farming method."
A Tk 3,020 crore government project to popularise cultivation on big plots of land with the help of modern agricultural tools has seen little success in the last two years.
The idea is to boost crop production and reduce farming cost with the use of transplanters, harvesters and other equipment on 50- to 60-acre blocks of land. The farmers will have to agree to do away with the aisles separating each plot.
The government took up the five-year project in 2021. The Department of Agricultural Extension (DAE) cultivated the hybrid SL-8 variety of Boro on 110 blocks in 61 districts to show farmers how "synchronised" farming is done. A total of 5,500 acres of land was utilised for the demonstration.
Not much else has been done as farmers are reluctant to adopt it, officials said.
However, farmers in some places said they agreed to adopt the method, but it was the DAE that was unable to provide them with the support.
The plan was to sell 51,300 machines among farmers at 50-70 percent discounts with subsidies. As of December 2022, only 16,236 were distributed under the project titled "Agriculture Mechanisation through Integrated Management", said Tarik Mahmud, the project director.
"The main challenge is to get a group of farmers to adopt the synchronised farming method," said DAE Director General Badal Chandra Biswas.
Farming would require far fewer workers and much less investment if the government could popularise the use of modern equipment, he said.
Launching the project on February 21, 2021, Agriculture Minister Muhammad Abdur Razzaque said paddy seedlings  on each acre of land could be planted with a transplanter in an hour and that would reduce the cost of hiring workers by around Tk 4,500.
In the places where synchronised farming is being done for demonstration purposes, the farmers were given free seeds and seedling trays. The transplanters for planting seedlings were also used for free. The harvesting will be for free as well.
Mahmudul Hasan, additional deputy director of the DAE in Tangail, said synchronised cultivation was done on two 50-acre blocks in Dhanbari upazila and one block of the same size in Delduar upazila this year. This is the third such experiment in Dhanbari.
Dhanbari Agriculture Officer Masudur Rahman said farmers on their own have yet to cultivate this way.
Farmers owning land in the same location do not seem to be willing to cultivate together, he said, adding that using the equipment on smaller pieces of land is not cost effective.
Anwar Hossain of Bhatkura village, who participated in the synchronised farming with DAE assistance, said the harvest was better than usual.
"We get 18 to 20 maunds of rice from one bigha of land, but the output rises to 25 to 28 maunds in the integrated farming method," he said.
"I wanted to cultivate paddy in this method along with several farmers. But the authorities did not provide us with a seeding machine," said Anwar.
Many other farmers in Tangail said they were ready to form groups and adopt mechanised farming, but the equipment was not available.
Asked about this, DAE DG Badal said there was a shortage of seeding machines. "But farmers can prepare seedbeds manually if they want."
The government is trying to create entrepreneurs who would own seeding machines, transplanters and harvesters and rent those out.