Can our crops survive the erratic weather?
Take urgent stock of the impact of El Nino on our agriculture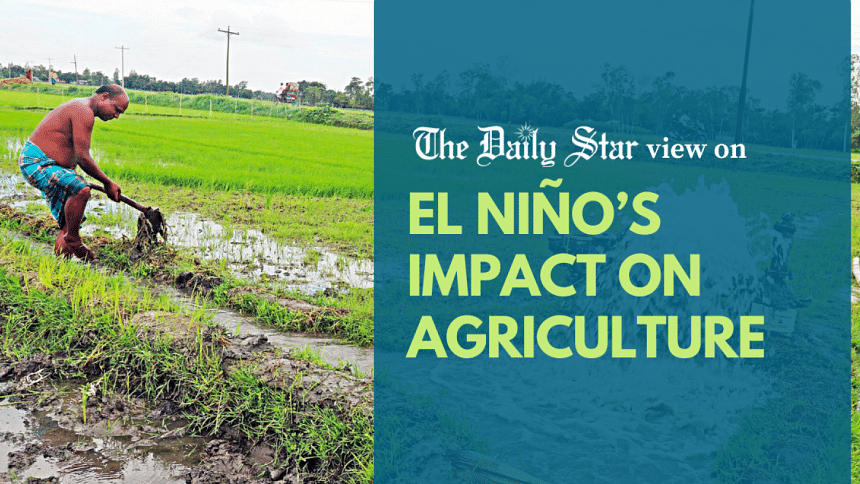 Like the rest of the world, Bangladesh is feeling the heat of extreme weather patterns, with meteorologists predicting lower rainfall and warmer temperatures as a result of El Nino in the region in the coming days. Heatwaves, which frequented the country in May and June, are likely to continue throughout the summer – and beyond. Meanwhile, rainfall has fallen 67 percent below the normal level, as per the Bangladesh Meteorological Department, raising serious concerns about crop production, food security and the fate of our farmers.
According to a report by this daily, heatwaves have impacted the cultivation of Aus crop and summer vegetables, including green chilli. The shortfall of rain will also affect the retting of jute, a cash crop. Rising temperatures and infrequent rain have resulted in prolonged droughts, reducing availability of water for irrigation and severely hampering crop production. Farmers state that their cost of Aus production has increased by 25 percent, and that croplands are drying out even after irrigation. Moreover, heat stress poses a direct threat to crops, especially heat-sensitive varieties. Production of chillies, for instance, has been gravely affected by the erratic temperatures. According to our correspondent, chilli growers in Bogura and Gaibandha districts would usually get 50-80 maunds of green chilli from one bigha of land, but this year, they are getting roughly seven to eight maunds per bigha. How are farmers supposed to survive if their cash crop fails them?
Given that countries from which we import food items are also reeling from similar erratic weather, we must now seriously confront the very real threat of food insecurity, particularly since we are navigating an already volatile international market held hostage by the Russia-Ukraine war. India, which accounts for 40 percent of world rice export, has already banned export of rice to other countries, including Bangladesh, fearing a production fall following a late start to seasonal monsoon rains. Our government must take urgent stock of the situation and take effective measures to ensure there is no disruption in the supply of essential food items in the coming days. Equally important is to ease farmers' concerns and sufferings at this time of great uncertainty by providing them with technical and financial support.
We also need to conduct reliable research on how El Nino and climate change will impact crop cycles in the future, and come up with heat-resistant varieties that can survive and thrive in erratic weather. As the world tumbles further down the hole of climate change, there can be no alternative to building our own capacities to sustain our crops and ensure food sovereignty for our population.