Viewing gleaning in Bangladesh through Varda's lens
An ode to the Bangladeshi gleaners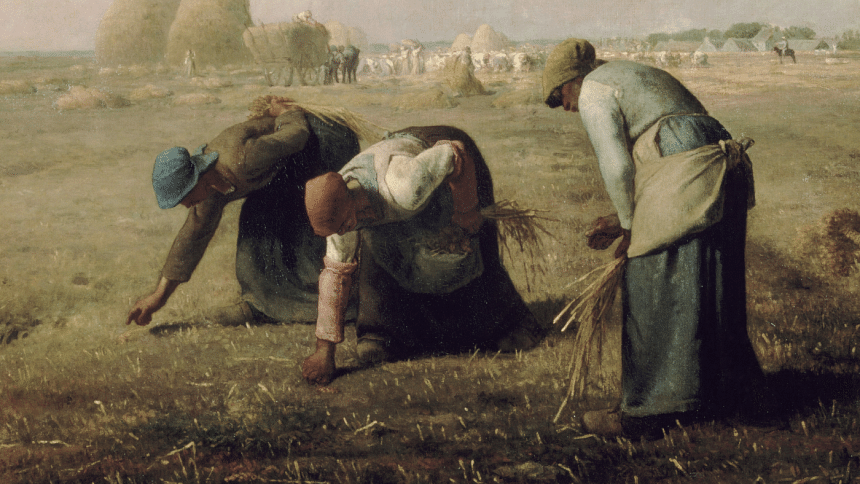 Three women, two bowing and one pausing briefly to catch her breath. Behind them, some farmworkers can be seen using a fork to load grain into a cart while others are piling it into huge stacks. The harvesters labour tirelessly under the supervision of a mounted overseer. The scent of the air speaks of harvest, but these women are not harvesting, they are gleaning. Although the bent posture has not disappeared from our society yet, the description of the scenery is from the painting by Jean-François Millet named "Des Glaneuses" or "The Gleaners".
Gleaning is a term used in the agriculture business to describe collecting crops abandoned in the field after all other food resources have been harvested. Agnès Varda, one of the pioneers of the French New Wave era, paid tribute to the people she left behind to pick up the camera. Yes, she used to glean.
The Gleaners and I examines the essence of gleaning, yet, it does not simply centre on the French countryside where our beloved Millet envisioned his piece. Rather, it pays respect to people who are "dumpster diving" in a way that corresponds with the spirit of gleaning. Varda gives space to those who used to glean, but the efficiency of modern machinery has stripped them of their titles. From the potatoes of Beauce to the oysters of Noirmoutier, Varda has captured it all on her hand-held camera. 
One thing nearly all gleaners share is poverty. Since biblical times, gleaning has been practised. Some landowners allow it, others don't. 
The northern and southern parts of Bangladesh are no strangers to gleaning. People of Khulna's Sreepur upazila, Rangpur's Aditmari, Pirgachha, Kaunia, Kishoreganj, Thakurgaon, Khansama upazila, and Mymensingh's Durgapur upazila are well-known for their tendency to glean rice crops. These leftover crops are found inside rat burrows. Women, men, and children all gather rice from the burrows after the crops have been harvested. 
The gleaners collect the rice crops in the late autumn and winter. It's an almost 12-hour-long ordeal as one rat burrow can yield nearly eight to ten kilograms of rice crops. Within 10-12 days, the gleaners can dig through almost 20-25 holes. Some children refuse to go to school during the gleaning season because of the sheer joy of collecting crops that are going to sustain their family for months. The families dream of making dishes with the rice they glean. 
Digging through the rat holes is exhausting, but the penniless residents of these regions of Bangladesh may harvest 120-160 kilograms of rice daily, so the effort is worthwhile.
Gleaning is not a solitary task – groups of women glean together, just like in the painting of Millet. Every year, the country sees a massive loss of crops because of rat infestation, but this loss could be considered a blessing to these people.
Azra Humayra is a journalism major and enjoys French new wave films as they are slow. Send her film recommendations at [email protected]