Forestland at the mercy of powerful gangs
Despite environmental threats, local admin leased ecologically-sensitive land for sand extraction in Cox's Bazar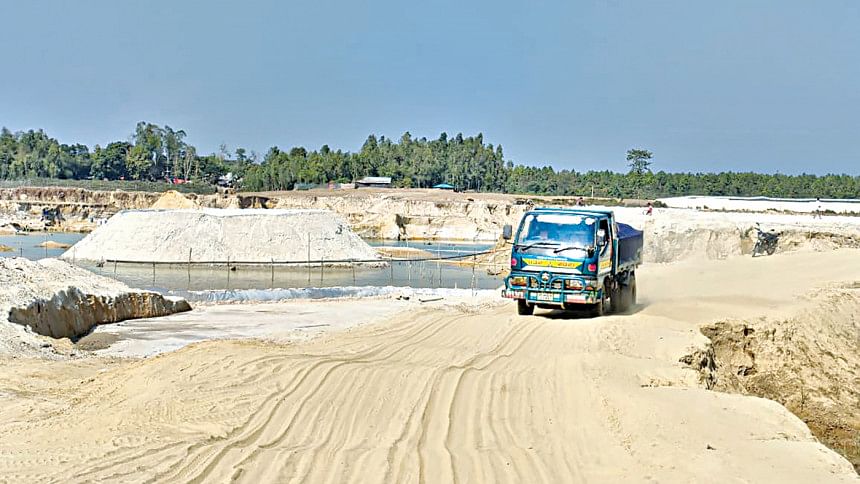 After damaging two canals by building dams and extracting their sand, a local syndicate linked to the ruling party is now tearing apart a wildlife sanctuary by scooping out sand from it and topsoil from adjacent arable land in Dulahazara union of Chakaria upazila in Cox's Bazar.
The two canals, leased out in January this year to a local influential group, are Paglir Chara canal and Dulahazara canal, both in Chakaria upazila of the ecologically sensitive and tourist town.
Ever since, the syndicate has been extracting sand and topsoil from the canals and the farmland using at least 50 dredgers, selling the extracted sand and soil for construction work.
According to locals, some 50 trucks carry the sand and soil every day to various construction sites. Each truck can carry 250 sqf of sand or soil, which can fetch up to Tk 8,500. 
In the process, trees, shrubs, sun grass, herbs are being cleared for sand while various wildlife are losing their habitat in the area.
Fasiakhali forest is known as one of the habitats for critically endangered Asian Elephants.
A DoE team estimates 4,000 square feet area of the two canals were damaged as of last year as a result of sand and soil extraction by previous lease holders. The DoE then fined eight people involved in the illegal act, before it was leased again by the district administration this year.
Affected locals whose arable land was reduced to ditches due to earth extraction filed a complaint with the district administration on February 1 seeking remedy.
Mainul Ehsan Chowdhury, an indirect victim of the earth extraction in Dulahazara union, said their ancestral arable land now runs the risk of collapsing as adjacent land turned into a pond due to scooping out of earth.
"Not only that, the forestland also fell victim to the syndicate. Around 20 acres of forestland have been damaged," he said.
Ibrahim Khalil Mamun, chief executive of Youth Environment Society (YES), a Cox's Bazar-based environmental organization, said the forestland and farmland belonging to locals were excavated 30 feet deep, turning an estimated 300 acres of arable land and forestland into large ponds.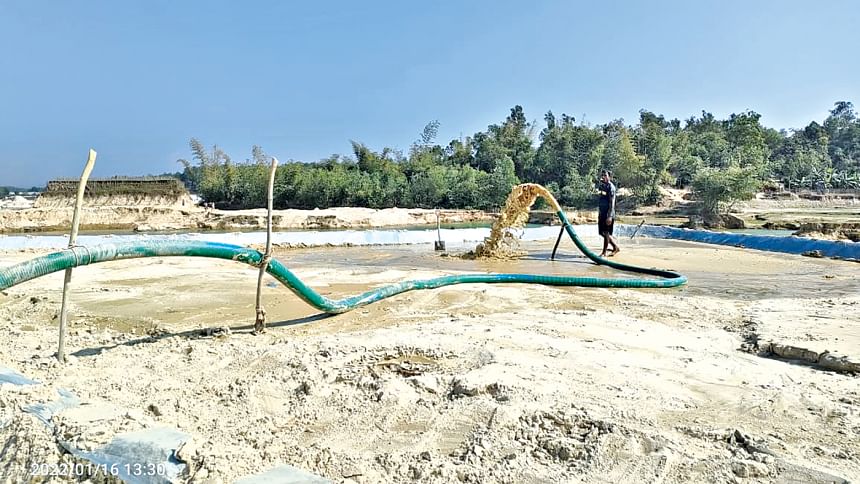 'The nearby forest which is home to various species of wildlife has not been spared. But the authorities are paying little attention to it," he said.
Locals said current union parishad chairman Hasanul Islam Ador, former acting chairman of the same union parishad and also vice-president of Dulahazara union Awami League Saidul Islam Bablu and Nurul Amin Bhutto, a local Jatiya Party member, are leading the syndicate.
Hasanul denied that he was involved in the destruction of the environment.
He went on to claim he even informed the authorities concerned to take action against those involved.
Nurul Amin and Saidul did not receive the phone or respond to text messages requesting their comments.
Kawsar Uddin Kasir, Chakaria upazila unit general secretary of Jubo League, denied that they were lifting sand and damaging arable land and forest.
"Those who got lease in the past did the damage. We did not do it," he claimed and hung up the phone.
Anwar Hossen Sarkar, divisional forest officer of Cox's Bazar (north), said they filed a case against those involved.
"An influential local gang is causing the damage," he said, but would not give any names.
JP Dewan, Upazila Nirbahi Officer of Chakaria upazila, said he joined the post only recently.
"I don't know anything as of now. But I will surely look into it," he said.
Mahbubul Islam, inspector of DoE Cox's Bazar district, said they visited the spot and fined the perpetrators for extracting topsoil and damaging forestland.
Md Osman Gani, officer-in-charge of Chakari Police Station, said they did not receive any complaint about destruction of the forestland.
"As I came to know about it from you, I will look into it," he added.