Fish under threat, humans too
Study on species from 3 rivers in the Sundarbans find microplastic hazard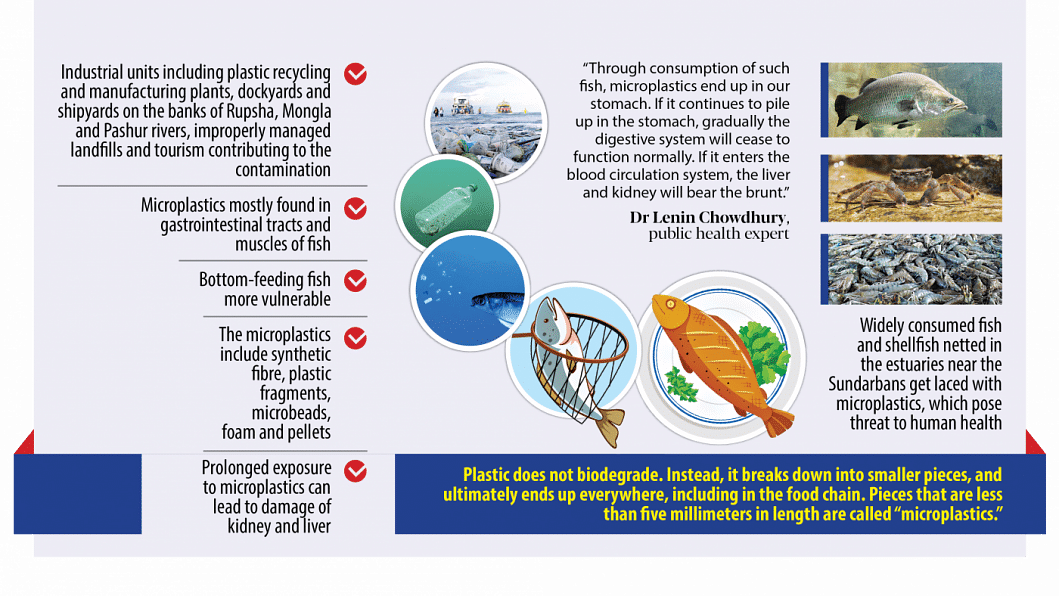 The menace of plastic is everywhere, even in the most remote locations, from the depths of the ocean to Arctic ice. So you can't expect the Sundarbans to be an exception.
A study has found at least 17 species of fish and three species of shellfish from three key rivers in the world's biggest mangrove forest contaminated with microplastics.
The pieces of plastic that are less than five millimetres in length are called microplastic. Fish or shellfish can swallow it easily. In the process, the particles end up in the human food chain, putting consumers at high health risk.
The study found the presence of microplastic highest in the gastrointestinal tract of all 20 species, ranging from 7.33 to 205.61 particles per gram, compared to the muscle containing 5.37 to 54.30 particles per gram.
The Daily Star recently analysed the copy of the report, which was published by the journal, "Science of the Total Environment", in October 2022.
The study was done jointly by Jahangirnagar University, Bangladesh University of Professionals, Food Safety and Quality Division of Bangladesh Atomic Energy Commission, Institute of National Analytical Research and Services of Bangladesh Council of Scientific and Industrial Research (BCSIR) and three universities from Brazil.
For the study, 141 specimens from 20 species were collected from the Pashur, Rupsha and Mongla rivers in line with the European Food Safety Authority Guideline.
The fish species that were found to have ingested microplastics include Bombay Duck (Loitta), Bengal Yellowfin Sea Bream (Datina), Speckled Shrimp (Horina Chingri), Hilsa (Tenualosa ilisha), Toli Shad, Goldlined Seabream (Poa), Indian Oiled Sardine (Faissha), Firgate Tuna (Surma), Berramundi (Bhetki), Large Head Ribbon Fish (Churi), Painted Tailed Goby (Chemo), Long Whisker (Tengra), Long Whisker Catfish (Ayre), Spotted Scat (Chitra), Lane Snapper, Spotted Archerfish (Choroi) and Gold Spotted Grenadiers Anchovy.
Horina Chingri contained the highest amount of plastic particles in muscle, 54.30 particles per gram, and Datina carried the lowest, 5.37 particles per gram.
The carrier of the highest microplastics in gastrointestinal tract is Chemu with 205 particles per gram and the lowest was Surma with 7.33 particles per gram. 
An adult consuming 300g of fish muscle per week will ingest 74,282 particles of microplastic annually. A child eating 50g a week will end up consuming a total of 12,380 particles a year, the study summed up.
As per the Food and Agriculture Organisation, per capita fish consumption in the country is 14 kg a year.
Dr Lenin Chowdhury, a public health expert, told The Daily Star that earlier they saw the presence of microplastic in small fish. "Now it is learnt that sea fish is also under this threat."
Polythene and plastic items are among the 10 products that create toxin carcinogens. That means if human beings consume it, there will be a high possibility of cancer, he said.
"Through the consumption of such fish, microplastics end up in our stomach. If it continues to pile up in the stomach, the digestive system will gradually cease to function. If it enters the blood circulation system, the liver and kidney will bear the brunt."
Microplastic also can cause infertility in women, he said.
"We have to think and take action about it right now. If we sit idle ignoring this threat, one day we will have to stop eating fish, which is a key source of protein."
Md Mostafirzur Rahman, associate professor of the Department of Environmental Science at Jahangirnagar University, who supervised the study, said it reveals how dangerously the fisheries and estuaries are being affected with microplastics.
They found estuaries of the Sundarbans, a UNESCO heritage site, containing more microplastics than ocean or sea.
"The continuation of such pollution will strip fish of nutrition, which will eventually cause malnutrition in human bodies as the deltaic region is mostly dependent on fish for protein. It is just inconceivable that microplastics are contaminating the estuaries of the Sundarbans, which is deemed as our important fish stock," he told this newspaper on January 24.
The findings of this study call for another study to specify the sources of microplastics, he said and hoped this research will act as a wake-up call for the policymakers and lead to action to contain plastic pollution on an urgent basis.
The Sundarbans is a unique ecosystem that offers a perfect spawning place and habitat for fish. It is home to over 300 species of fish.
A large number of people depend on this fish stock as about 25,000 registered fishing boats harvest fish from the Sundarbans and its adjacent bay. The annual catch from the water bodies of the forest is estimated to be 3,000 tonnes of fish and 18,150 tonnes of crustacean.
This magical forest, also a popular tourist destination, has been subjected to natural and manmade calamities for decades. Though the government declared it an Ecological Critical Area (ECA), little is being done for its conservation, environmentalists observe.
Bangladesh Environmental Lawyers Association (Bela) in January 2020 filed a public interest litigation seeking a ban on single-use plastic across the country, prioritising coastal areas. The court directed the Department of Environment to stop single-use plastic in coastal areas by 2022.
Syeda Rizwana Hasan, chief executive of Bela, told The Daily Star yesterday that the Department of Environment could not execute the court order as of now.
"Political goodwill is necessary to protect our rivers, our water and our people from the menace of plastic. And there is no alternative to ending the use of plastic to save our environment," she added.