Commentary by Mahfuz Anam: What sort of a mindset is it?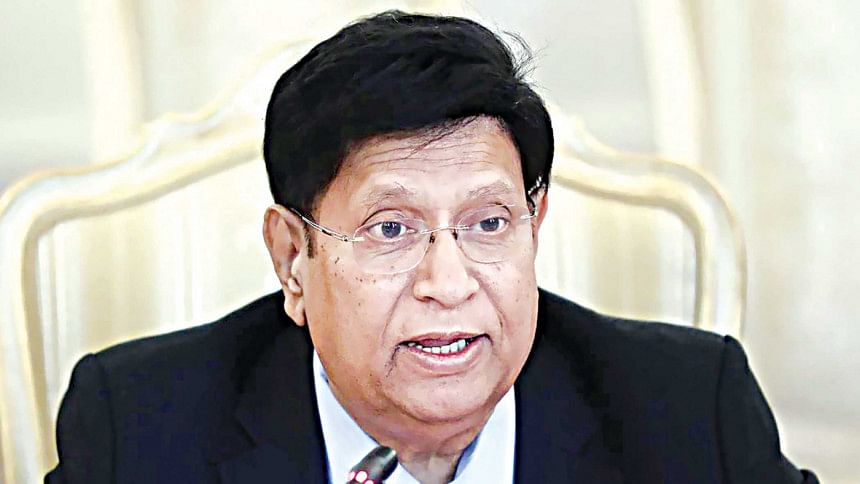 Our foreign minister announced on Tuesday that he sought India's assistance in lifting the sanctions against Rab. According to him, last December when the sanctions against Rab -- which, we have regularly reported on, has done creditable work against terrorism and in our fight against extremism -- were imposed, he sought India's help to lobby with the US to lift those.  This he said was possible because of our extremely warm relations with India.
We welcome the level and warmth of our ties with India and express our appreciation of the many areas of cooperation with our neighbour. We also welcome the visit of Indian Foreign Minister S Jaishankar today to extend Indian PM's invitation to our PM to visit India. These and other signs are indeed indicative of the high level of support and cooperation that currently exists in our bilateral relations.
However, we consider it extremely demeaning that another country's assistance has been sought to get the sanctions against Rab lifted. Seeking an ally's help in matters of supreme national interest is not only fine but expected. But to try to use India's goodwill for us to plead for the lifting of the sanctions against Rab, which consists of cancellation of visas for seven serving and former officials and restrictions on financial transactions of Rab members, should be below our dignity. In matters of state, this however should not warrant soliciting our neighbour's help. In fact, we consider it to be misuse of our "good neighbourly" relations.
The demeaning nature of the story does not end there. Our foreign minister gleefully said he met the members of Indian-American community (US citizens of Indian origin) who agreed to lobby for the lifting of the sanctions, adding,  "India's 4.5 million Hindus are a very influential group, and they promised to raise the issue with the US administration." (Why he had to bring the religious identity here beats me. From the last that I know there is a very large number of  Sikhs among the Indian-Americans. Why does he preclude any Muslims from being a part of India's diaspora?) So he went beyond the state-to-state relations and lobbied with the Indian diaspora. This we consider beyond his remit and demonstrative of his mindset that we are so weak in dealing with the US that we cannot do things on our own and need others' help.
We accept that the Indian community in the US is far better placed than ours but shouldn't his first port of call have been the Bangladeshi community? Wouldn't that have been more honourable and dignified? What message does it convey when our foreign minister prefers to appeal to the community of another country -- however friendly -- and not to his own? Over the years, our own community's power and prestige have risen and with it its ability to lobby and influence. Having lived there for years and last as our representative at the UN, he should know it better than many others.
What is most frustrating is our refusal to accept that the sanctions as something far more than a lobbying issue. It is about how our law enforcement agencies function, how respectful they are of our own laws, how much they respect an individual's human and fundamental rights, and their rules of engagement in dealing with suspects in particular and the public in general.  It is more about the process and general functioning of the institution concerned. We just don't seem to get it.
The sanctions against Rab were imposed under The Global Magnitsky Act by the US Department of Treasury and deal with financial transactions of Rab. The sanctions stipulate that Rab members "will neither be allowed to own properties in the US nor engage in transactions with anyone in the US". However, only seven former and current officials of Rab will be restricted from entering the US.
So we are using our valuable bilateral relations with India to get US visa restrictions lifted for seven officials and for facilitating commercial activities of Rab members. For this we are also appealing to the Indian diaspora in the US to lobby for us? So today it's Rab, and if police tomorrow and the BGB the day after face questions on their performances, instead of addressing them, are we going to rush to another country for help? Is this how we conduct our foreign policy?
On addressing internal governance of our law enforcement agencies, our foreign minister said we have inbuilt mechanisms of accountability. May be we have. But are they working? When we last checked, custodial deaths hadn't stopped. What about disappearances? Why do people who reappear after a period of "disappearance" never talk about where they were, how they were treated and most importantly who kept them confined? Do all of them suffer from amnesia just for those days? Or is it because he doesn't want to recall the memories of that harrowing experience? Or is there something else at play?
There is a bigger danger awaiting us under the so-called Leahy Law of the US. This law restricts assistance to entities accused of committing human rights violations, specifically governing assistance by state and defence departments. (See our report dated January 16, 2022, by Zyma Islam).  It is awaiting our consent. If we agree to abide by it, then every dollar we get as US assistance for security agencies has to be accounted for. If we don't consent, then the assistance will dry up and along with it, some defence collaboration.
Why should we be in a position of fear that scrutiny by a foreign power will reveal serious shortcomings in how some of our institutions function? Why shouldn't we concentrate on reforming our errant law enforcement institutions -- demand for which is widespread, and acting on it will greatly improve the government's public standing -- instead of going from door to door pleading for assistance to extricate ourselves from humiliating laws imposed by others.
When our prime minister says that Bangladeshis will walk tall and with their heads held high it resonates with us, and fills our hearts with pride. This pride is hurt when other countries sanction us. Our pride is wrenched from inside when we read reports of international bodies revealing facts that we are too afraid to reveal ourselves. We bow our heads in shame when we know things to be true and yet see those in power blatantly deny them and blame others for it.  
However, the way out of this world of such "untruths" is not through lobbying or pleading with others for a good word here or compliment there. The way out is through genuine and comprehensive reforms that we can truly believe in. We are economically strong. Let us now become morally and ethically robust. Let that be a part of our graduation to a middle income country.