What's the outcome of Donald Lu's visit?
Democracy, election, labour and human rights issues among topics discussed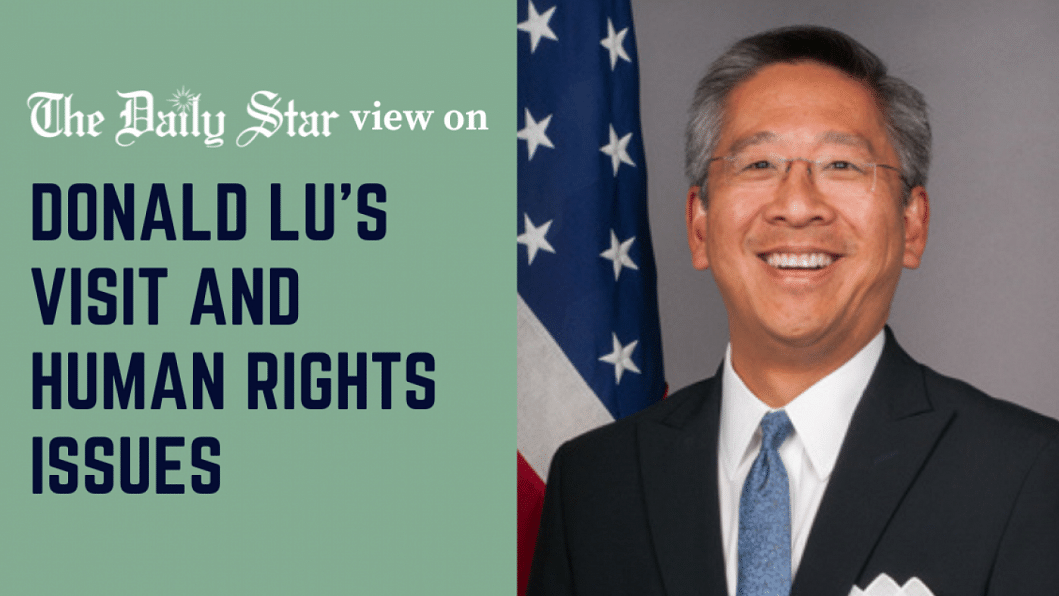 US Assistant Secretary Donald Lu's visit to Bangladesh was the second by a top US official so far this month, but naturally, his was more closely followed. Before leaving Dhaka on Monday, he had a flurry of meetings with top government officials, labour leaders, and representatives of civil society. In official talks, both sides had discussions on a diverse range of issues including trade, investment, labour issues, human rights, democracy, development, security, as well as other bilateral and regional issues. The question is: what did Bangladesh achieve from this?
Although there is nothing yet in concrete terms, overall, the trip appears to have ended on a positive note. There have been signs of a warming of relations which were somewhat soured after a recent incident involving the US ambassador to Bangladesh, as well as the US sanctions on Rapid Action Battalion imposed on December 10, 2021. Lu has said as much, stressing that he had travelled to Bangladesh to "strengthen friendship". In their discussions, both sides laid out their priorities and concerns, and pledged to continue working together. On the question of restoring the GSP facility for Bangladesh, which the US had suspended after the Rana Plaza collapse, Lu said he is "very confident we're going to make progress this year."
There has been encouraging feedback on other issues as well, most notably the performance of Rab. Lu expressed his satisfaction, acknowledging "tremendous progress" in how the elite force reduced extrajudicial killings since 2021. "It shows that Rab is able to carry out its important counterterrorism and law enforcement functions while respecting human rights." The sanction issue naturally dominated public discourse ahead of his trip. There was even fear that more sanctions might follow. But nothing of that sort seems likely to happen now, and lifting of sanctions may be on the cards should Rab continue to show progress.
But in state relations, nothing is written in stone. The US-Bangladesh relationship is multi-dimensional, involving many aspects and layers. But one may recall the toughening of tones by ruling party politicians in recent weeks because of the US position on Bangladesh's rights situation, which indicated a narrow focus on our priorities and an inability to evolve with the evolving situation. Will their tough rhetoric continue if the US continues to talk about our rights situation, which it said it will? Can we expect real progress, not just in bilateral relations but in general, in such an environment? The truth is, beyond some feel-good statistics and cosmetic gestures, there has been little change on the ground, and little reform in the way state agencies approach fundamental human rights.
So while we appreciate the positivity generated during the recent trip, we must reiterate the importance of undertaking institutional reforms to protect people's inalienable rights, including the right to political association and assembly, freedom of speech, the right to vote and have inclusive elections, etc. The government must respect and establish these rights, not for the sake of the US, but because it is crucial for Bangladesh's long-term interests.