What Donald Lu's visit means for Bangladesh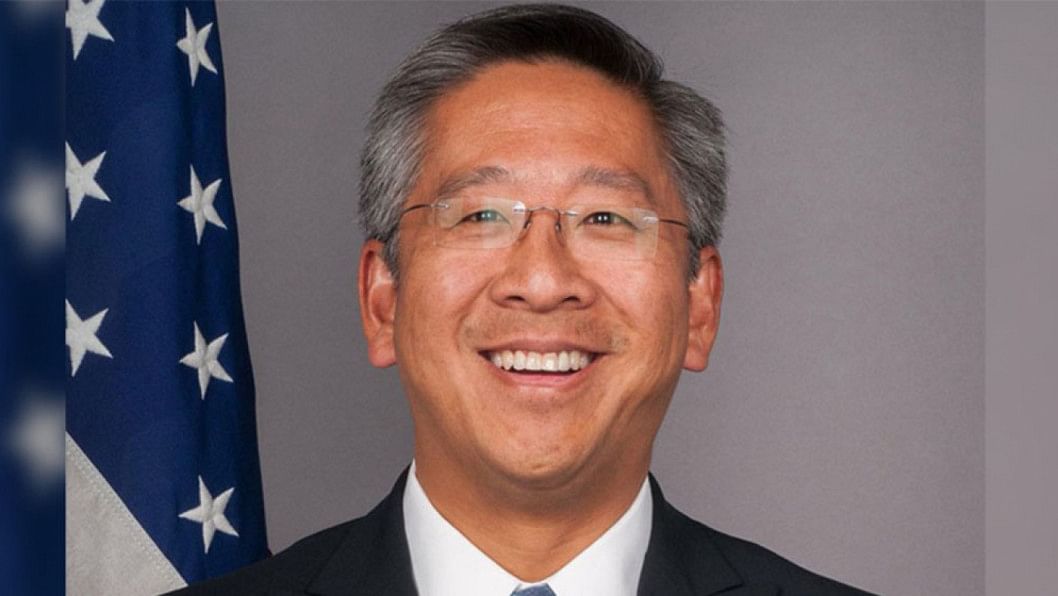 Barring any last moment change, US assistant secretary Donald Lu will have arrived in Dhaka late last night. Lu is the top diplomat for the US in South and Central Asia, where he has been working for a long time as a State Department functionary.
However, Lu has also gained a reputation for his diplomatic method among South Asian diplomats, which is seen by many as "coercive". His involvement in Pakistan, Nepal and Sri Lanka has created such an image in the region. But considering the current trend of Bangladesh-US relations, his visit will surely have several implications including the settlement of political dissatisfaction, the future of the Rohingya, investment, and the Indo-Pacific strategy.
The name Donald Lu became well-known after Pakistan's ex-Prime Minister Imran Khan's allegation. After being toppled, he directly accused Lu to be the conspirator behind his removal.
Prior to that, Donald Lu played an instrumental role in pursuing Nepal to sign the Millennium Challenge Corporation (MCC) Compact with the US. MCC now has become quite a challenge for Nepal to fulfil its commitments. Despite that, Lu visited Nepal last year and persuaded its parliament to ratify the agreement. It is also reported that Lu had a role in reinstating Ranil Wickremesinghe as the Sri Lankan Prime Minister amid the country's turmoil in order to safeguard US interests.
Hence, after Imran's allegation, Lu became a controversial figure in South Asia. However, in the context of Bangladesh, things may not be the same, considering the visit and Bangladesh's neutrality policy.
Today, he is expected to exchange views with government high-ups, political parties and civil society. He will also meet the Foreign Minister and Foreign Secretary. The main agenda of his visit will revolve around priority issues such as energy, trade, security cooperation, religious freedom, labour, and human rights. Lu will also explore possibilities of expanding economic engagement, and hear civil society perspectives on labour and human rights.
The visit is likely to focus heavily on ongoing questions on internal politics, human rights issues, the GSP scheme, defence agreements (namely GSOMIA and ACSA), the Rohingya issue and its future, and investment in Bangladesh. Geopolitics regarding the Indo-Pacific will likely be discussed, as the US is now prioritising it seriously.
Lu's visit can also be seen as a continuation of diplomatic engagement between the two countries, which as increased over the past two years. Till now, 17 mid and high-level bilateral visits have taken place, including Eileen Laubacher's latest one. Among the 17 visits, Bangladesh has sent seven delegations to the US, while the US has sent 10 to its counterpart. Lu's visit will be 11th in the last two years. The reason behind such a large number of visits is expanding relations and short-term disagreements that need to be solved. The Indo-Pacific strategy and Bangladesh' geo-strategic significance are also behind this deepening engagement.
Bilateral relations are also flourishing, ranging from economic to cultural. Over the years, existing bilateral trade is increasing and reached USD 13 billion in 2022. The US is also the third largest trading partner of Bangladesh, and is the top donor to the Rohingya with USD 1.9 billion. It has also provided over 100 million doses of vaccine as aid to Bangladesh, which accounts for 70 percent of its total vaccine donation to the world.
Amid such expanding relations, discontent has also emerged from both parties. The US appears to be dissatisfied with Bangladesh's domestic politics, while Bangladesh is also dissatisfied with US interference. Sanctions on RAB, which Bangladesh is seeking to lift, also put a strain on relations. Apart from such political issues, there are some security and economic issues for both countries to discuss as well. The US wants to sign two defence agreements with Bangladesh, while Bangladesh wants to reinstate the GSP and receive greater US investment. And lastly, the US wants Bangladesh to join its Indo-Pacific Strategy.
As a result, Donald Lu's visit will have several implications for Bangladesh. It will increase bilateral diplomatic communication and serve as a continuation of relations. As Lu is the top diplomat for the US in this region, the meeting will provide opportunities for both countries to hold talks on pressing issues. It could also be a personal opportunity for Lu to reconstruct his image by working on mutual interests rather than using other methods.
The latest trends in US-Bangladesh relations is favourable for both countries. Bangladesh's neutrality and balancing policy is also accommodative of US objectives in the region, as it will not pose threats to any rivals. Such routine visits are good signs for bilateral relations, as they provide opportunities to share on disagreements and help to locate opportunities to pursue together. For Lu, it is also an opportunity to reconstruct his diplomatic image. Coercive diplomacy only drives nation away. In this context, Lu's visit may bring many positive implications for Bangladesh-US relations.
Doreen Chowdhury is a doctoral researcher at the University of Groningen in the Netherlands.